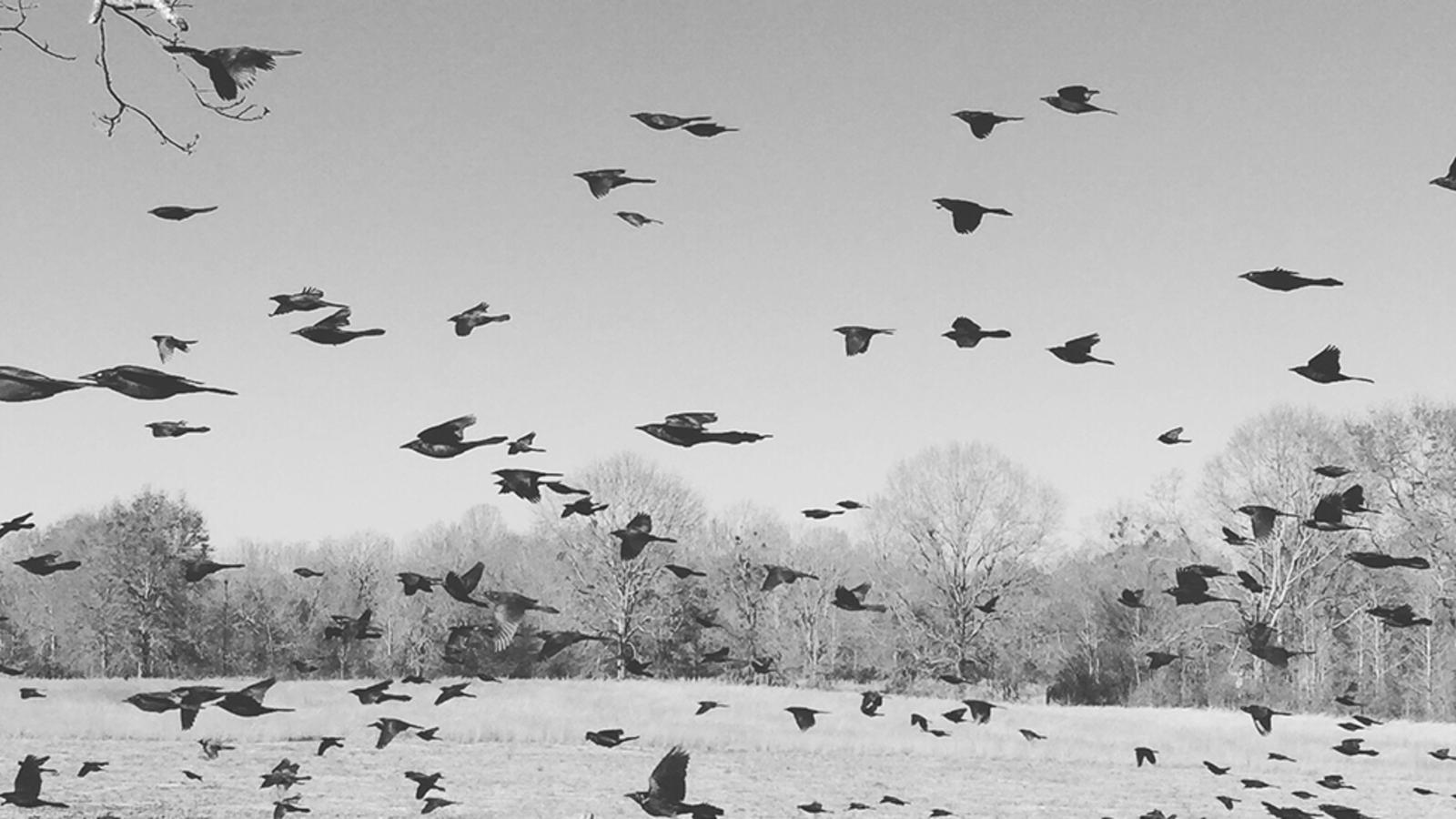 Reputation | Expert Opinion
Flight School
How United Airlines Can Change Course, According To The Latest Research
How United Airlines Can Change Course, According To The Latest Research
"As board members, we only meet infrequently and are not engaged with the front line," confessed United Airlines CEO Oscar Munoz last year during the annual meeting in June. But this spring, when footage of passenger Dr. David Dao being dragged off a United plane swept the internet, it became clear the airline's leadership needed to engage far better in situations with unhappy passengers. What, exactly, should United Airlines do? Recent research can help school the airline on how to improve.
Focus on customer satisfaction: The main source of cash flow for any company is a loyal customer base. Figure 1 below shows customer satisfaction rates for United passengers compared to "best in class," Southwest. The data come from the American Customer Satisfaction Index which provides a uniform and unbiased measure of customer satisfaction. Scores can range from 0-100, with 100 representing the highest level of customer satisfaction.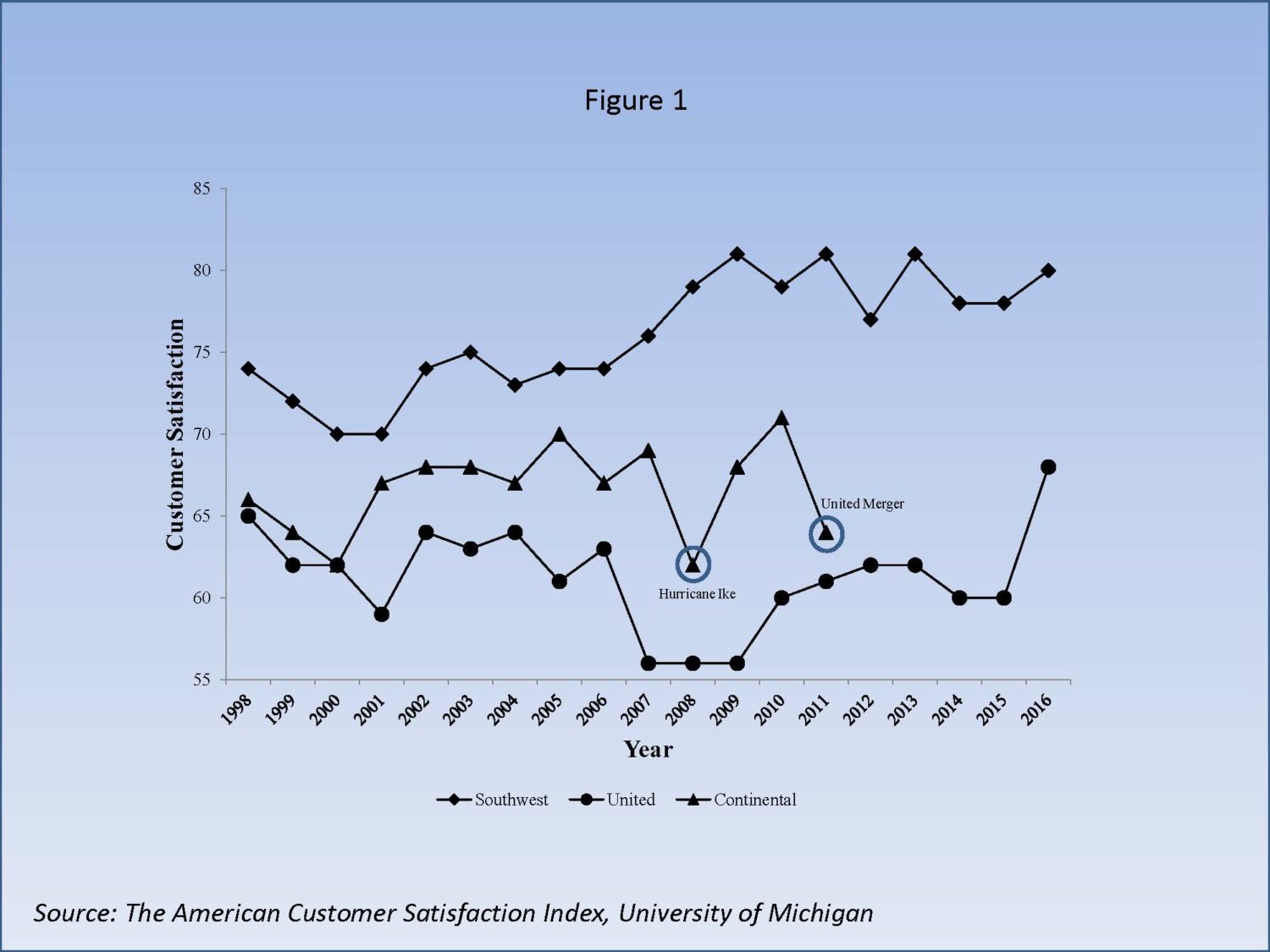 Since its 2010 merger with Continental Airlines, United's overall satisfaction rate has hovered in the 55-65 range, with Southwest topping 80. Between 2015 and 2016, however, United shows a sharp jump in satisfaction. Whether this reflects a fluke or a trend remains to be seen.
Extensive research links customer satisfaction scores to a firm's financial performance in the long run. To raise customer satisfaction, United should focus on the key factor of improving service quality.
Improve service quality: Customers who experience high levels of service quality complain less. Figure 2 gives a comparative view of complaints on a standardized basis. Southwest has consistently fewer than one complaint per flight, while United scores twice as high on this metric. Scoring high on a complaint metric is not good.
United shows wide gaps in service quality. They may spring from any number of factors: missed flights, lost luggage, inconsistent service, or other flaws. What specific issues are driving lower service quality and customer satisfaction at United? Mr. Munoz and his team need to listen to customers to find out.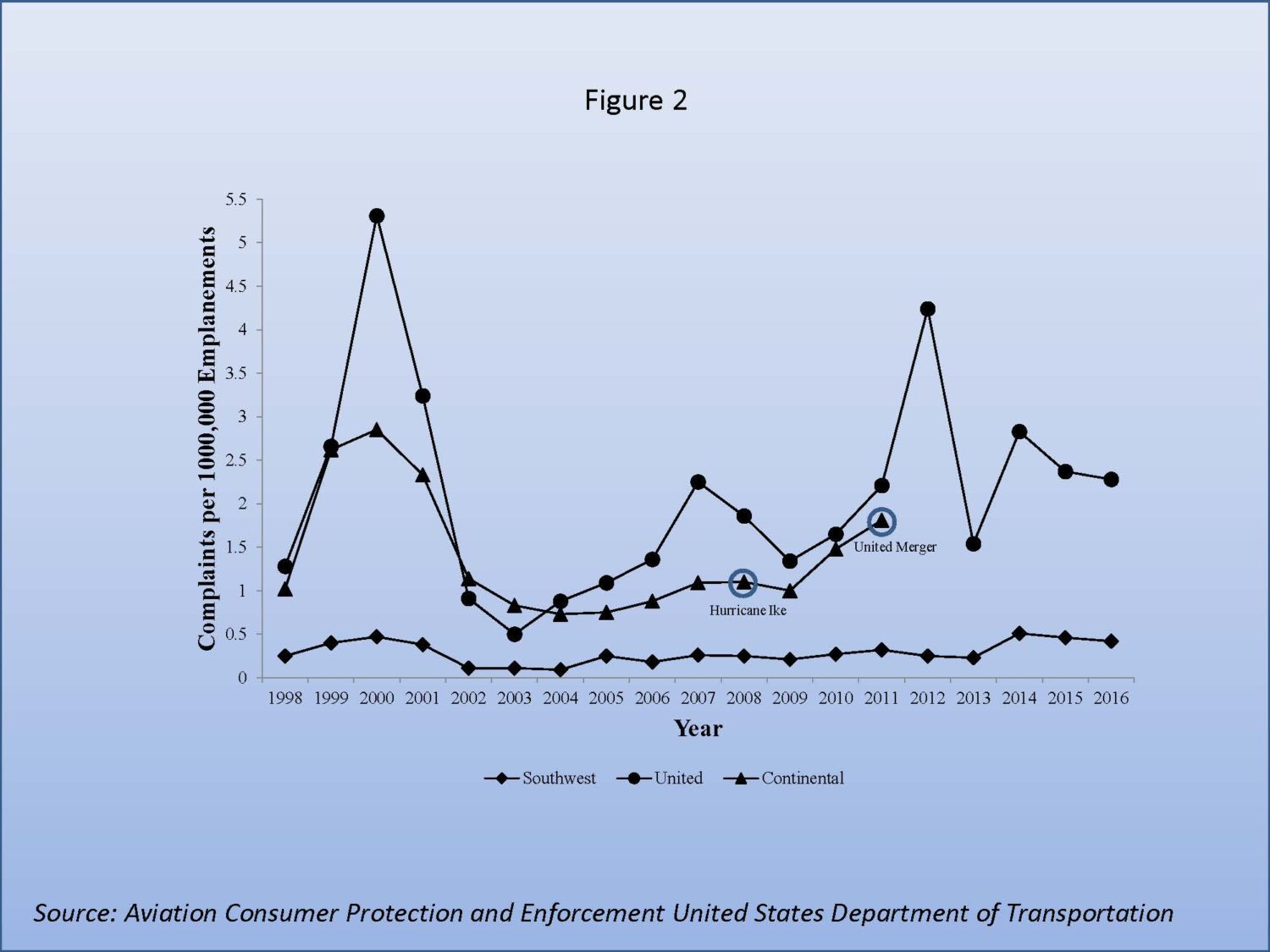 To improve satisfaction, listen to customers.  Despite exhortations that "Customers are number one!" or "Customer first!" the truth is that many companies put customers last. Caught in a morass of automation, optimization, efficiency-enhancement, revenue management, branding, and advertising, companies forget the simple things that matter for customers. The only way to go back to basics is to listen to the customer's voice. A structured customer feedback program encompassing qualitative research and quantitative customer research can give United crucial guidance. The information can help the company develop and implement a customer-based strategy for the whole company.
United should be asking: What is the root cause of customer complaints? What attributes and strategic areas drive satisfaction? Which levers should be pulled to improve customer satisfaction, customer retention and customer recommendations?
Invest in employees: Research shows employee satisfaction can indirectly affect the bottom lane by improving customer satisfaction. A recent study by Rice Business professors Vikas Mittal, Christopher Groening and Anthea Zhang showed that CEOs who satisfy both customers and employees can improve the long-term value of their companies by 11%.
For an average S&P company with a market cap of $10 billion, this translates into $1.1 billion in added value. As a point of comparison, the market cap for United in early May was roughly $20 billion. In other words: investing in workers so they can satisfy your customers would be worth about $2 billion.
To meet all these objectives, Munoz and his team have to engage intensely with their company's two most important sets of stakeholders: customers and employees. Peripheral tinkering with processes and policies are unlikely to help in the long-term. To truly turn United around, Munoz, the board, and all United management and workers need to re-school themselves on the basics of customer satisfaction.
---
Vikas Mittal is the J. Hugh Liedtke Professor of Marketing and Management at the Jones Graduate School of Business at Rice University. 
Rice Business Wisdom Newsletter
Never Miss A Story