Updated from original post that was published on 12/20/2019.
Top Ranking and Intimate Culture Set Rice Business Apart
It's a big leap, applying for an MBA. While it's a proven excellent return on your investment, it also poses a daunting question: which business school best suits your career goals? Rice Business, with its small classes, top-ranked programs, tree-filled campus and intimate culture, delivers a truly distinctive MBA. I'm excited to share these perspectives from current students and recent alumni about what sets Rice Business apart.
Samantha Lewis, Full-Time MBA
A native of New Mexico, Lewis is director of the GOOSE Society of Texas, a venture capital investment group that invests around $10M annually in early-stage startups. During her time at Rice Business she received the Texas Business Hall of Fame Scholarship, the National Association of Women MBA's scholarship, and the Jones Citizen Award.
"As a two-time entrepreneur, I went back to get my MBA to learn investing strategies and how to scale companies, and scale massively. Rice Business provided me a fundamental framework to be able to intellectually keep up in the fast-paced world of venture capital. The small program lends itself perfectly to the network-driven entrepreneur and student.
As a student, I was able to take advantage of every single resource Rice Business has to offer in the field of venture capital and entrepreneurship. Rice Alliance, the school's nationally-recognized initiative to support technology commercialization, entrepreneurship education and the launch of technology companies, put on major events that gave me exposure to startups and investors. It runs the world's largest and richest graduate student business plan competition. Their venture forums bring 500 to 1,000 investors and startups to Rice to pitch, fund and network. Not only do you have access to these events as a student – you are encouraged to volunteer, which opens many doors."
Keri Sprung, Executive MBA
While earning her MBA, Keri worked as the vice president for communications and education at the Texas Heart Institute. She was the class representative of the Executive MBA program in her first year, co-chair of the student association for executives, Rice Business Board Fellow where she sat on the board of Children at Risk and board member of Emanu El Sisterhood.
"One of my goals was to enhance my critical thinking and decision-making skills. The case-based learning was a challenge for me at first, and by the end of the program, I was able to quickly digest the business cases, identify and summarize the central challenges and make recommendations based on business frameworks we learned in class.
I am most proud of my extracurricular achievement as our cohort Class Rep and co-chair of our Jones Student Association for Executives. Effectively working with your peers at this stage in your career is a critical skill and this two-year experience provided the perfect leadership laboratory to explore concepts from our coursework and examine my leadership style. My co-chair, Luis Rodriguez, and I overcame many obstacles and challenges behind the scenes. Even though our approaches differed sometimes, we always arrived at a solution together. Many of the issues we tackled have helped me outside of school at work and in my personal life."
Mayank Gulati, Full-Time MBA
A native of Mumbai, Gulati was previously an associate professional at CSC (Computer Sciences Corporation) and is earning his MBA with concentrations in marketing and strategic management. He is treasurer of the Rice Business Marketing Association, vice president of the Technology Association, and an officer of the Rice Business Indo-American Association.
"I had lived in various cities in India, and it's a very diverse country to begin with, so I had interacted with people from very different backgrounds but never internationally. So I wasn't completely confident or sure how that experience would be. But in the very first month at Rice Business I made really good friends — and before I knew it my class became like a family. I visited a friend at a bigger school and he didn't know a coworker of mine from the same class. It was impossible to know everyone in a school that big.
The specific factors that set Rice Business apart for me were first, its ranking and reputation [Princeton Review ranked Rice Business #1 in Entrepreneurship programs, #6 in Finance, #5 in Best Classroom Experience] and then its student-teacher ratio. The third thing that set Rice apart was its location in Houston, the most diverse city in the U.S. I want to be a global citizen instead of just being focused on my home country, and I think interacting with people from so many backgrounds sets me up for success."
Doug Fiefia, Full-time MBA
Originally from Salt Lake City, Fiefia was previously a manager of corporate sales development at software company Workday. At Rice Business, he is earning his MBA with a concentration in entrepreneurship and strategic management. He is president of the Jones Student Association and a Rice Business Board Fellow.
"What sets Rice Business apart is the close, tight-knit community. One example: recently a bad storm caused a power outage at an apartment building where many MBA students lived. Within ten minutes, the rest of the class came together and created a list of people willing to give rides and of students willing to host other students for the night. Community isn't something we just say, it's something we live.
We have so many talented people from all over the world, who speak many languages, worked for top companies, represent many industries, received many awards and accolades, but are still very humble and willing to help anyone out if they are needed."

Adrian Dever, Professional MBA
Adrian, a Texas native, worked as the associate asset manager at EDF Renewables throughout his MBA program. He strived to transition to management consulting, and was very involved in the program. In addition to being a first year representative for Out and Allied and the Professional MBA liaison for the Arts Club, he was also a member of the Black Business Student Association, CleanTech Association, Consulting Association, The Adam Smith Society, Energy Association, Board Fellows and the Wine Club.
"The professors at Rice Business are world-renowned, so I did not expect to have unlimited access to them. Whether it is to gain more insight into the lecture material, or just have a one-on-one chat to learn more about their background, the professors always find time to answer your questions.
I have met so many wonderful people in this program and I have developed life-long friendships that I will always treasure. Being in this program provides countless opportunities to engage and connect. Holiday parties, volunteering events and flag football competitions are just a few opportunities to bond. If you prefer a more casual environment to connect with your classmates, you can always make friends at Valhalla – the graduate student bar on campus."

Interested in Rice Business?
Stacy Fish, Full-time MBA
Born and raised in Houston, Fish graduated from UT Austin and previously worked as an operations project analyst at Houston Methodist Hospital. At Rice Business, she will graduate with a concentration in marketing and recently accepted a position with United Airlines in pricing/revenue management. She is president of the Rice Business Women's Organization and an officer in the Marketing Association. 
"I went to a really big undergraduate school, where I was a small fish in a very large pond. I was looking for a graduate school experience that was more intimate, where the professors knew who I was, and I knew my classmates. Having grown up in Houston I knew Rice Business was a great school. You know the resources and the faculty here are incredible. But what I didn't know until I came here for an open house was how small the program was and what that means in terms of your experience. 
Everyone has each other's back. I think in a really big school it's easy to say something is someone else's problem or someone else will volunteer for things, especially with clubs and student leadership. Here, you're really encouraged to take on leadership positions right away and you get a lot of support. One of the first things I did was get involved with the student-run Women in Leadership conference. After doing that and seeing how powerful and fulfilling it was I decided to run for president of the women's organization. That is not something I ever really thought I would do. But here it's kind of all hands on deck. All of our voices are heard. They matter."
Pierre Aristide, EMBA
Pierre was born in Haiti and came to the United States at the age of 13. Prior to joining the Rice MBA, he attended Adelphi University for English and political science and Hofstra University for a degree in military science, and he served in the U.S. Armed Forces for 27 years. Despite being diagnosed with Leukemia during COVID, he managed to complete the MBA program and maintain relationships with his cohort through various zoom activities. 
"I always wanted to pursue an MBA, but it never seemed to be the right time, especially when one is attempting to raise a family. Upon setting up my business, it became obvious that I needed to have a better understanding of how to develop, scale and manage it. My military training taught me how to make decisions that require on-the-spot risk analysis, which, in our business, is the difference between life or death. As an entrepreneur, I was looking to develop similar abilities as in the military to make business decisions to better lead employees and grow my business. As such, I chose Rice Business because it had the right program and happens to be ranked, four years in a row, as the No. 1 Entrepreneurial studies business school in the nation.
However, after attending the program, I quickly realized there was more to the Rice Business program than just the ranking. The culture is different than I'd ever experienced. I met so many personal and professional life-long friends who supported me and my family during some of the health challenges I experienced during my two years in the program."
 
Kendall Toarmina, Full-time MBA
Toarmina earned both her bachelor's and master's at Rice. While earning her MBA at Rice Business, she founded the school's first-ever Diversity And Inclusion Conference, and she currently leads the university's LGBTQ alumni association. Toarmina was named a Woman of Power by Outsmart Magazine the year she earned her MBA. She is now a management consultant with PriceWaterhouseCoopers. 
"What I felt set the Rice Business experience apart from many business schools was how inclusive the atmosphere was of our families and significant others. As a business student, I couldn't have succeeded without my friends and classmates, but I also couldn't have done it without the support of my personal circle. 
The program created opportunities for that circle to understand my experience and be a part of it — through the partios [the business school's signature afternoon courtyard parties], family day events and other receptions and programs. All of these allowed my significant other to meet my professors and classmates, see my classrooms and hear about what I was learning."
Ashley H. John, Full-Time MBA
A native of Missouri City, John graduated with a major in urban studies from Stanford University and previously worked as alumni coordinator at an educational nonprofit. At Rice Business, she is earning her MBA with a concentration in marketing. She is vice president of the Technology Association, officer of the Rice Business Black Business Student Association and Rice Consortium Chapter.  
"I did a lot of researching. I was looking for programs that had a strong community that were interested in social impact as well. And I was interested in financial aid. Coming from the education field, it's not like I had a whole bunch saved up for school. Sometimes we don't like to talk about finances, but it's a really big investment to go back to school. Rice Business by far had the best scholarship package of all the schools I looked at. I know many of my classmates receive some form of aid too. 
Being from Houston, I know that even though Rice is in the middle of the city, it can seem out of reach. In fact, it is very down to earth: everybody here has been wonderful and very humble, even though they're very accomplished. The Rice admissions department was transparent and seemed very invested in my growth and success. That was the driving factor for me. They have this tag line, "You belong here." And it felt like I really did."
Yu-Cheng Hsu, Professional MBA
Yu-Cheng came to Houston from his hometown of Seattle, Washington. He transitioned his B.S. in chemistry to focus on the energy transition, and he used his MBA to further his education in that industry.Yu-Cheng was a member of the Asian Business Student Association, Energy Association, Board Fellows, and also led the very successful second annual Rice Cleantech Innovation Competition as a member of the Cleantech Association. 
"What I love most about Houston is the diverse food options available across the city from the Woodlands to Katy to Bellaire and other parts of town. Houston has been known as the energy capital, but what Houston is most known for is the southern hospitality – the warm, welcoming attitude to invite new citizens and tourists. Houston has been expanding at a rapid rate, and more cultural food options will be available for Houstonians. With a cultural awareness in Houston, the community is supportive of one another and will help during disaster events."
As for his time working full time, managing family time and taking courses, Yu-Cheng was "surprised that I can manage my full-time job while studying and meeting up with my teammates on the weekends and attending other extracurricular activities. I believe this has pushed my limits above and beyond and realize the capabilities that I have to be successful."
_________________________________________________________________________________
Interested in learning more about the MBA programs offered by Rice Business? Send us an email at ricemba@rice.edu
You May Also Like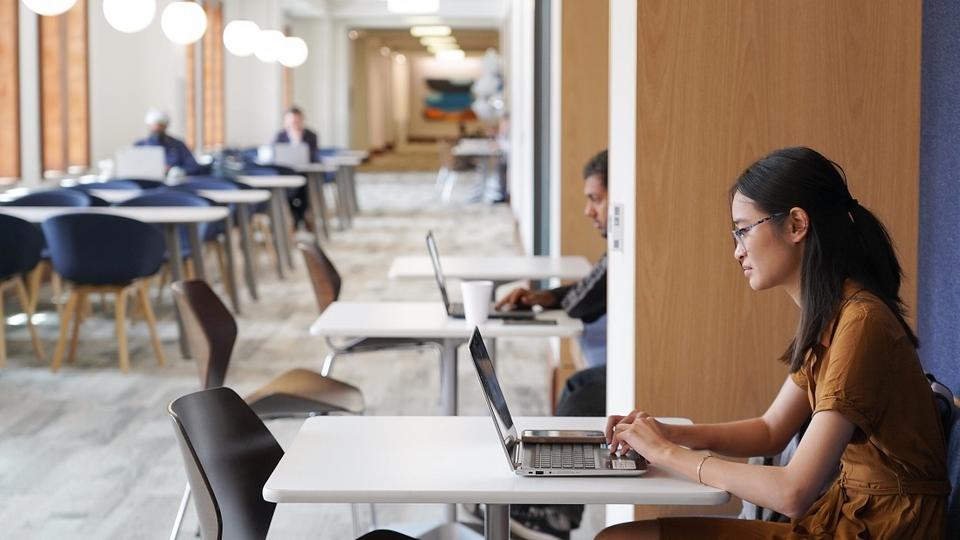 Programs
In July, Rice Business will welcome its first cohort of students to the newly launched Hybrid MBA program. Dean Peter Rodriguez discusses the decision to build the program — and why the market was ripe for it at Rice.