Curriculum
No matter what your personal journey is, we have built a program that will meet your needs. Our Full-Time MBA program was specifically designed for those looking for a major transition and our students develop the quantitative chops and workplace skills employers are hungry for.
We have obtained STEM designation for all our MBA programs. The STEM designation is a direct response to the data-driven business environment, employer needs and student interest. Our Rice MBA graduates are known in the marketplace for broad problem-solving skills, reflecting a curriculum grounded in quantitative and data-analytic methodologies across the disciplines. This is now reflected in the STEM designation.
Full-Time MBA students follow core curriculum in their first year, then choose from 100+ electives in their second year
First Year
The core curriculum at Rice Business is designed for full-time MBA students ready for a major transition. Our core classes — which are required during full-time students' first year — include the following foundational building blocks for tomorrow's business leaders: data analysis, finance, managerial economics, marketing, financial accounting, strategy formulation and implementation, ethics, organizational behavior, communications and more.
Image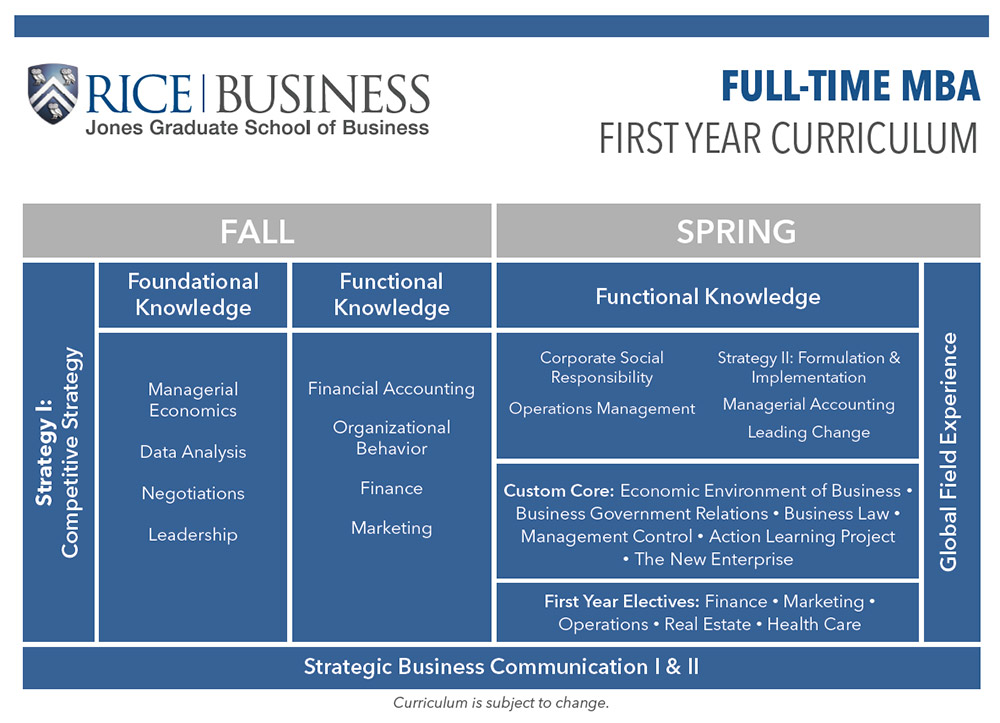 Second Year
Once core requirements have been fulfilled, second year students have more than 100 electives to choose from. Areas of study as electives include managerial accounting, corporate responsibility, government relations, operations management, portfolio management, applied predictive modeling, applied risk management, energy derivatives, corporate real estate, brand strategy, business law, and more. You can review and explore our current course catalog for Full-Time MBA students online.
Interested in Rice Business?
F-1 Curricular Practical Training (CPT)
We are proud to honor our long tradition of students participating in work experience during their MBA journey by adding this as a required component of our curriculum, reinforcing the strong professional profiles and capabilities of our graduates to prospective students.
Have a Question?
Recruiting Specialist, Recruiting and Admissions
Recruiting and Admissions Specialist, Recruiting and Admissions