Career
What's It Like to Work in Audit?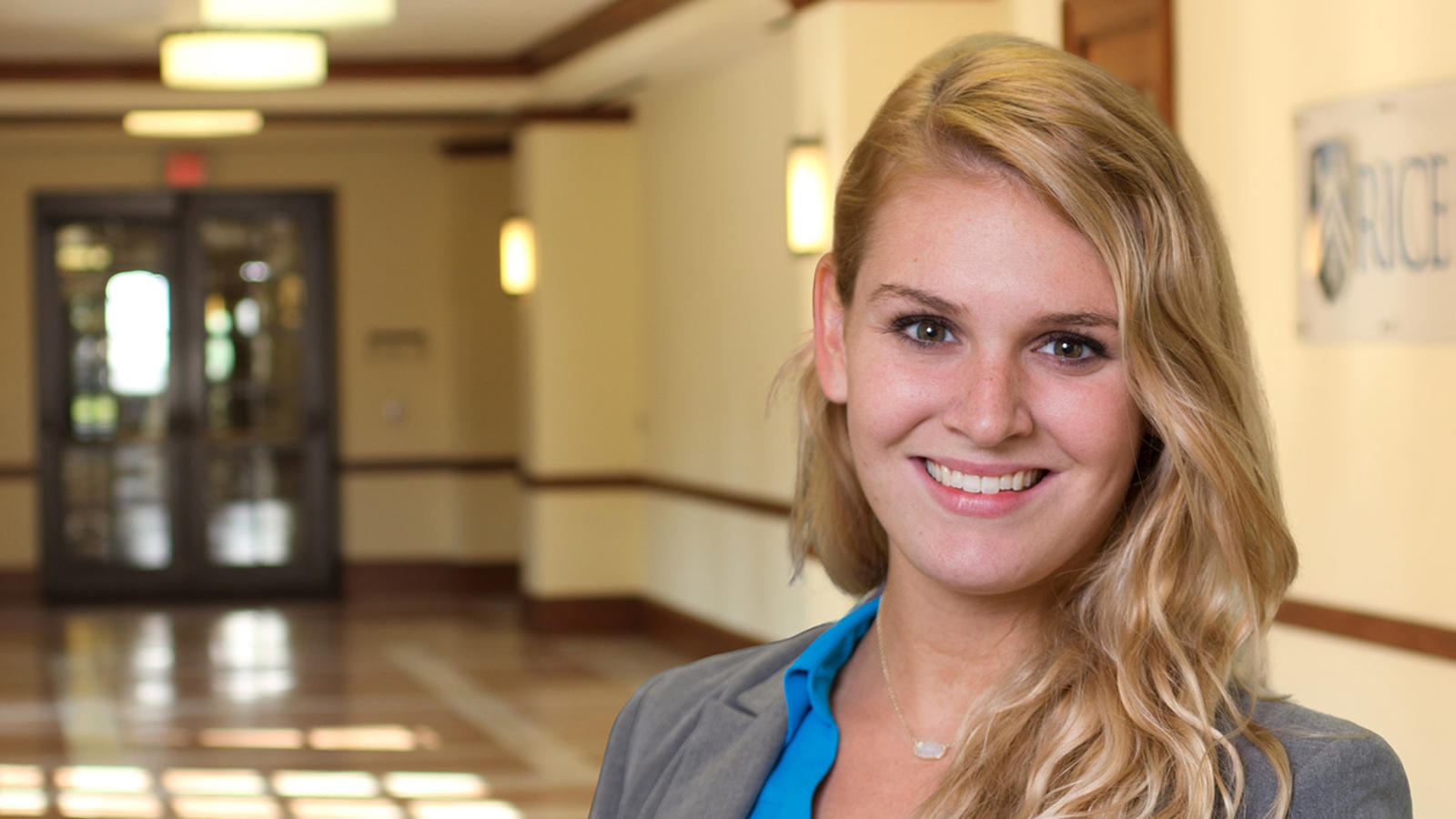 Read our interview with recent MAcc alumna Megan Palmer.
Do you wonder what it's like to work as an auditor? Read our interview with recent Rice MAcc alumna Megan Palmer (Class of '17). She explains how she decided on a career in audit, what a typical work day looks like, and her favorite parts of the job.
Tell us a little bit about your background and why you decided to pursue the MAcc.
I was a Rice undergrad and on the Women's Basketball team from 2012-2016. Like most freshman, I had no idea what I wanted to do. I thought pre-med had a nice ring to it, so I started out there. But I realized after a few disastrous doctors' appointments that needles and blood did not settle well for me, and so I was in search of a new passion! I took my first accounting class in the summer of 2014, and I loved it! Prof. Lansford came to talk with my class about the new Master of Accounting program Rice was starting up again, and I was very interested. As with most big decisions, I talked it over with my mom. She told me that she thought it was a great idea and that accounting was in my blood. Unbeknownst to me, her father, my grandfather whom I had never met, was a controller at a car manufacturer before he passed away. From then on, I was set on pursuing my master's degree in accounting, and I couldn't imagine a better place to earn my degree than Rice University.
Where do you work and how long have you been there?
I am a senior audit associate at PwC (PricewaterhouseCoopers) in the Private Company Services sector and have worked there for two years. 
What drew you to auditing?
While in the MAcc, I did enjoy my tax classes, mostly because we had a great tax professor. However, I have always had more of an interest in audit. I enjoy getting to know my clients, finding new ways to test the financial statements, and working with a team. Week to week my schedule is always different. I work two to four weeks on a client, and then I move on to something else with a different team. It keeps my work exciting and fresh. 
What personality characteristics make for an effective audit professional?
From my experience, the best personality characteristics to have would be:
Open-mindedness - there is more than one way to audit, and your first instinct may not always be the best way
Hard-working - sometimes you have to work long hours or just work really hard for the eight hours you do have to get the job done
Confidence - if you see something that is incorrect in the financial statements, you need to be able to voice your opinion and support it
Personable - it is important to form relationships with your clients. A good relationship with the client means that the audit will go smoother and you might even get support and answers to questions quicker.  
Interested in Rice Business?
What do you like most about what you do?
My favorite part of my job is the people I work with. Everyone truly cares about me as a person and my professional growth. There are times to be serious and get work done, but there are also times to joke around and let off some steam. I always have a good balance of serious and fun at work.
What does a typical workday for you entail?
There is no typical day for me as a senior associate. I could be working on things for three different clients in one day, or I could be only testing revenue for one client for the entire day. This is something I really enjoy about what I do. I'm never doing the same thing two days in a row.
What are some noteworthy experiences you've been able to have working at your firm?
I have two once-in-a-lifetime experiences I have had with my firm:
1) I was selected to be a member of the 2019 PwC Team USA basketball team and compete in the International Basketball Tournament held in Ljubljana, Slovenia. Fifteen countries, about 180 people, competed in this tournament. I was one of only five females who participated, but I didn't let that slow me down! I had a great time playing basketball and getting to know my teammates, who were from all around the U.S. I also got to know other PwCers from all over the world. Team USA ended up taking home the gold! I didn't think I would ever get to compete in a sport that I loved again after college, but I was able to with PwC. It was truly a week I will never forget.
2) When I was promoted to senior associate, we had an event called "Discover" in Rancho Palos Verde, California. Discover is a week at a resort on the coast of California filled with events designed to lead you to discover what is important to you and how to better manage your life to include these important things. There was no mention of auditing, or even PwC really, the whole week. This wasn't an event to get you to "drink the Kool-Aid", but rather to teach you how to be a happier person. Discover helped me to be happier and healthier, and it has changed my life for the better.
Does auditing sound like a career you'd like to pursue? Reach out to us! Most Rice MAcc graduates take their initial jobs in one of the Big Four public accounting firms, which are consistently ranked in Fortune magazine's 100 Best Companies to Work For.