Rice Advanced Management Program
Increase Your Impact as a Leader and Advance Your Career
Tuition Discount
To support your continued investment in professional development, we are offering a 10% tuition discount on our Spring 2022 Rice Advanced Management Program when you apply and submit payment by December 31, 2021. Tuition listed reflects the program discount.
Spring 2022 Dates
Week 1: February 28-March 4  |  Week 2: April 4-8
Tuition
$13,500 (apply & pay by 12/31/21)
$15,000 (after 12/31/21)
Overview
Set yourself apart and gain the necessary skills to lead cross-functional teams and business initiatives. As a participant in our Rice Advanced Management Program, you'll expand your knowledge to create and implement effective corporate strategies and establish yourself as an effective change agent in your organization. You'll spend two one-week sessions separated by a one-month intersession during which you'll begin practical application of the concepts learned. Your newly acquired skills combined with executive coaching will propel your career and your organization forward.
Excellent program for all executive leaders of organizations. The course really teaches you how important people are to the success of your organization.

Kelley Hendrickson, PDR

Rice Advanced Management Program
Interested in Executive Education?
Who Should Attend
Senior leaders and executives who wish to transition into general management or functional lead roles
Program Takeaways
Enhance self-awareness to improve leadership impact 

Learn to analyze context to identify behaviors associated with exceptional executive leadership

Enhance ability to lead and develop high performing teams and individuals

Understand organizational culture and key leadership challenges associated with leading through culture

Learn to conduct strategic analysis of industry and organization and identify opportunities for growth

Learn the language of corporate finance and financial accounting and improve financial decision making

Lead enterprise-level change and execute strategy

Improve strategic decision making by identifying cognitive, social, and emotional biases that affect judgment

Create personal development plans with support of an executive coach
Program Schedule
Image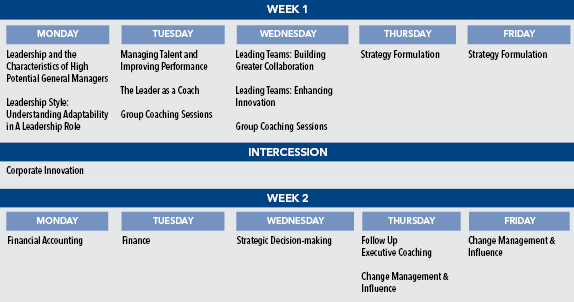 Rice Business Wisdom
Rice Business Wisdom is our online ideas magazine that features faculty research.
Interested in Executive Education?
Have a Question?
Director, Executive Education