Military and Veteran Benefits
Military and Veteran Benefits
The majority of our student veterans at Rice Business utilize the Post-9/11 GI Bill (Chapter 33). If you are uncertain about your eligibility or which benefit to use, please refer to the VA's GI Bill Comparison Tool or contact our School Certifying Official (SCO), Matt Wakeman for assistance.
Benefit Information
Providing assistance to veterans transitioning from military service to student life at Rice.
Once you have been admitted, the following documentation will need to be uploaded to the School Certifying Official through the link above before we can begin processing your benefits. Please include the document type and your first and last name in the file description field.

Certificate of Release or Discharge from Active Duty (DD-214): If you have been discharged from active service you must include this form in your application.
Certificate of Eligibility (COE): To receive your COE, you must first apply for your benefits through the eBenefits site . Please be sure to indicate "Rice University" as the school for which you are applying. If you have previously used benefits at another school, please also submit a Request for Change of Program or Place of Training (form 22-1995). You can simply print-off the confirmation page for this requirement.
Military Transcript: this is a listing of all military training received while in the Service. Please utilize the applicable link below to request your transcript:

Upon uploading the above documents, you should also reach out to our VA Certifying Official, Matt Wakeman for next steps.

Rice University does not impose any additional fees, obligations, or burdens on a student due to military related education benefits (other than those that may be required by the particular program itself).

Individuals with at least 90 days of aggregate service after September 10, 2001, or individuals discharged with a service-connected disability after 30 continuous days on active duty, are eligible to participate in the Post-9/11 GI Bill. The percentage of eligibility ranges from 40% - 100%. You must also be on Active Duty or a Veteran with an honorable discharge to be eligible.

The Veterans Affairs Post-9/11 GI Bill Percentage of Eligibility Chart will assist you in determining your percentage of eligibility.

The 100% eligibility cap for Private Schools for the 2020-2021 academic year is $25,162.14.
Pays up to 36 months of education benefits
Annual book stipend up to $1,000
Pays BAH at the E5 with dependents rate BAH Calculator - please utilize Rice University's zip code: 77005.
Please reference the US Department of Veterans Affairs: Post-9/11 GI Bill for further information.

The Yellow Ribbon Program is a component of the Post-9/11 GI Bill that allows institutions to enter into a voluntarily agreement with the VA to fund tuition and fee expenses that exceed the tuition and fee amounts payable under the Post-9/11 GI Bill annual cap. If you are Yellow Ribbon eligible, the JGSB will cover 50% of the remaining cost, matched dollar-for-dollar by the VA.

To receive benefits under the Yellow Ribbon Program:

Our current agreement with the VA does not limit the number of participants OR the maximum amount of JGSB Yellow Ribbon scholarship dollars that may be awarded.

The Yellow Ribbon scholarship is considered a component of the Admissions Scholarship and the two are not treated as separate funding resources.*
In other words, students are not able to "stack" multiple JGSB scholarships; the veteran will receive the higher amount of the two scholarships (either the Yellow Ribbon Scholarship or the Admissions Scholarship) but not the combined amount.*

* Beginning in the Fall of 20-21, students receiving the Yellow Ribbon scholarship who are also awarded a separate Admissions Scholarship (less than the amount of the Yellow Ribbon Scholarship) will be eligible to receive both scholarships (up to an additional $5,000 per year). Students receiving the Yellow Ribbon scholarship who are also awarded a separate Admissions Scholarship (more than the amount of the Yellow Ribbon Scholarship) will be eligible to receive the higher amount of the two scholarships.

The purpose of the Hazelwood Act is to provide education benefits to Texas veterans, or to qualified dependent children. This benefit is only available to state institutions. Rice University, as a private education institution, is unable to participate.
Rice Business Military Events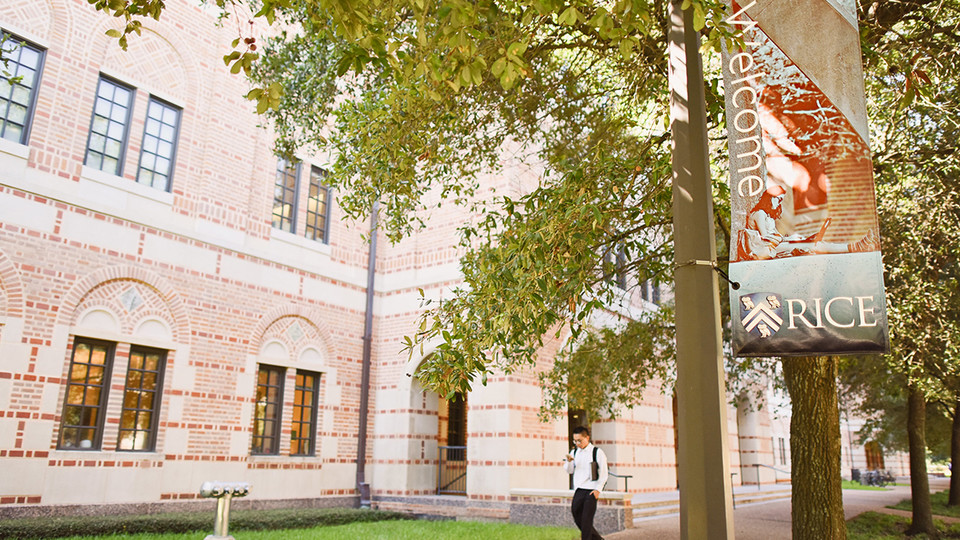 Admissions
A three-day event that offers prospective students a closer look at the Rice MBA program.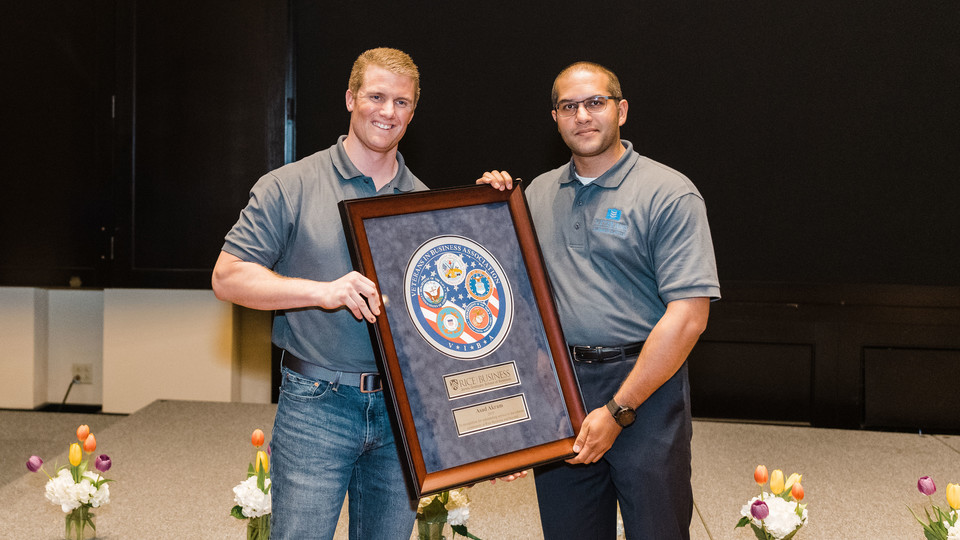 Competition
The largest veteran-focused business plan competition in the country.
Conference
Prominent veterans present their stories on leadership and public service experience.
VA School Certifying Official
Director, Student Financial Services