Updated from original post that was published on 05/07/2020.
Rice Business Equips You To Excel In 21st Century Business
We're living in extraordinary times right now ⁠— times that demand thoughtfulness, strength, and maybe above all, preparedness. An MBA can be a powerful way to meet this demand. In a strong economy, an MBA readies you for top roles in your field. But in an economy like the present one ⁠— with industries transforming before our eyes ⁠— an MBA can help you flourish in opportunities that previously didn't exist.
Unlike stock portfolios or restaurants, a business education that's strong on fundamentals such as finance and accounting can't be drained or shuttered by outside events. It's a long-term asset ⁠— and a valuable one, as Rice Business professor James Weston shows in a popular video. Crunching the numbers for an MBA the way he might for any other investment, Weston calculated, the ROI on a business degree comes out to 20 percent.
But a business school degree also equips graduates with less quantifiable assets: leadership skills, business judgment, mentor relationships and experiential learning in all kinds of new fields. For many employers, in fact, the credential itself is a kind of short-hand for a high performer. "There's nothing about getting an MBA that doesn't require initiative from that point all the way through your career," Elissa Sangster, CEO of the Forté Foundation, told U.S. News and World Report. The nonprofit Forte Foundation, with which Rice Business is a partner, focuses on encouraging women to attend MBA programs and pursue ambitious career goals.
In particular, Sangster said, an MBA can clear a path to hard- to -access industries such as Silicon Valley or Wall Street. It can also be helpful for candidates who want to work with major employers outside their own communities.
There's another reason to invest in an MBA: the wide-ranging, ambitious network of students and alumni that will now be your peers. In business, just as in other fields, job boards and public announcements only account for a fraction of important hires. The quality and reach of your personal network will likely offer you far more opportunities. At Rice Business, over 82 percent of graduates' jobs last year were generated by the school community.
In fact, most graduates find, some of the most educational business school experiences happen after graduation. Top MBA programs take their alumni seriously, inviting them to collaborate, support recent graduates – and keep acquiring business skills as permanent members of the school community.
"Business school emphasizes working in groups, and MBA students often learn as much from their peers as they do from faculty," executive coach Ed Batista pointed out in Harvard Business Review. "Those same people will become your fellow alumni, and access to that network is one of the most valuable benefits an MBA program can offer."
Interested in Rice Business?
In the past few months, more and more people are seeing the value of these networks. "In the past five weeks, I have been talking to students and candidates nonstop from 9 to 5," said Steve Summers, Recruiting Lead For Rice Business Professional MBA Programs.
But the current crisis is also prompting many professionals to take action on their careers. "You can talk yourself out of something if you want to be talked out of it. But others are saying, 'I finally have a chance to pause. I have an hour now in my day when I can research business school,'" Summers said. "They want to take control and not be defined by all the unknowns. Especially in our professional program, where folks are working at the same time, what they are learning makes them so valuable to their employers, and needed more than ever." 
Business schools themselves are changing. Even before COVID-19, top business schools were changing their model, adding more leadership and critical thinking courses to core subjects like finance, accounting and marketing. According to the Princeton Review, 71.1% of MBA applicants surveyed were aiming for senior leadership positions, and 94.4% were considering changing industries.
Rice Business alumna Marjorie Ma was one such candidate. Working as a consultant in China for Deloitte, she enrolled in the fulltime class of 2012 to prepare for a different type of corporate job. "I wanted to do an MBA program to enrich my experience," she said. It worked. After graduating from Rice Business, Ma pivoted from both her job title and her firm itself, and now is Vice President of product management and market intelligence at AIG.
With its small classes and supportive culture, Rice Business is designed to help that kind of career change. You can see the results in recent class profiles. After decades of heading to energy and financial services sectors, in 2021-22 Rice Business MBAs gravitated instead to consulting jobs. Nearly a third of them  ⁠— 34.6 percent ⁠— took consulting positions, earning an average of $166,646. Overall, members of the class of 2022 reported an average base salary of $142,212 ⁠— a boost of over $10,000 from the year before. 
To ensure that graduates have these kinds of choices throughout their careers, a top business school invests enormous attention on both its curriculum ⁠— and each student as an individual, Rice Business Dean Peter Rodriguez said.
"In the past, we thought a lot about deep quantitative skills and core competencies. All that is still very necessary," Rodriguez said. "But today you also need enhanced skills around being a leader. Those skills will help you make great decisions, express wisdom, show empathy, lead organizations through tough times. They will help you give purpose to work."
_________________________________________________________________________________
Interested in learning more about the MBA programs offered by Rice Business? Send us an email at ricemba@rice.edu.
You May Also Like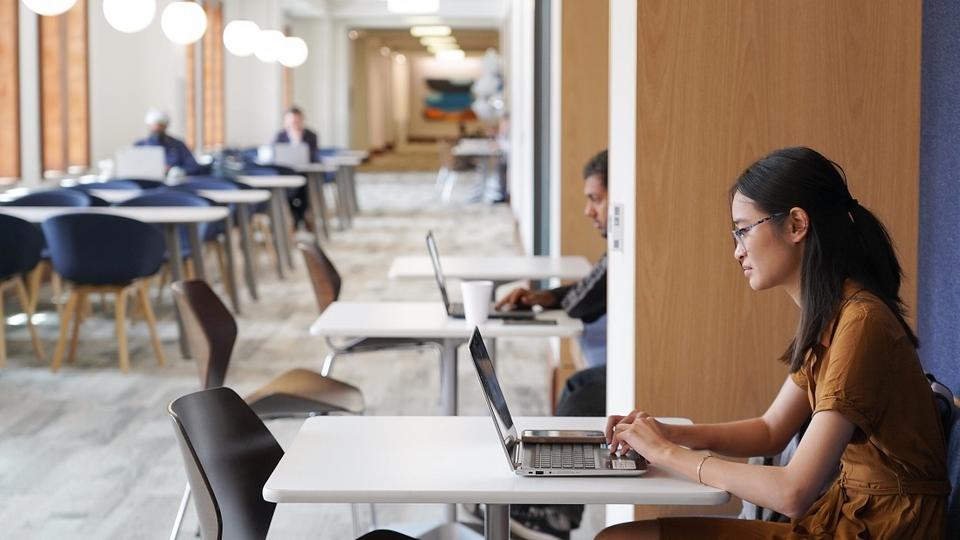 Programs
In July, Rice Business will welcome its first cohort of students to the newly launched Hybrid MBA program. Dean Peter Rodriguez discusses the decision to build the program — and why the market was ripe for it at Rice.