Women Preview Weekend Agenda
EVENT AGENDA
Please see the 2022 Women Preview Weekend Agenda, below. The 2023 Women Preview Weekend Agenda will be available in the coming weeks.
Thursday, February 10, 2022
6:30 - 7:30 PM

Women Preview Weekend Kick-Off

Friday, February 11, 2022
8:30 AM - 4:00 PM
Saturday, February 12, 2022
8:00 - 9:00 AM

Optional Interviews*

9:00 - 9:45 AM
Yoga and Mimosas
10:15 - 11:15 AM

Breakout Sessions

Career Development
Learn more about internships, recruiting, industry treks, and the resources available to help you achieve your post-MBA career goals.
Leadership and Student Club Opportunities
Learn more about the various leadership opportunities available to our students including Rice Business Board Fellows, Jones Gives Back, Jones Student Association, and more.
Lilie Lab Overview
Learn more about experiential learning and co-curricular activities in entrepreneurship and innovation.

11:30 AM - 12:15 PM

Alumni Spotlight
The alumni spotlight session is an opportunity for attendees to meet graduates of the program who have transitioned into their post-MBA careers.

1:00 - 2:15 PM

Real Talk with Current Students
The student panel session is an opportunity for attendees to ask candid questions about the student experience (living in Houston, day in the life, getting involved on campus, why Rice, experiential learning opportunities, etc.) and to interact with current students.

2:30 - 3:00 PM

Closer look at the Doerr Institute and Board Fellows
Get an inside look at what it is like to be a part of the Doerr Institute for New Leaders and Rice Business Board Fellows.

3:15 - 4:00 PM

Galentine's Celebration Happy Hour
Please note - agenda events are subject to change
*Only offered for candidates applying to join the Full-Time MBA program in Fall 2022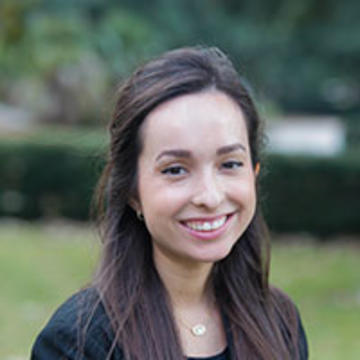 Maria Montemayor
Recruiting Specialist
Have a Question?
Please contact Maria Montemayor, Recruiting Specialist, Recruiting and Admissions, at Maria.I.Montemayor@rice.edu.