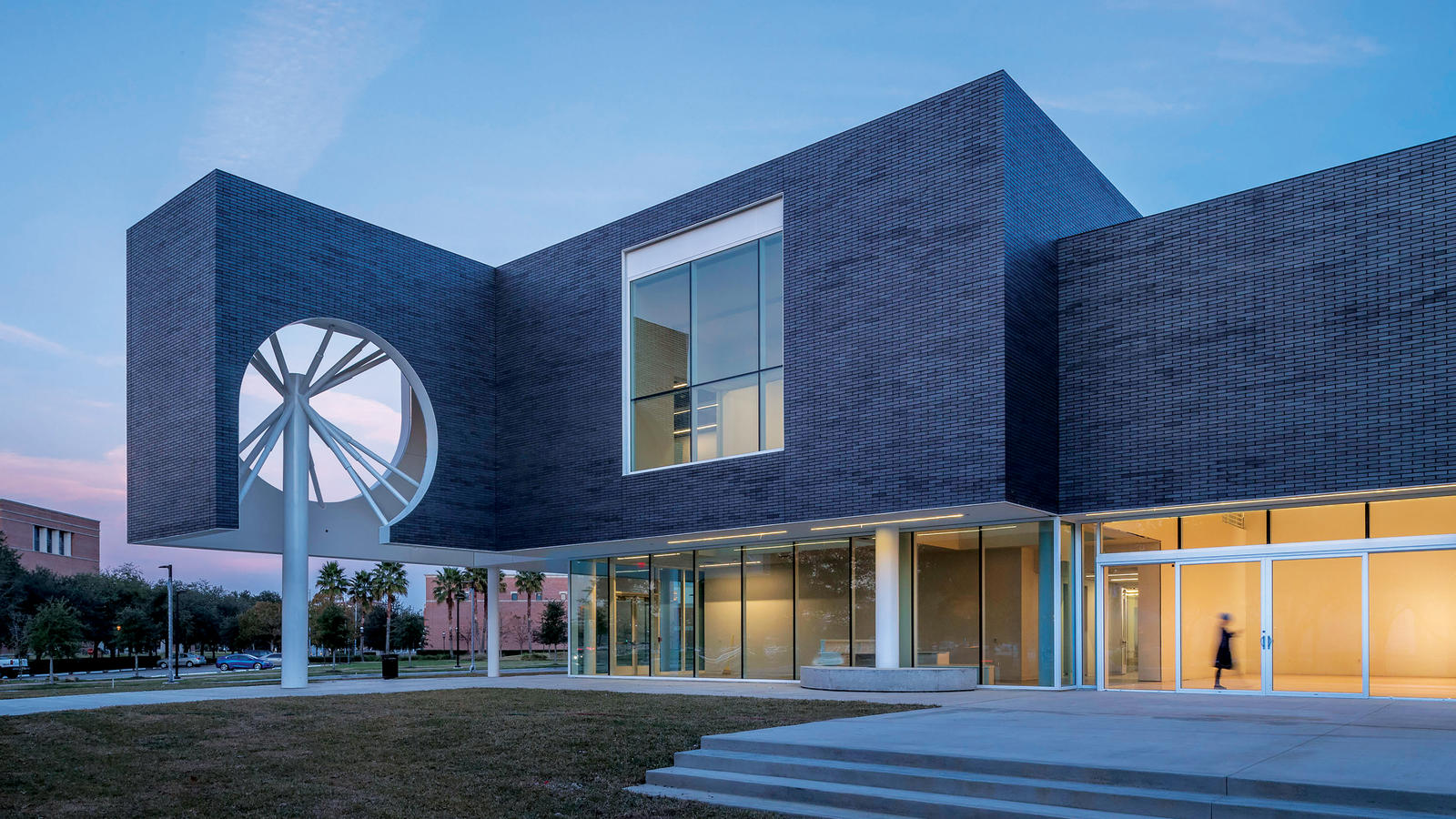 Conversations | News Feed
The Intersection of Art and Ideas
A Conversation With Alison Weaver, Executive Director Of The New Moody Center For The Arts
A Conversation With Alison Weaver, Executive Director Of The New Moody Center For The Arts
Already named by Architectural Digest magazine as one of the best new university buildings in the world, the Moody Center for the Arts opened at the end of February to rave reviews as a vital addition to the campus and the city of Houston.
The 50,000-square-foot center, designed by renowned Los Angeles-based architect Michael Maltzan, serves as an internationally focused arts institution, built as a free public platform for creating collaborative works of all kinds and for presenting innovative, transdisciplinary experiences to the public and the university community.
Alison Weaver, the center's executive director, stresses that she is not an artist but an art historian. Her insistence contradicts the creative mind that was instrumental in bringing Houston's newest arts institution from construction to completion in roughly 18 months.
After celebrating the center's opening, Weaver took a moment to reflect on her career and her hopes for the $30 million project on the Rice University campus.
Q: You have two advanced degrees in art history and an MBA. How do those degrees fit together?
A: For much of my adult life, I lived in New York City, worked in business and spent all my free time in
art museums. But finally I realized I could combine my vocation and avocation and commit to the arts. What I found is that management skills and a passion for art make a terrific combination.
Q. You're a Houston native. When you moved back to town in 2015, did you feel like you were coming back to Hicksville?
A: No! Houston's a very urban and sophisticated city, and over the years it's become more densely populated and diverse. Moving back has been a great thing.
Q: The art center opening lasted four days. What happened?
A: We focused on the intersection of art and ideas. For example, there was a talk that featured Thomas Struth, a photographer who creates images of space exploration and highly technical environments. So we had a panel discussion with Struth, Douglas Terrier, NASA's chief technologist, and Rice professor James Tour, who focuses on nanotechnology. It was a truly interdisciplinary discussion, which is something we want to foster.
Another favorite of mine is "Green light — An artistic workshop," which calls attention to the international refugee crisis. We partnered with Interfaith Ministries of Greater Houston to work with a group of recently arrived refugees to make, alongside students and volunteers, stackable modular green lamps designed by Olafur Eliasson. A portiion of the proceeds from the sale of the lamps will benefit Interfaith Ministries.
We really do want broad- based conversations appealing to a wide variety of visitors on campus and in the community.
Q: What are your limits?
A: We have no limits. We have this beautiful building, and we want to use the space to connect the campus and the community. We're right by Entrance 8, the most used entrance on campus, and we want people to come and visit. It's open to the public five days a week, admission is free, and we have a cafe. We're hoping students and other visitors will come and get coffee and a snack and see our programs. It's so exciting. At Rice, people talk about living "inside the hedges." We hope to break down that barrier.
Q: Judging from the opening, you want to go far beyond the campus hedges.
A: Of course. Our first artist-in-residence is Mona Hatoum, a fabulous Beirut-born Palestinian artist, who is coming this spring. Then she'll be back in the fall for a major exhibition at the Menil Collection. That way we can have a longer conversation, which is so much better than dropping in for a lecture.
---
Claudia Feldman is a freelance writer living in Houston and editor of the Last Word, a service that helps people tell their own stories.
Rice Business Wisdom Newsletter
Never Miss A Story