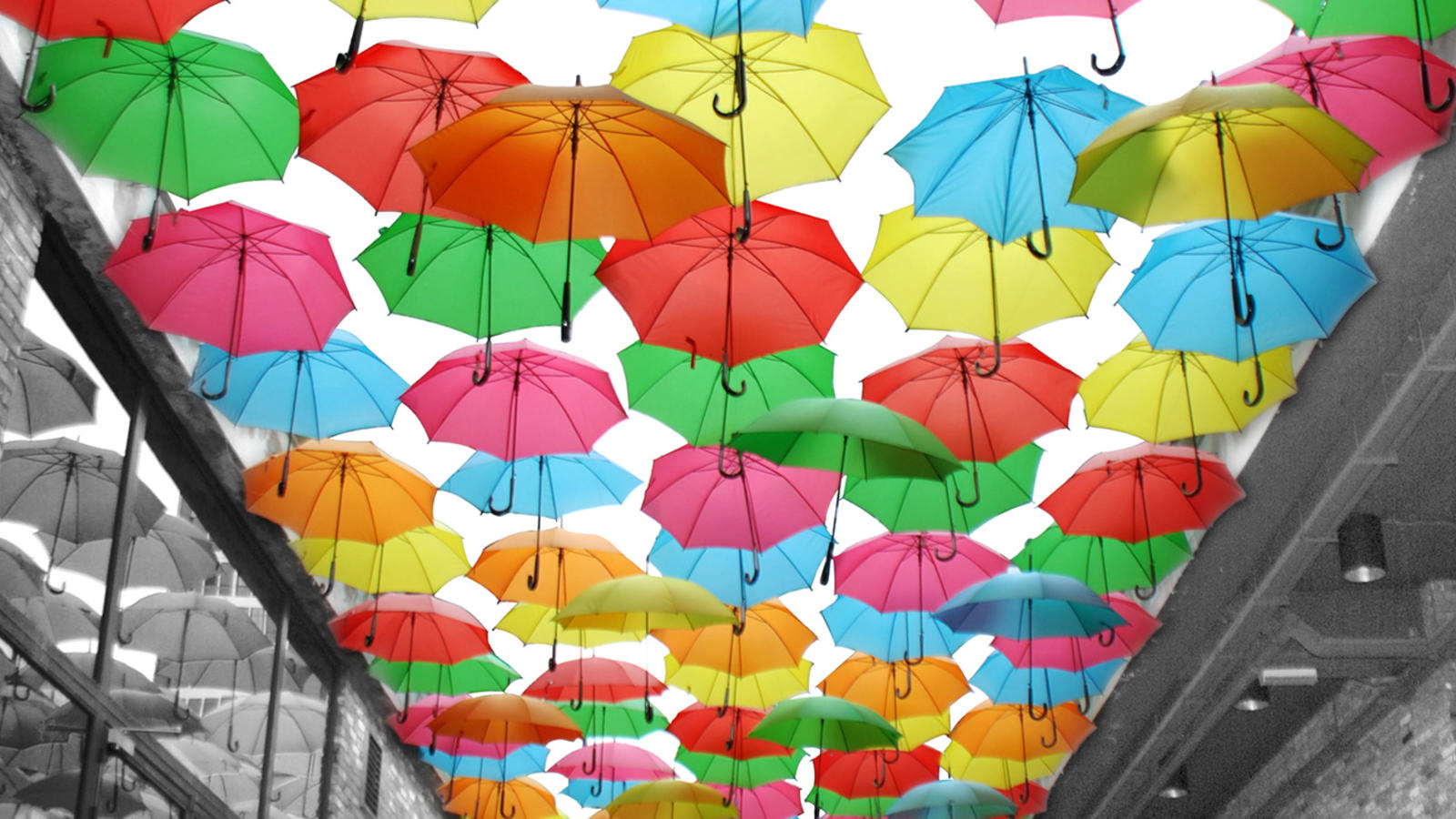 After Harvey | Features
Stormnesia
The Rain Has Stopped. So Why Are So Many Harvey Survivors Feeling Foggy?
The Rain Has Stopped. So Why Are So Many Harvey Survivors Feeling Foggy?
This article originally appeared in Houston Public Media.
Mary Ann Constantinou is a cool customer. Born in New Orleans, she prepped her never-flooded Houston house long before Hurricane Harvey swamped her neighborhood. When water seeped through the floorboards, she located a rescue boat and got her husband, teenaged son, elderly neighbor and basset hound to safety. Harvey may have deluged her with challenges, but she weathered them all.
So why, weeks later, can't she recognize acquaintances or recall the day of the week?
All over Houston, people are complaining of an odd forgetfulness. Highways may be clear, deadlines met, and the city mostly back to business. But storm survivors and even residents all but untouched by the downpour now find themselves muddling dates, weeping at small frustrations or vexed by insomnia.
"It's called Acute Stress Disorder, and it occurs two to four weeks after exposure to a trauma," explains Rosalie Hyde, a social worker who works closely with trauma victims including Harvey survivors. Most people are familiar with Post Traumatic Stress Disorder, or PTSD, in which serious symptoms linger after eight weeks and often don't go away. But in the immediate aftermath of stressful events such as Harvey and other global disasters this year, many others will feel some form of time distortion or emotional and physical unease.
"In the case of Harvey we were so connected with each other through the flooding and social media that the traumatic event was shared," Hyde says.
Befuddlement over time is one of the most common complaints. "I call it flood brain damage," Constantinou says. Like many post-Harvey Texans, she now wakes up laser-focused on mucking out and rebuilding her destroyed home. Yet at a recent PTA function, she kept reintroducing herself to people she already knew. At home, she insisted that a doctor's appointment she scheduled for April was actually slated for this November.
Even Houstonians who didn't personally suffer losses notice the distortions. "During Harvey, I went fully polychronic," says Rice University engineering professor Matthew Wettergreen, who spent the storm immersed in relief work. In plain English, Wettergreen started seeing time as fluid, only meaningful as far as what needed to be done.
As an engineer, he is ordinarily fixated on dates, appointments, and measurements. But in the wake of the hurricane, when he ran software linking food providers to rescue groups, Wettergreen routinely called colleagues at midnight without apologizing. "I wasn't sure what day it was. It didn't matter," he adds. "Things had to happen immediately."
Losing track of time, experiencing the present as if it's a dream: Both are ways the brain fends off overload under stress. "Dissociation happens because you can't take it all in at once," Hyde says. "In the first few weeks after a traumatic event, everyone feels a little removed, a little out of sorts. My own house didn't flood, but I still felt confused at times."
Punctuating that eerie remove, for many people, are jagged, intrusive memories. Some remember looking out the window and seeing a familiar street become a disaster site with boats, megaphones and sobbing neighbors. Others have sensory flashbacks, like the feel of oily, foul-smelling water as they swam or trudged to safety. And many feel a surge of panic during the regular rainfalls common in a wet city like Houston.
The flashbacks can be especially fierce for Houston's sizeable population of refugees, combat veterans and survivors of earlier catastrophes. "Ninety-year-old Holocaust survivors are having flashbacks," Hyde says. "Think about it. In Houston, you have so many people who were disaster survivors already. So many people already have had the experience of leaving their homes, and this brings that back."
On occasion that can lead to full-fledged PTSD. But what more Houstonians will experience is the normal next phase of acute stress: irritability, melancholy, a general malaise. That's what Matthew Turner, a soft-spoken English professor at Lone Star College, now is finding. He and his wife, Laura, thought the worst of Harvey was over when they escaped from their flooded house by canoe. Used to arduous adventures such as weeks hiking through Spain, they were startled to find themselves bickering over small things like paint chips.
"Laura wants to pick wall colors and I say, we don't have walls," Turner says. "Paint is the one thing in the future she has the power to make a decision about. And I keep worrying about controlling our money. I'm not happy with the way I've acted sometimes." Thanks to a Chili's gift card from a friend, the couple was able to sit down in a tranquil place and voice the emotions underlying their short tempers.
Resources like grief support, jobs – even monetary help such as gift cards – make a huge difference after an upheaval, says pyschotherapist Judy Nguyen. In her work as a domestic violence advocate, she often sees the damaging effect of losing power over one's life. "When people lose control in one area, they will have the tendency to gain control over something or someone, to feel sane," she says.
Houston's mental health first responders have jumped into this breach with a kind of emotional triage. In the Fifth Ward, home to many low-income residents, life already could be overwhelming before the flooding, peer counselor Julia Walker says. So as soon as she saw that recovery groups were delivering water and food, she began one-on-one counseling amid the piles of debris crowding the streets.
Many storm survivors need professional, stage-by-stage mental health care, something already in short supply before Harvey. In its absence, ordinary Houstonians can help. If you know someone who was flooded, counselors say, listen to them. Friends and acquaintances can make a difference by inviting recent survivors to say as much as they want to about their experience.
"One of the most important things to know is that we are still hurting," says Mary Ann Constantinou about Harvey's survivors. "I know terrible things have happened in Florida and Puerto Rico. But it feels like we have been forgotten. Even a text helps: 'Hey, I just want you to know I'm thinking of you.' "
At work, meanwhile, managers need to be aware that seemingly unscathed employees may be living in a new reality, and to calculate that into their expectations. According to former Rice Business professor Otilia Obodaru, even without a disaster most workers coexist with "alternative" identities -- the selves they might be if they'd made different choices
After a disaster, survivors live alongside those lost selves without having made any choice.
The transformation isn't always for the worse. Before Harvey, Constantinou's neighborhood was the placid place where she lived and attended church. Now it's the place where she charged through neck-high water in a dark house to save a friend's parrot. When the creature attacked her, piercing a vein, Constantinou swathed her arm in a towel, grabbed the angry bird and got them both to a rescue boat.
But a parrot bite will heal more quickly than other injuries from the disaster – some of which are still surfacing. At a recent visit to pick up contact lenses, Constantinou learned that her long-distance vision had worsened so much in just the few weeks since the flooding that she needed a new prescription. Hurricane Harvey, the eye doctor said, had played havoc with her ability to see far ahead.
---
Claudia Kolker is the editor of Rice Business Wisdom and author of "The Immigrant Advantage: What We Can Learn From Newcomers To America About Health, Happiness and Hope" Originally published in the LA Times.
Rice Business Wisdom Newsletter
Never Miss A Story