Alumni Stories
Future Fitness
As the fitness market flexes new muscle, gyms are adapting to offer not just a workout, but a full-body wellness experience.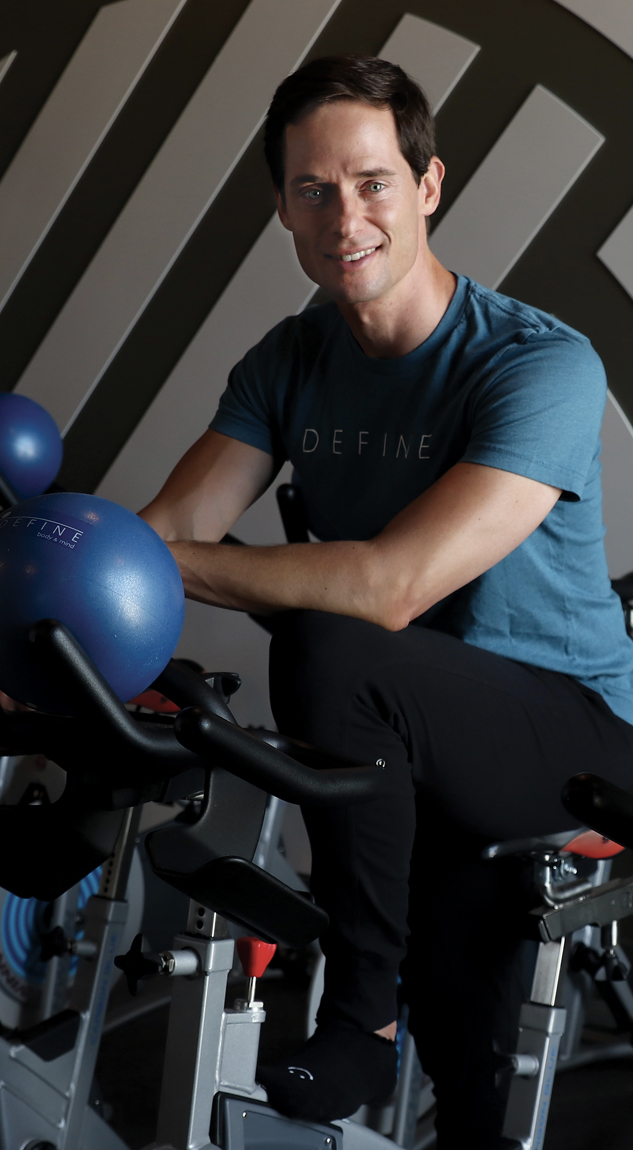 In a trendy Houston neighborhood, people in workout wear hurry past a restaurant serving locally sourced food, up the stairs of a boutique shopping center and into one of the city's many high-end fitness studios. They are carrying babies.

Breezing past the front desk of DEFINE Body & Mind, they enter a group workout room that feels more like a sanctum than a gym. Other parents with babies strapped to their chests are already there, hoisting weights and flexing resistance bands.

"DEFINEbaby" is a class for moms and dads who want to break a sweat with their newborns. It's also a testament to how deeply fitness has become ingrained into our lives. Workout classes have become so ubiquitous that children are now attending before they can even walk.

In 2019, the fitness industry is projected to hit a new high of roughly $36.5 billion in revenue, according to the market research group IBISWorld. This peak represents more than a decade of solid growth in fitness club memberships, which have risen by more than 33 percent since 2008.

Some analysts have speculated that the sustained expansion is due to rising health consciousness among younger people who were growing up as diagnoses of obesity, diabetes, and other health issues skyrocketed.

But Rice Business alum Henry Richardson, PMBA '09, the founder of DEFINE, says the story is more complicated than that. As he and other fitness entrepreneurs have noted, the entire culture of exercising has changed during the past decade. Gyms have gone from selling a membership to selling a lifestyle — logo athleisure wear included.

Exercising is no longer just about results, Richardson says. Increasingly, it's also about finding a community.

He designed the DEFINE experience with that idea in mind, he says. The feeling of belonging is built in, from the welcoming, light-filled workout room to the lime body wash in the showers to the fact that the classes are designed for everyone, including pregnant women and seniors.

Data show that an elevated marketing and branding approach is working. Boutique studios like Richardson's have seen the biggest boom of all sectors of the fitness industry in the last decade.
A Growing Market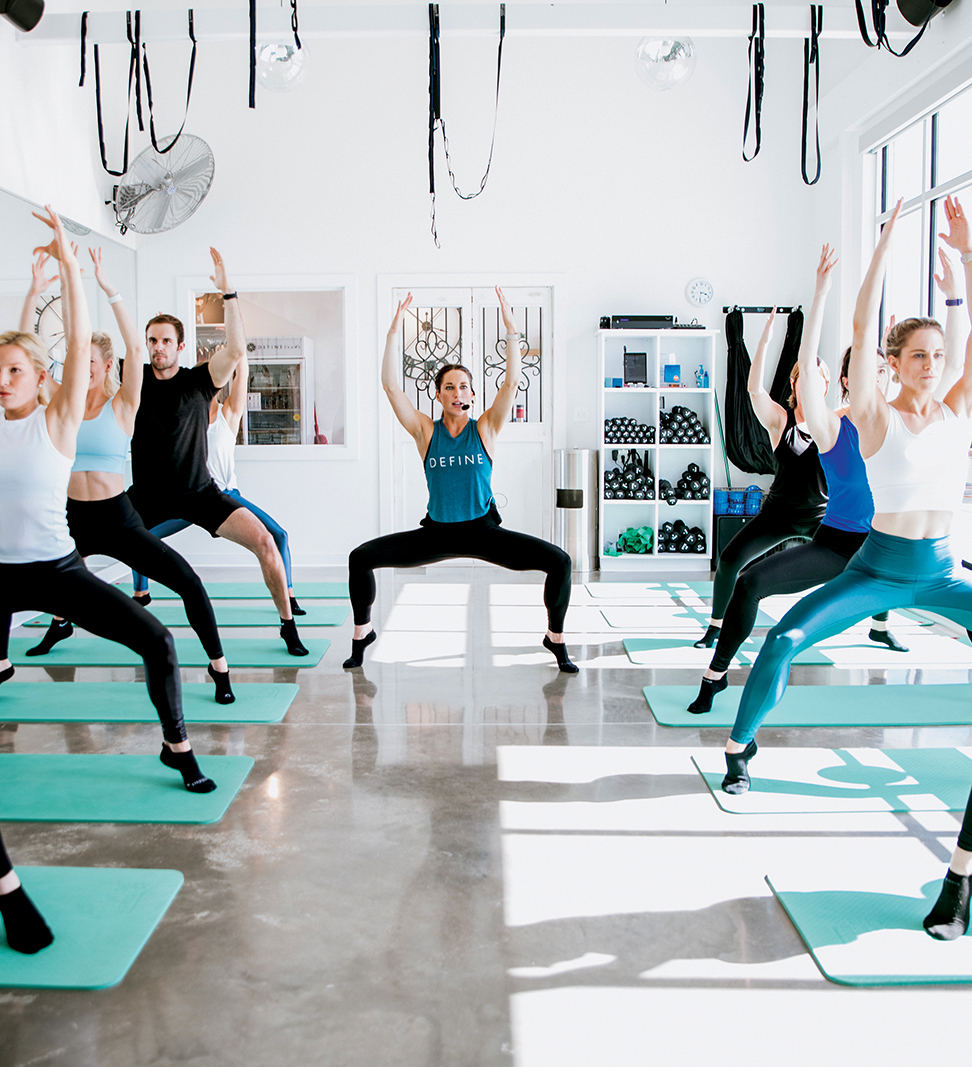 While cities like New York and L.A. have long been known for fashion-forward fitness, Houston has also proved to be a boomtown for boutique gyms. When Richardson moved back to his hometown from New York in 2007, Houston's fitness landscape was so barren that you could conjure up an image of tumbleweeds to describe it. There was one lonely yoga studio in town.

Today, the city has made a 180-degree turn. The luxury health club Equinox established a Houston outpost in 2015, taking up residency in the tony River Oaks District. And the high-end fitness chain Life Time, which opened its first facility here in 2004, now has nine in the greater Houston area — two of which opened in the past year. A Greenway Plaza location is scheduled to open later this year.

Meanwhile, Rice Business alum Molly Carter, MBA '14, opened a boutique fitness studio, The Preserve, in River Oaks last year. Carter describes the gym as beautiful, upscale, and personal.

"I built the gym that I wanted to go to," she said.

From the striking modern building, with glass walls to bring the natural world inside, to its futuristic "kinesis" cable-resistance machines, The Preserve is an homage to what Carter describes as a new national obsession with working out.

More than ever, word-of-mouth is what gets new people to walk through the door, she says, so she's sought to create an experience so unique and appealing that when people leave, they want to tell others about it.

The presence of The Preserve in the Houston fitness market is one sign of how competitive — and potentially profitable — the region has become for exercise entrepreneurs. You can find another in a downtown high-rise where Gympass, a Brazilian company that moved to the United States two years ago, recently opened up an office.

Gympass, which bills itself as a fitness discovery platform, says it's out to "defeat inactivity," with a goal of getting the estimated 1.4 billion people who still don't engage in physical activity off their couches. It's a lofty goal, but that's what drew Rice Business alum Juan Castellanos, MBA '16, to the company, where he's now the global head of client operations. As someone who cares about health and fitness, he was intrigued by the fact that Gympass was trying to make exercise more accessible.

"We always think about fitness in these boxes. 'Oh, I have to get a gym membership, I have to do this or that.' That's kind of the old model," says Castellanos. The new model is more sophisticated, he says — it's about helping people find an activity they actually enjoy. Gympass offers its users, who are the employees of more than 2,000 companies that have purchased a membership plan, access to more than 900 different activities. "How do you get people up? You give them different things to try. Even if you dislike traditional workouts, you can try 365 different things every day for a year to find something you might like," Castellanos said.

A two-minute walk from one of the many spin studios in Houston, Gympass' downtown office integrates elements of a workout facility: stacks of energy bars sit to the right of the reception desk, there are soccer balls and basketballs in a conference room, and inspirational quotes dot the walls. Yet Gympass has a slightly different vibe than the gyms it partners with, humming with the energy of a start-up.

Its sales staff target employers, not would-be members. And they're selling them a very different product: Buy a membership package with Gympass, which partners with workout facilities in Houston and around the world, and offer it as part of a benefit package to employees to improve recruitment and retention, increase productivity, and promote health and wellbeing.
Building Brand Strength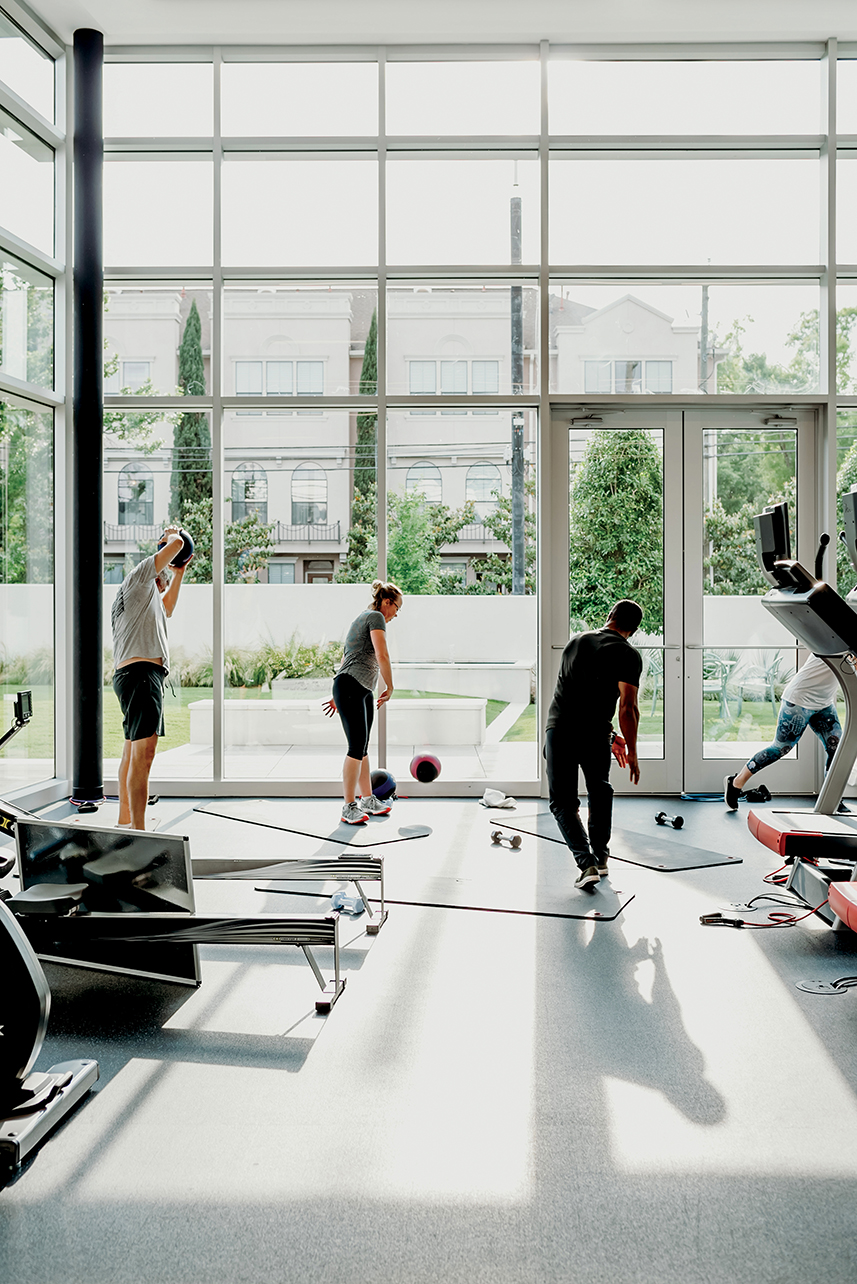 Gympass is essentially a connector service, introducing people to the fitness communities that Richardson, whose franchise is one of the studios users can access through the platform, and others have created. Castellanos' job is to make sure that their experience is seamless, whether they're using the Gympass site to look up a class or to check in at a new gym they haven't visited before.

That seems daunting when you consider that the company partners with more than 48,000 fitness facilities across the country and abroad. Yet it's critical that amid innovation, companies provide consistency in order to maintain their customer base.

"It doesn't matter where you go with Starbucks, you want to have the same cup of coffee," Castellanos said. "Same with us. Our brand is still to defeat inactivity regardless of where you are."

Building a strong brand identity will be key to long-term success in an increasingly competitive market, researchers say. Not only is the industry prone to being rocked by fads, with consumers lunging from Zumba classes one day to high-intensity interval training the next, but it is also competing against streaming services, the internet, and other entertainment businesses for slices of people's free time.

Jaeyeon Chung, an associate professor of marketing at Rice Business, said researchers generally believe that companies who can get customers to "embrace the brand as an understanding of self" fare better year after year than those who don't.

"People tend to choose products that represent their current self-image or their desired self-image," she said. If you think you're great at yoga, you buy high-end workout pants. Or if you want to be perceived as wealthy, you purchase a lower-priced item from Chanel.

That means companies such as DEFINE and Gympass must offer something that appeals to both people who perceive themselves as fit and those who want to get in better shape to continue to grow. Community, accessibility, responsive customer service and product diversity — themes that Richardson and Castellanos both prioritize — are all elements that appeal to both types of customers.
Setting The Bar Higher
The challenge in the future, said Richardson, will be to continue to replicate the brand in new locations. DEFINE started with four studios in Houston; then Richardson decided to turn it into a franchise to grow the brand. Now there are studios in Austin, Colorado, South Dakota, and beyond.

"We are at a phase of the business where I want it to be the right group versus just to open up another store, and so consistency and quality is what fuels me," he said.

More and more, expansion is likely to come on two fronts: internationally and virtually. According to researchers who track the industry, hedge funds are dumping large amounts of money into the sector to fund both the development of new fitness apps and the plumbing of different markets.

ClassPass, which allows people to try out workout classes at different gyms, recently announced it was expanding into Asia and the Middle East. And Peloton, an exercise equipment and virtual training company, has filed for an IPO.

Richardson is tacking in the same direction. In 2017, he helped a family friend launch the first international storefront for DEFINE in Dubai, and this summer he is getting ready to launch DEFINE online, which will offer live and taped classes to members.

Meanwhile Gympass, which is already in Latin America and Europe, announced in June it had netted a $300 million investment from SoftBank, a Japanese holding company, to expand into Asia.

Such rapid growth in an industry, however, raises the question of whether the fitness bubble is near bursting. Richardson acknowledges that the industry could be reaching a tipping point, with too many types of studios in too many locations. On the other hand, he says, there still seems to be a large segment of the market who are just being introduced to new fitness concepts, and ready to give them a try.

If you ask Castellanos, anything could happen.

Fifty years ago, for example, no one guessed that a dancer named Judi Shepherd Missett, who launched Jazzercise in a basement, would go on to build a $2 billion company — nor did they think women would fuel a huge expansion in the fitness industry.

Castellanos hopes Gympass and other innovators will see similar success in reaching a new demographic: the more than 1 billion people who don't work out at all.

"When you have a company like us that is literally redefining how people think about their lifestyle, or exercise, or level of activity," he says, "why not?"
---
Hannah Sawyer is a writer in Houston.