Accounting
A Day in the Life of a Rice Master of Accounting Student
There is a lot to consider when choosing a graduate program, from the curriculum to the career outcomes to the student-life culture.
Rice's tightknit Master of Accounting ("MAcc") community fosters the kinds of personal connections that can last a lifetime. We are proud of our unique student experience and wanted to give you an insider's view. 
Read below as Grant Ketterer, a MAcc Class of 2023 student, offers a first-hand rundown of one of his Thursdays during his spring semester in the program.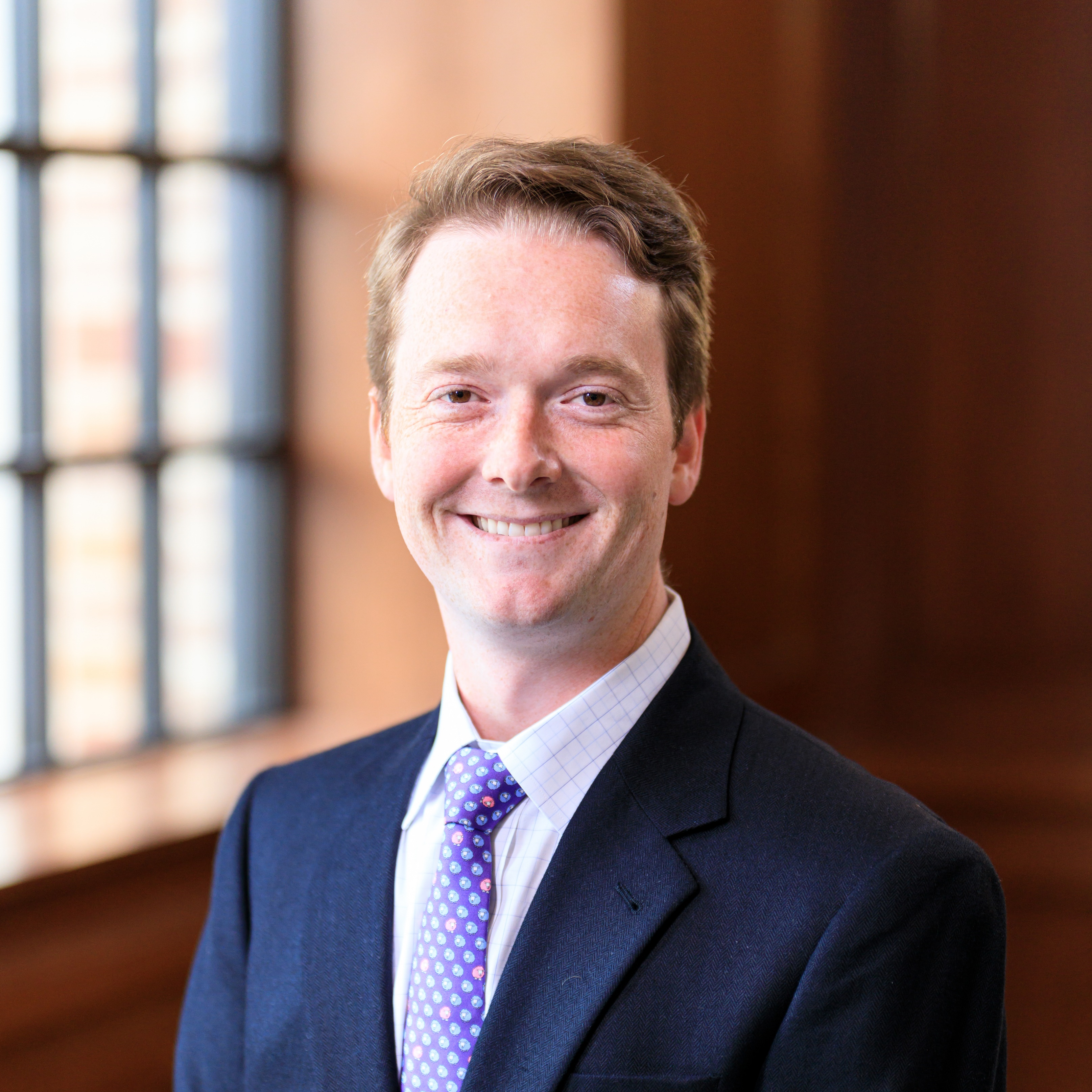 6:30am: Day Starts
For classes on Tuesdays and Thursdays, I typically wake up around 6:30am. My morning routine is pretty standard: I take a quick shower, get my materials ready for class, and make a to-go coffee. I have a dog, so I also take her out for a walk before I leave in the morning.
I live close to campus, so I usually leave my apartment 25 minutes before the start of my first class, which gives me plenty of room to arrive on time.
8:00am: Arrive on Campus
My Tuesdays and Thursdays this spring semester start with Data Analytics for Accountants II at 8:00am (one of my favorite courses), followed by Business Law at 9:45am, and ending with Data Analytics in Auditing at 12:30pm.
I find Data Analytics II especially interesting because we are able to use various software tools like SQL, Alteryx, and PowerBI, to solve a number of cases. The Professor, Yamil Kaba, is great at teaching us how to use the software and always gives us the freedom to incorporate our own approaches when solving the questions. This makes the course extremely dynamic, as you aren't forced into a cookie-cutter process and can explore multiple ways to reach your conclusions. 

11:15am: Lunch Break
I eat off campus for lunch, usually in Rice Village. I enjoy spending social time with friends from the program, and I always look forward to our lunches. However, today was somewhat unique as our team (a group of four students assigned by the program during the first semester for group projects) was invited to the Rice's faculty club, called the Cohen House, to have lunch with Senior Associate Dean Barbara Ostdiek. 

Every team gets the opportunity to meet with her throughout the year, and we were able to discuss our backgrounds, future plans, and our experience thus far in the MAcc program. Dean Ostdiek was interested in our recruiting experience and sincerely wanted to know how we felt about the program. 

We were able to give her feedback on specific courses. For example, we expressed our interest in connecting some of the material we learned in Data Analytics for Accountants I (mostly Microsoft Excel) with practical applications from our finance courses. It was clear that she valued our opinion and made notes to discuss with the MAcc faculty. I think this is one of the benefits of the small-szied MAcc cohort at Rice. Our individual needs are important to the faculty ,and we have an open dialogue with administrators.
Interested in Rice Business?
2:00pm: Classes Over
After our last class ends at 2:00pm, I go straight home and head to the dog park to play some fetch with my dog. Most weekdays I give myself an hour or so to relax before I start working on schoolwork for the next day. The workload can vary depending on the week, with some classes having frequent assignments and others having larger projects due every few weeks. The program is definitely condensed, but rarely do I feel overwhelmed by the amount of work we are given.

3:00pm: Thursday Pub & Partio
Thursdays are especially fun for those looking to spend some social time with classmates. The MAcc program provides us a weekly Thursday happy hour tab at the "Pub" on campus from 3:00-5:00pm, and there's always a group of us there.

Additionally, on various Thursdays throughout the academic year, the Jones School of Business holds a "Partio" (a wordplay on "party on the patio") in the business school's courtyard for all graduate business students. Student groups organize and cater different types of food. Each Partio has a theme with various games and activities. This week was the "Dean's Partio," with mini golf, soccer pool, axe throwing, and dart soccer. This is always a great time and gives us MAcc students the opportunity to mingle with the MBA students and decompress at the end of the week.

Image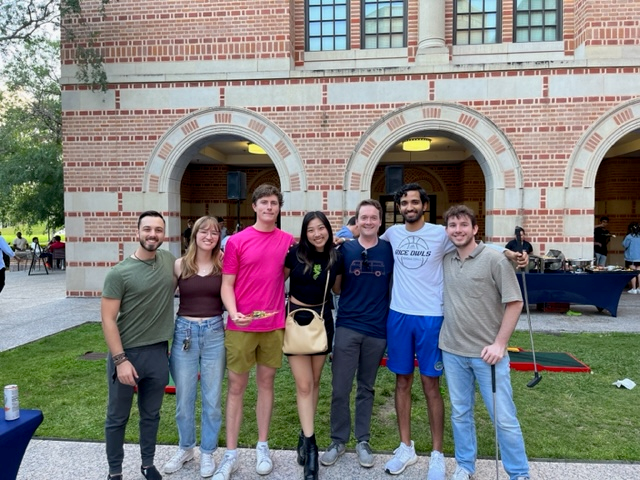 Above: Grant & other MAcc Class of 2023 students at the Dean's Partio 

8:00pm : End of Day
The MAcc program does not have any classes on most Fridays. Since final exams are coming up, tomorrow I am going to be taking advantage of the open day to study to study on campus. Rice's business school has its own library, called the Business Information Center, specifically for business school students. It's a nice place where you can go to focus on school projects.
---
Want to know about the MAcc student experience? Attend one of our admissions events!
You May Also Like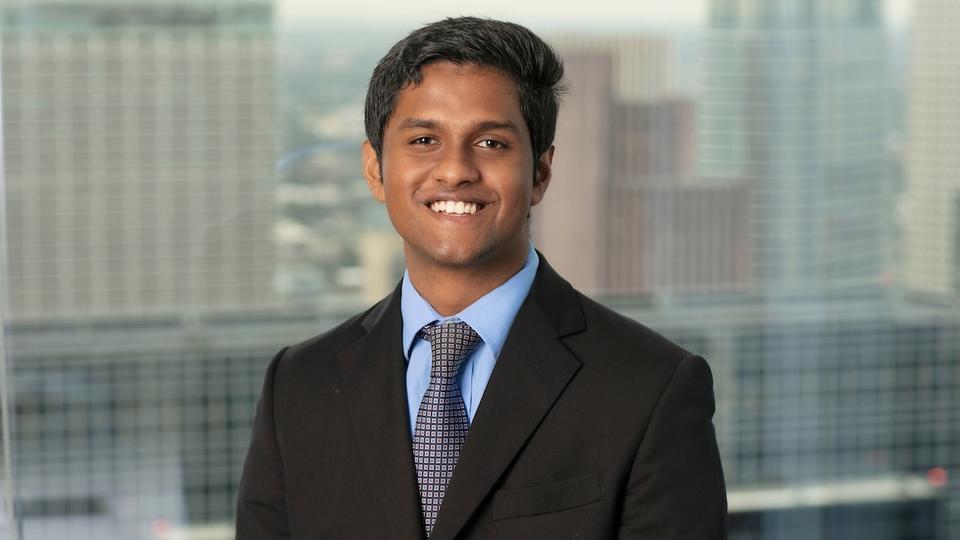 Accounting
We recently caught up with Sherwin Philip, who graduated from Rice's Master of Accounting (MAcc) program in 2022. We asked him a few questions about his experience working at one of the "Big Four" public accounting firms. Read what he told us below!