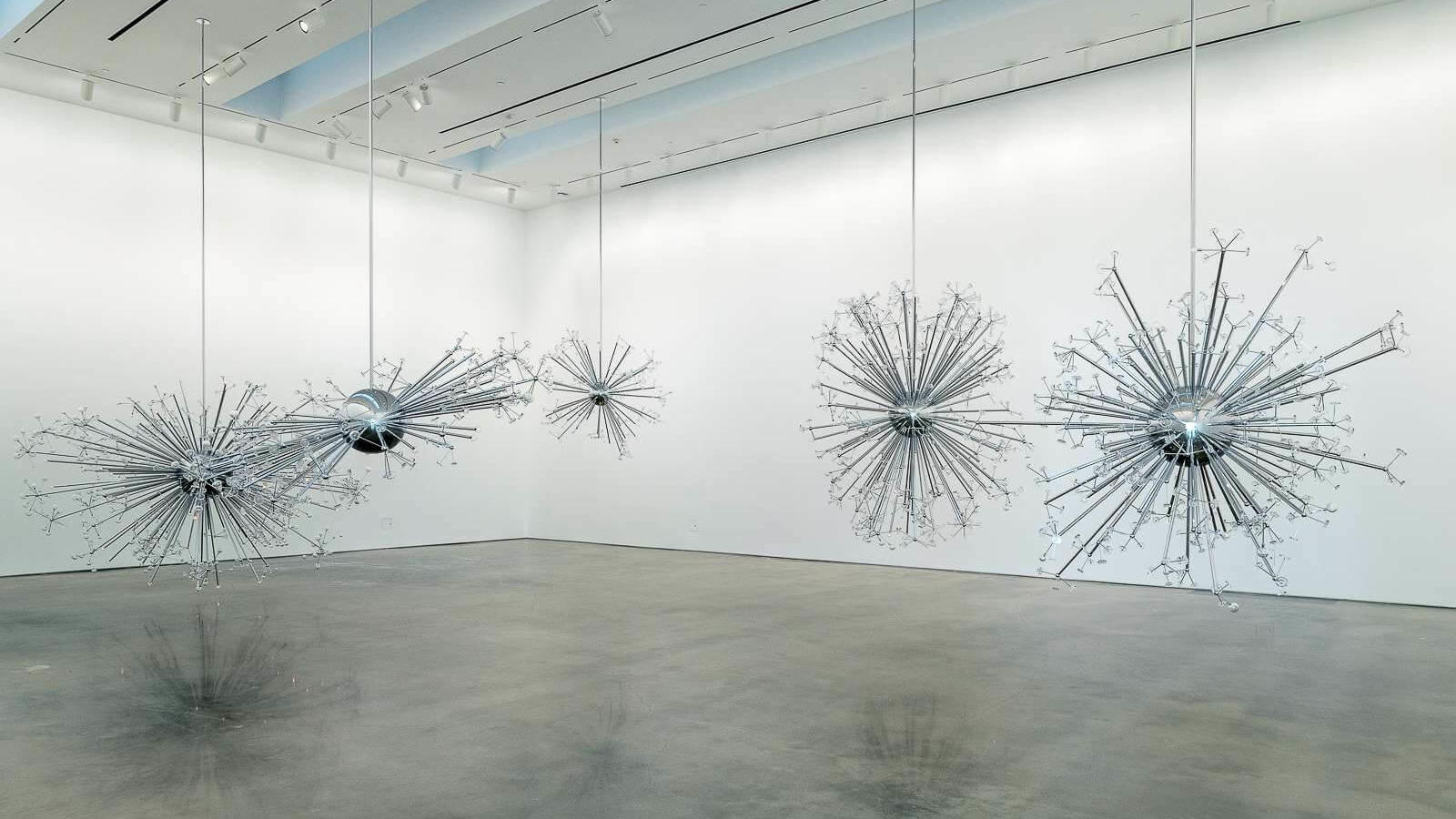 Interdisciplinary Creativity | News Feed
State Of The Art
A Year After Opening Its Doors, Moody Center Has Made A Mission Out Of Art's Many Dimensions
A Year After Opening Its Doors, Moody Center Has Made A Mission Out Of Art's Many Dimensions
Rice University's Moody Center for the Arts recently installed a universe. Looking like a constellation of giant dandelions made of chrome and glass, Island Universe, by artist Josiah McElheny, is a visual interpretation of the Big Bang theory. In the months following its February opening, the Center has hosted a conversation between poet Joseph Campana and astronomer Dr. Christopher Johns-Krull and an ensemble of string musicians in celebration of the sculpture. Each event made for a typical — in other words, extraordinary — night at the Moody.
"It's very unusual on a campus to build a building that doesn't solve a real estate problem," explains Alison Weaver, the Center's founding executive director. "This really was built to try to do something new."
A little over a year ago, when Rice University officially opened the glass doors of the 50,000-square-foot, $30 million facility, it became quickly apparent that "something new" meant a chance for students, faculty, visiting artists and the entire city of Houston to explore and create outside of their familiar zones.
While interdisciplinary projects might be all the rage in arts, sciences and business, the Moody Center, which contains classrooms, workshops, galleries, a black box theater and even a cafe, takes that trend and makes it the guiding mission.
"A lot of learning can go on by involving people from different spheres and bring them together," Weaver explained. "Whether conversations of art and technology, art and business, art and politics, human rights or community, all the programs we do try to foster that discourse."
While Weaver describes the Moody as a "hinge that swings both across campus and the community," it's also possible to see it as a bridge: between Rice and Houston, the state of Texas and beyond, and between the different departments and disciplines of the University. Moody houses no one department, and Rice students from any discipline can take classes there. At the same time most of its programming, the art exhibitions, performing arts events, talks and concerts are open to the public and much of it is free.
"We're accessing the intellectual capital of the university, making it more available to the public, but we're also bringing the public and their creative expertise to Rice," Weaver says. Everyone in the center's orbit, she adds, can benefit from such exchanges.
"I'd say the Moody's whole premise is that: Interesting ideas happen when you get out of your zone," Weaver says.
Many of the art exhibitions and performances the Center presents, in fact, begin as art inspired by other subject matter. From that work Weaver and Moody programmers cross the disciplinary streams to create even more dialogue. Island Universe, swaying from the ceiling of the Brown Foundation Gallery through June 2, is a good example. Besides the talk with Johns-Krull and poetry reading by Campana (April 9) and the KINETIC concert (May 3), McElheny delivered the Rice's School of Humanities Campbell Lecture Series in March.
Not to be outdone, the other main art exhibition at the Moody this spring, Leo Villareal's Particle Chamber (on view now until the December 31, 2018) an immersive installation inside the Media Arts Gallery that plays with light, space, technology, and sensory perception, will bring the artist back to Rice for a conversation with Dr. Marcia O'Malley, Rice professor of Mechanical Engineering and Computer Science, an expert on robotic development (April 6).
Weaver deploys the same kind of create-and-respond programming philosophy when bringing in performing arts projects and hosting events. DADA GERT (May 11-19), an immersive work of dance theater from choreographer Annie Arnoult and Open Dance Project, doesn't have a science component as inspiration; instead, Arnoult will create a dance referencing history, especially that of Berlin during the Weimar Republic.
"To me that's a very interdisciplinary process," Weavers says. "We're going to have a consortium of scholars who study the Weimar era, scholars who span philosophy, visual art, history and literature, all of whom care about the Dada period between the wars. "
But bringing together artists and historians, scientists, engineers and business people isn't the end of the programming. Encouraging Rice students and curious, thoughtful Houstonians to come and listen and sometimes participate lies at the core of the Moody's mission.
A year into the center's existence, Weaver might only have anecdotal evidence, but she believes she sees sparks igniting. She remembers in particular audience reaction to a conversation between artist Diana Thater, whose video installation Starry Messenger hung in the reception gallery in 2017, and Rice professor Dr. David Alexander, an expert in solar astrophysics.
"At that talk was such a diverse audience," she says. "A consultant in town in oil and gas came up to me afterwards and said it was the most stimulating and memorable talk."
It helps that Weaver herself in some ways represents such cross-disciplinary dialogue. With a background in art history and an MBA, she sees the Moody from different perspectives, especially now as they move into their second year and continue to integrate into the Rice and Houston communities.
"I think we're doing something that no one has done before not just in Houston but in the nation," she says. "I've looked at other universities and no one is doing quite what we're doing in terms of bringing together art, performances, art-making and classes and public programs in one effort. I view it as exciting in the potential to break new ground."
---
Tarra Gaines is a Rice Business Wisdom guest contributor.
This article first appeared in the Arts & Culture magazine as "Conversations in Art, Science & Technology: Moody Center for the Arts"
Rice Business Wisdom Newsletter
Never Miss A Story