By Jeff Falk
Rice University's Master of Business Administration program implemented a new approach to teaching this past spring to better meet the needs of students and employers and the changing demands of the business education marketplace.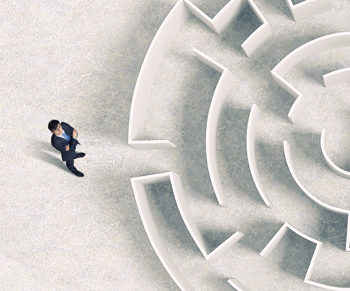 The centerpiece of the new Jones Graduate School of Business course, Critical Thinking and Strategic Decision-making, was an integrated team of faculty who focused on learning the elements critical to business leadership.
"Strategic decision-making is the process where people, instead of getting bogged down with the problem-solving aspects of a decision, actually pay attention to the strategic process," said Vikas Mittal, the J. Hugh Liedtke Professor of Marketing and head of the school's Energy Initiative. "They ask questions about engaging the right people, developing the right relationships, keeping personal bias out of the decision process and managing cognitive and emotional conflict. Critical thinking is the art of being able to evaluate an issue nonjudgmentally — thinking about an issue from all perspectives, evaluating different alternatives without getting wedded to any particular alternative."
Mittal said both skills are difficult, subtle and involve rigorous thinking and adaptability in perspectives and behaviors. To better teach these skills, he developed the concept of an integrated course offering, which was taught this spring by four professors whose research and expertise brought a multidisciplinary approach to the topic. The course will be offered again in spring 2016.
Alex Butler, professor of finance, taught the part of the course about finance and econometrics; Mittal, focused on the topics of decision-making and psychology; Amit Pazgal, professor of marketing, tackled game theory and operations management; and Brent Smith, associate dean and associate professor of management and psychology, addressed leadership and change management.
Organizers said the course's focus is particularly relevant to the energy industry, which is facing a looming shortage of executive talent as growing numbers of CEOs and other C-suite executives retire and companies are forced to confront the lack of experience in their ranks. "If you're a junior analyst or engineer, you might be in a really good position to take advantage of that … except that your promotions are based on core skills, and you've never actually managed a team through conflict or organizational change," Mittal said. "What's a reliable way to build a more substantial knowledge base? What's the next step?"
Thirty participants — made up of second-year professional and full-time students and one alumnus — are currently figuring out their next step with the first integrated course offering. The course, along with others launching during the summer and fall of 2015, was offered on a competitive basis. "It's a chance for students in the MBA program to discover themselves," said Ankur Dayal, director of the Energy Initiative at the Jones School.
It's also chance for the energy industry to fill its pipeline of potential CEOs with the next generation prepared to lead, said Mittal, who also heads the school's Partnership for Research Insight and Management Excellence (PRIME), which has particular interest in and focus on the energy and oil and gas industry. "PRIME increases the potential of insightful executives with technical ability by enhancing their commercial acumen and leadership ability," Mittal said.
For more information on the Rice MBA's integrated course offering, visit Critical Thinking and Strategic Decision-making.