Student Stories
Sarah Yang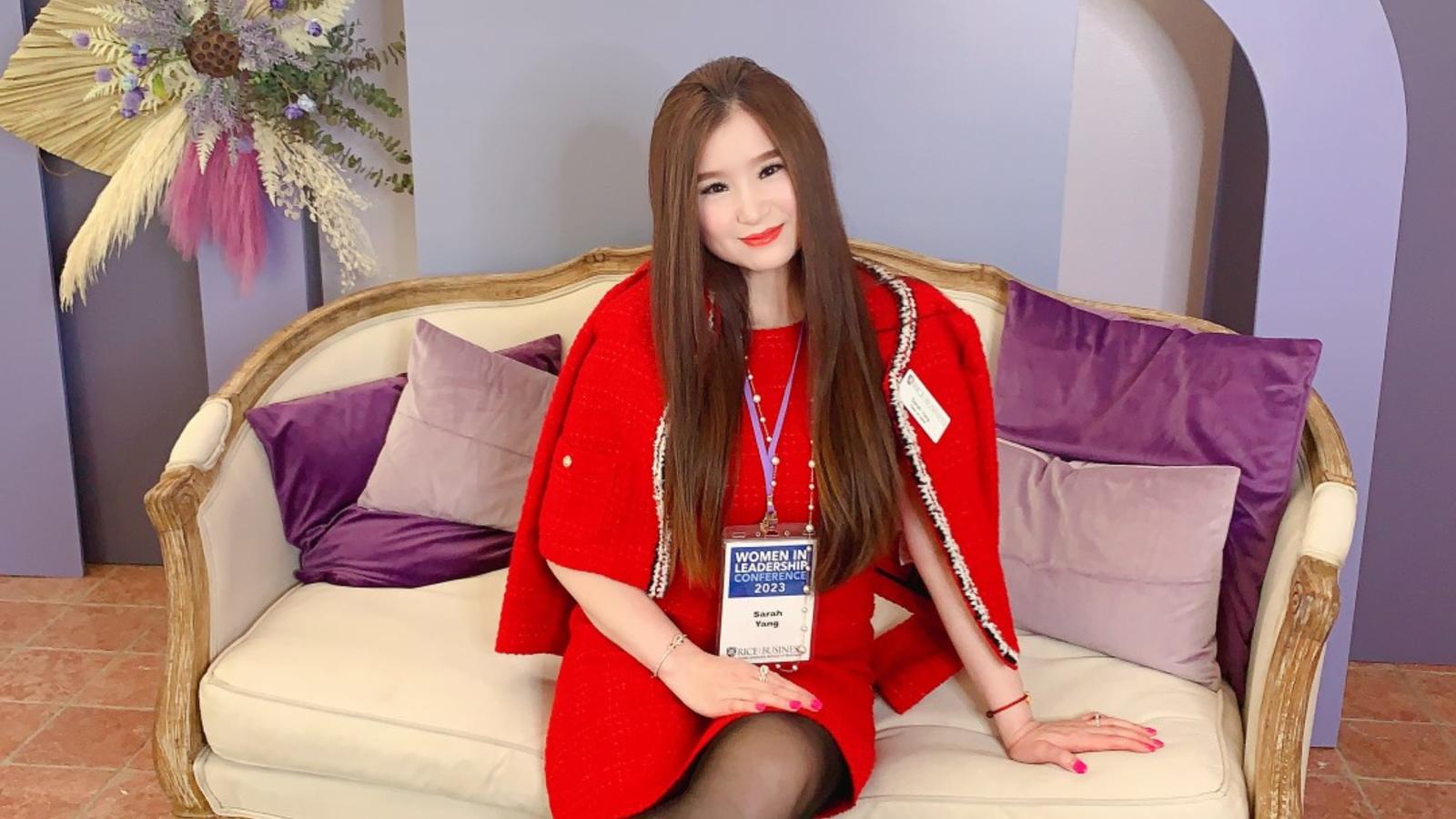 What was your pre-MBA Industry and function?
Prior to Rice, I spent the bulk of my career in the energy industry. I've worked in four countries during my 12-year career as a Senior Petroleum Engineer, managing numerous multi-million drilling and completion projects at Chevron and Ovintiv (formerly Encana). A couple of years ago, I had an amazing opportunity to join a fast-growing education management consulting firm, where I continued to develop my communication and problem-solving skills working in a fast-paced start-up environment and making far-reach impacts for local high school students in China.
What is your post-MBA Industry and function?
My post-MBA industry is Investment Banking. I am proud to share that I was one of the three female full-time MBA candidates who received internship offers from Investment Banks, and I will be joining Houlihan Lokey as a Summer Associate in the Oil & Gas M&A and restructuring group in the Houston office.
Why did you want to pursue your MBA? Why did you choose Rice Business?
Why MBA?
My over a decade of engineering experience in the oil and gas industry had been extremely fulfilling. I really enjoyed the technical side of work, and I've had the opportunity to travel around the world. Looking back, I think I had this "epiphany" about my career when I worked for Chevron and Encana while I was leading several strategic planning and asset development planning types of financial modeling, which were very interesting, and it really intrigued my curiosity wanting to learn more about the financial sector. That's when I realized that my career focus has shifted from the technical to the business side of the engineering world. By that time, I knew my ultimate route is to pursue my MBA where I can use my technical background and all my transferrable skills, and supplement them with formal business education and this incredible network Rice provides to help me pivot into the financial industry. In particular investment banking, which I view it as a fast-paced apprenticeship, where you are challenged to continuously learn through far-reach impact projects, that lead you to navigate through many different aspects within the financial industry, that is extremely appealing to me.
Why Rice?
I attended the Rice MBA campus tour and sat in three different classes when I started looking at MBA program. I immediately fell in love with the personal and collaborative classroom style and the learning culture. I really enjoyed meeting everyone from the Admission Office, the Rice ambassador students, and some of the faculty members. In addition, the Rice faculties are internationally recognized experts, and the small student-to-faculty ratio Rice MBA program offers was also very attractive to me. I attended Marietta college, which was a small liberal arts program in Ohio, and I greatly enjoyed and benefited from the boutique classroom experience.
What was your favorite memory or experience from your time at Rice? 
Image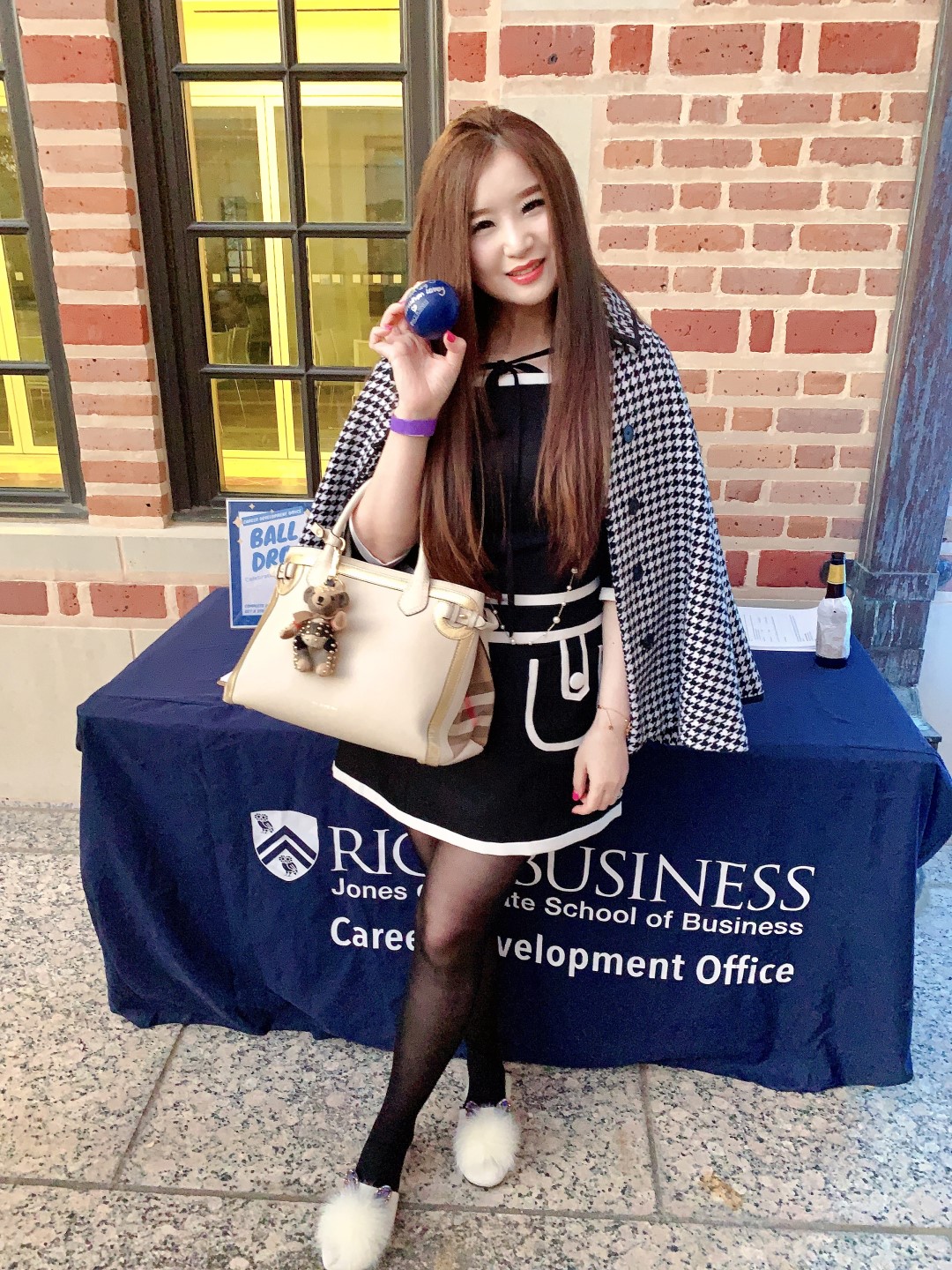 One of my most memorable experiences at Rice was the Launch program. Our full-time class has been chatting in our "Rice FTMBA Class of 2024" WhatsApp group over the summer, sharing tips regarding flights, housing, navigating around Houston, and helping each other study for the pre-MBA Coursera courses. All these commentaries and friendship has been building up via group chat, and the first day of Launch felt like the D-day where you finally get to meet everyone in person, and put faces to names. Some of my classmates came over to hug me once they recognized me from my WhatsApp profile pic, and that was the greatest feeling as if I were seeing an old friend whom you have known forever but haven't seen in years. The entire Launch program was packed with laughers, excitement, (and intensive strategy classes), but the first day of Launch was such a surreal feeling for me that my dream has come true standing in the center of the McNair Hall, and I was about to begin the most incredible two years of my life pursuing my MBA degree. Another one of my favorite memories at Rice was the Women in Leadership Conference that was held on Feb 10th. It was such an empowering experience with amazing guest speakers, and Rice alums, witnessing firsthand how women champion women to succeed.
How has the Rice MBA helped you in your career?
I credit all my achievements so far to the Rice MBA program, and I have grown so close to everyone at Rice during my first year here thus far.
The Rice Recruiting and Admission Office: They are probably the first deciding factor that I want to come to Rice when I stepped onto the campus for the very time. Everyone greeted me with warm smiles, gave me a tour around campus, and patiently answered all my questions and concerns throughout the application process.
The Rice Career Development Office (CDO): They are always super responsive via all communication channels, very structured recruiting process and timelines, and provide abundant resources in terms of mentorship programs and setting up a wide range of info sessions for different career paths. From my very first IB info session to how to formally accept my internship offer, CDO has been there every step of the way to guide me and help me succeed.
Academic Advising & Global Programs: Managing full-time school and recruiting can be challenging. The Academic Advising Office is always super helpful to keep you on track with your academic development. I also really appreciate the Global Programs here at Rice provides international exchange programs with Rice partner schools around the world. I am currently considering my options for studying abroad next semester in France (how exciting!).
What does it mean to you to be a woman in business?
I think being a woman in business means breaking barriers, overcoming gender stereotypes, and being a trailblazer for future generations of women. Pre-MBA, I worked in the oil & gas industry, which is a very male-dominated industry. Post-MBA, I am pivoting into investment banking, which is another traditionally very male-dominated industry. Therefore, it is so important for me to continuously demonstrate competence, leadership, and expertise in both fields that have traditionally been dominated by men. I have received so many kind gestures throughout my IB recruiting journey last semester. One of the most heartwarming moments was receiving congratulatory notes from a stranger who happen to be a medical student at Baylor University. She saw me as the only woman among 40 of my male classmates attending an investment bank's recruiting event, and she asked the bartender to send over a drink along with a note to me, saying: "BDE, don't ever change, promote the girls!". This little piece of hand-written note has been on my fridge as my "picker-upper" for rough days, and it always reminds me to advocate for gender equality and work to create a more inclusive and diverse workplace where I can also help other women to thrive and succeed. I was so fortunate to receive an early offer for my IB internship out of my 80 classmates who recruited IB with me. Being a woman in business really requires resilience, determination, and a commitment to personal and professional growth.
What do you think organizations should do better to build a diverse, equitable and inclusive organizations?
Building a diverse, equitable, and inclusive organization requires a multifaceted approach that goes beyond simply hiring a diverse workforce. Organizations can take to create a more diverse, equitable, and inclusive workplace by developing a comprehensive DEI strategy that outlines the organization's goals, objectives, and key performance indicators. Increasing awareness is also important to promote DE&I by providing employees with unconscious bias training, which can help individuals identify and address their own biases that may be impacting their decision-making. Foster an inclusive culture: Encourage and support employee resource groups, host events that celebrate diversity, and create opportunities for employees to connect with one another across differences. Provide a safe and supportive environment for employees to share their experiences, concerns, and feedback. Provide Opportunities for Professional Growth: Offer professional development and training opportunities to employees from underrepresented groups to help them grow and advance within the organization. Provide clear pathways for career progression and create opportunities for mentoring and coaching.
Image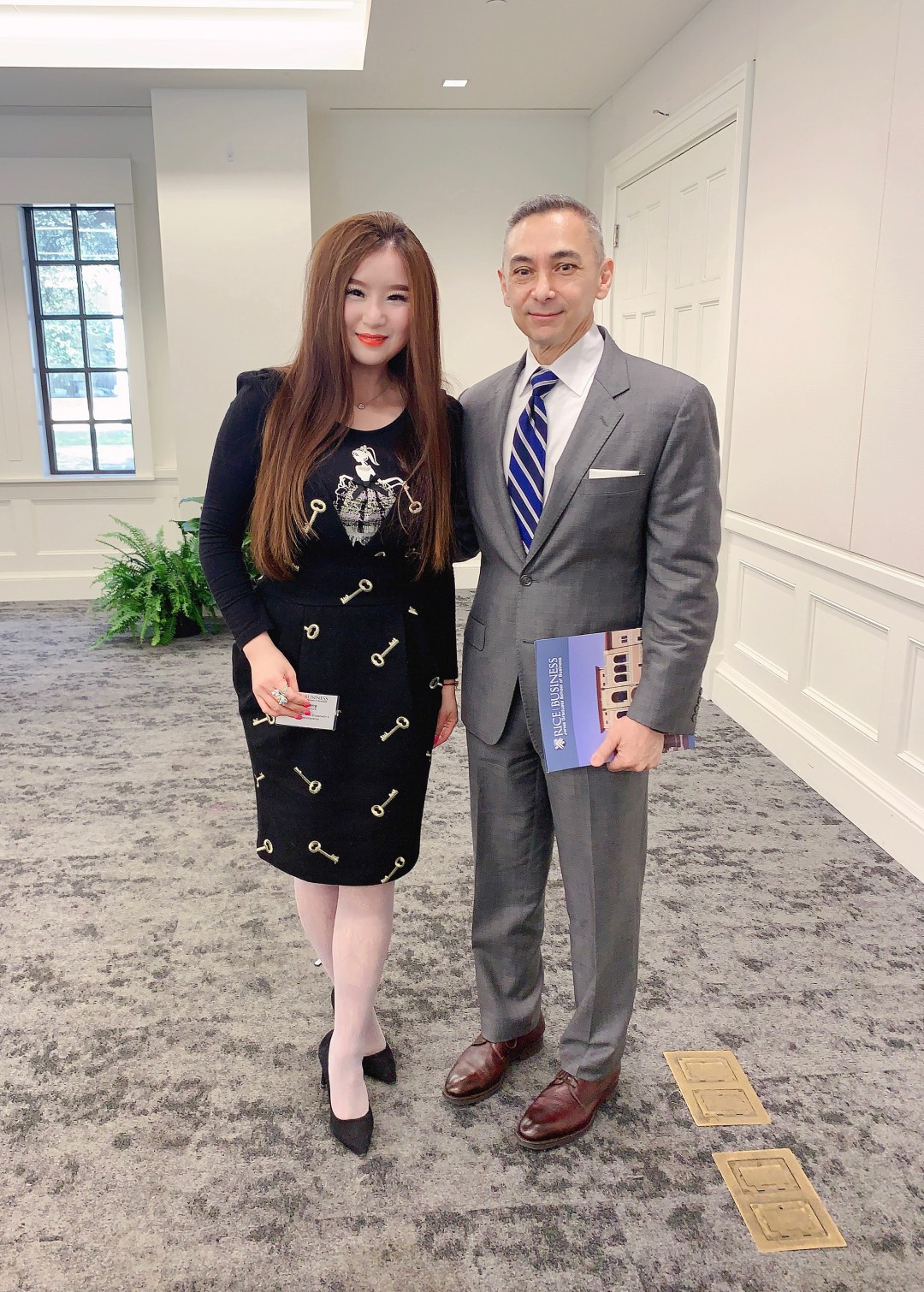 What suggestions do you have for working with allies in the workplace or at school?
First of all, it is important to broaden the traditional definition of "allies" when defining them. For example, don't think of men as solely opponents or competitors in the traditionally male-dominated industry, think of them as allies and try to build long-term & meaningful relationships that can also help men to advocate for women in the workplace. Secondly, engage in open communication with allies to listen and learn from each other. Always ask questions, provide feedback, and seek to understand different perspectives. Last but not least, use allies' privilege or positions to amplify marginalized voices.
What advice would you give prospective students who are considering an MBA?
Exceptional time management skill is such a critical success factor in your journey of pursuing an MBA. Start forming habits early on that can help you to improve productivity and stay organized. There will be times you are overwhelmed with classes, recruiting, exams, social events, and other conflicts. But staying organized and being able to manage your time well can help you achieve greater success. Learn to delegate. You do not have to try to be the leader of every group, club, or organization in which you are involved. Knowing when to reach out for help, when to delegate, keeping open communication and transparent feedback, and effective teamwork make the dream work. Stay focused. I always believe that "A goal without a plan is just a wish." MBA is about discovering yourself and finding your passion and direction for your next adventure. MBA is also such a short two-year program that will fly by so quickly. Once you have discovered your new direction, stay focused and stick to your plans to accomplish your goals.
Do you have any other comments or anecdotes you would like to share
Just enjoy yourself in this fast-paced two years MBA program while stayed focused on what you wanted to accomplish.
---
Interested in Rice Business?