The restaurant business is notoriously tough. Here's how Rice Business alumni restaurateurs are innovating — in the age of the coronavirus, and for the future.
At Pappasito's on Richmond and Kirby, staff members slip on gloves and secure masks to deliver to-go orders of sizzling fajitas and do-it-yourself cocktails. In the parking lot, customers who've shared their car's make and model and paid online wait patiently inside their cars, popping trunks as staff approach with their food.
Since Houston — like much of the world — ordered residents to stay at home to slow the spread of COVID-19, limiting food service to takeout and delivery, restaurants have had to quickly pivot. Evy Pappas '09, an architect by training who helps design new spaces for Pappas Restaurants, now hones parking lot diagrams to make sure traffic flows smoothly for curbside pick-up. She's on conference calls where team members discuss sourcing the products they need for their new to-go margaritas, including containers for mixes and mini Petron bottles.
Throughout our 55 years of service, this situation is truly unprecedented. In two weeks, we completely changed our business model.

Evy Pappas '09
The restaurant industry has always been difficult and fickle. Research finds that around 26% of independent restaurants fail during their first year. The traditional restaurant business model, with its high upfront investments and hefty overhead costs, makes it difficult for businesses to survive. And now restaurants are facing an entirely new hardship. The uncertainty of the coronavirus epidemic, and the new reality of social distancing, only adds to the industry's longstanding challenges.
To succeed in the ever-evolving food business, alumni have found creative ways to set themselves apart in a crowded field. In Houston alone, diners have more than 10,000 restaurants to choose from. Rice Business alumni who are beating the odds aren't letting themselves get complacent. They're making their businesses stand out and they're constantly evolving and innovating with the customer top-of-mind. It's an approach that will become even more important as the dust settles from the coronavirus pandemic.
Keeping It In-House
Evy Pappas works with her father, Harris, who, with his brother Chris, launched one of the most recognizable brands in the Houston restaurant business. What started as a single restaurant, opened by the Pappas brothers in the 1970s, has grown to 107 locations across the U.S., serving 28 million guests a year.
They include Pappasito's Cantina, Pappadeaux Seafood Kitchen, Pappas Bar-B-Q and Pappas Bros. Steakhouse — all go-to eateries for countless Houstonians. Recently, the family opened a barbecue spot in Duncanville as well as a new sit-down barbecue concept with an extensive whiskey menu, called the Delta Blues Smokehouse.
Being family-owned gives them the freedom to experiment, according to Evy. "This company is very nimble and can do things very quickly," she says. That's because it does everything in house, from lawncare to restaurant repairs. The company has a 292-person team that handles maintenance, service, landscaping and fabrication. The Pappas family owns and operates the trucks that deliver its meat and seafood, refinishes and reupholsters its own chairs, and even makes its own chef tables from raw steel. If a piece of equipment breaks, a team member picks up a part from an inventory stockpile in the Pappas warehouses and can make the repair almost immediately.
The company also follows a specific real estate strategy, honing in on spots where their restaurants are highly accessible by drivers, like freeway off-ramps and busy intersections. The Pappas family owns many of the properties where their stores are located.
Evy's sister Eleni Pappas '19, who works at the Houston-based engineering and transportation planning firm Traffic Engineers, Inc., also helps out with the business, advising on land development questions.
"When you're part of a family business, even when you are not officially involved with it, it's still part of you and something you care deeply about," says Eleni. "So I'm always happy to help discuss site access concerns, or just any concern that may come up. I love to be a sounding board whenever I can."
Now, the restaurant chain is focusing on its curbside business. It has adjusted its restaurant hours, reduced the number of menu items, and launched new offerings such as family packs. "And we'll continue to innovate and change through this very challenging time," says Evy.
Entertainment Value
At Kiran's Indian Restaurant, Puja Verma '12, and her mother, Kiran Verma, who opened the upscale eatery in Highland Village in 2005, have also had to find new ways to serve their customers.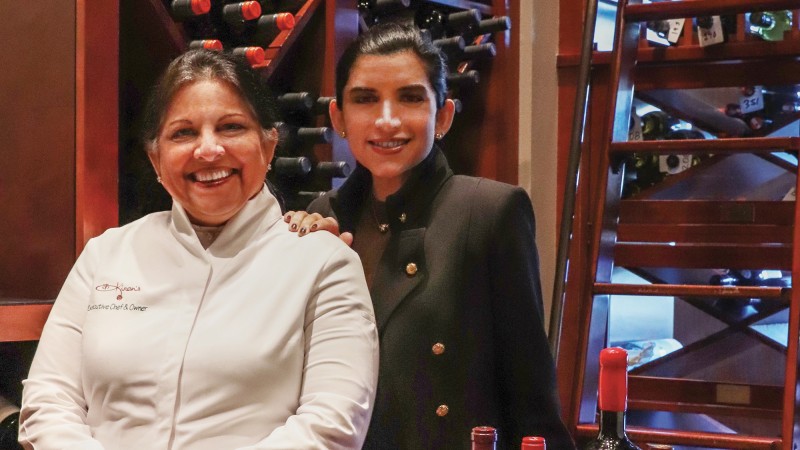 The restaurant has been offering curbside pick-up and delivery since Houston's stay-at-home order was issued, and planned to reopen for in-restaurant dining on May 1. It's using the same staff each day for the kitchen and in front-of-the-house operations to minimize the risk of infection. As the restaurant's director of operations and strategy, Puja is relying on staff who can adapt. To address the constraints imposed by the coronavirus outbreak, she's added family-style menus and made small changes that will likely endure even after the pandemic subsides, such as replacing bowls of after-dinner mints with individually packaged candies.
Reinvention is part of Puja's job. She helped design the restaurant's new, larger space near Levy Park, which opened in 2017, and she recently created an intimate lounge area in the restaurant where diners can have a drink or dessert, a concept she borrowed from restaurants in Europe and the California wine country.
"It's all part of creating an experience," says Puja, who also helps manage the restaurant's nearly 70 employees. "In Houston, dining is still a big part of entertainment."
Zagat's named Kiran's the best new restaurant in Houston in 2006. Now Puja is working to boost the restaurant's prominence on a national level — a task she's embraced since leaving her oil and gas career last year to work at Kiran's full time.
H-E-B began selling food from Kiran's at five of its stores in late April. Puja has other ideas for expanding the restaurant's reach, including getting its signature chai tea blend onto grocery store shelves nationwide. Another goal is to partner with an airline to serve Kiran's cuisine in the air.
Puja stays on top of trends by visiting restaurants when traveling and poring over newspaper dining sections and food magazines. She gets inspiration for menu design, dishes and food presentation from colors and patterns in fashion magazines.
"With the restaurant industry, there is a lot of change," Puja says. "The reason we've been successful is that we take everything into consideration. People start ordering Uber Eats and DoorDash, so we're on those platforms. People start talking about small plates, so we create a small plates menu. And more and more, we accommodate dietary interests, like gluten free, dairy free, vegetarian and vegan."
High Hurdles
Food service gets a bad rap as a notoriously difficult path to success. But in 2014, two economists tapped data from the U.S. Bureau of Labor Statistics to debunk the long-held belief that most new restaurants fail. They found that just 17% of restaurants close in year one — a lower failure rate than other service-providing businesses, which fail at a 19% rate.
Yet, the restaurant industry still has a laundry list of challenges. Its employee turnover rate is higher than average, due to a reliance on teenagers, students and seasonal staffers. In 2018, the overall turnover rate was 74.9%, according to the National Restaurant Association, compared to 48.9% for all private sector workers.
High real estate costs, climbing worker wages, and the price of high-quality ingredients also present obstacles as restaurants compete for a piece of consumers' finite budgets.
Food-service businesses have to keep up with industry trends as well. Trends for 2020 include plant-based proteins, eco-friendly packaging, healthy bowls, and ingredients that help relieve stress, says the National Restaurant Association.
Buying into those trends can be expensive, but restaurateurs don't necessarily have to jump on the latest bandwagon to do well. Thriving restaurants tend to follow a similar, fairly basic recipe for success, experts say. The ingredients include solid people management and accounting skills, consistent customer service — and an exceptional experience.
Testing the Market
In Washington, D.C. as news about the coronavirus intensified, Turner Hoff '13 initially saw orders for his plant-forward subscription meal service, Vegetable and Butcher, decline as customers instead piled into grocery stores.
"People were panic-buying," he says. "They were afraid of the unknown." But customers started coming back for his salads, bowls and breakfast offerings once information emerged that the coronavirus isn't likely to spread through food.
Since the outbreak, Hoff has adjusted delivery hours and started offering discounts to customers who are struggling financially.
When Hoff and his partner, Ariane Valle, launched the business in 2016, they were delivering to just two ZIP codes. As of this spring, they prepare and deliver around 4,000 meals a week to over 100 ZIP codes. The business has grown more than 100% year-over-year every year. But the pandemic may slow their growth.
As of a few months ago, events were the primary way Vegetable and Butcher attracted new customers. But for now, that's not possible. Customers are still trickling in from past events, but Hoff worries about what happens when those leads peter out. "We realize our business model doesn't perfectly fit in with the current environment," he says, with more people cooking at home. So he's being proactive. Marketing staffers who once organized events are now interviewing customers about their current needs. And Hoff is considering partnering with community businesses to help drive new accounts. For example, he may link up with a local gym to offer a sign-up discount for its members.
Beyond In-Store Sales
One evening before the pandemic took hold, Ope Amosu '14 navigated past potted succulents to deliver dishes of fried sweet plantains and Nigerian-style corned beef stew to nearly 100 guests at Houston's The Flora Culture plant shop. The dinner was one in a series of pop-up events Amosu has hosted over the last two years — part of a strategy to test menu items, gauge interest, and build a culture before opening a brick-and-mortar version of his West African food concept, ChòpnBlok.
Until recently, Amosu combined pop-up dinners at unique locations with one-night restaurant takeovers. Guests filled out scorecards, rating his food and service and answering questions about their spending habits. Since 2018, Amosu has held 22 dinners and takeovers, and so far his strategy has been successful. His events sold out — a recent one within hours — and he collected valuable data he can present to investors.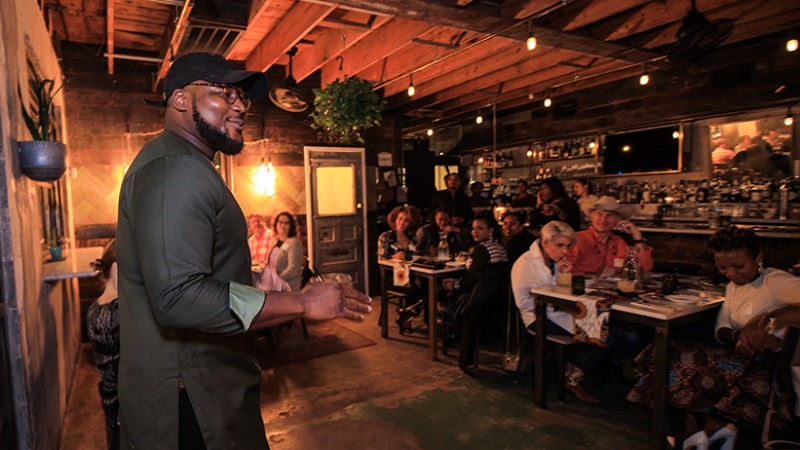 "With our process, we're de-risking the restaurant experience with this hands-on testing with real future customers," he said. "It's a way to have true engagement with a specific set of people for a given set of time. We're building a following and nostalgia. It's about creating a true culture and identity for ChòpnBlok."
But the current climate isn't conducive to his model, which features in-person dining events with entertainment. Amosu cancelled his March pop-up event and offered refunds to all ticket holders. He's using time at home to reassess his business plan, evolve his menu and ultimately determine how to best move toward growth once the market stabilizes.
We anticipate that the industry will evolve once it rebounds and we're focused on using this time to be ready.

Ope Amosu '14
As part of his plan to create a "fast-casual" restaurant celebrating a contemporary version of West African food, Amosu previously took a temporary job at Chipotle to learn firsthand how fast-casual works. He leans heavily on social media for marketing and has linked up with celebrity influencers like musician Jidenna and actor and comedian Yvonne Orgi, benefitting from the exposure he got from providing food for them backstage.
Now more than ever, he's focused on driving consumer engagement beyond in-store sales, and he's experimenting with integrating packaged goods and delivery into his strategy. His goal is to share the ChòpnBlọk brand in a way that hedges against unforeseeable disruptions like the current pandemic.
The Future of Food Service
As every industry retools to try to make itself pandemic-proof, the restaurant business is finding itself both highly vulnerable and highly adaptable. Even before this crisis hit, the restaurant industry was constantly evolving, and in the next 10 years, it will be entirely transformed, according to the National Restaurant Association. Some restaurants will morph into hybrids that offer counter service, full service, takeout and delivery, and even meal kits. Data analytics will become more important, while owners will use technology like blockchain and robotics in the kitchen and implement targeted, customized promotions.
At Kiran's, Puja Verma had already been planning for the future, considering new technology that allows customers to pay their check at the table, keeping their credit card always in sight. But now, she acknowledges that change is likely to be much more dramatic — and she can't know for sure how restaurants will look a decade from now.
"Will dining continue to be a form of entertainment?" she asks. "Will servers be as needed? Will we still need hosts to take people to their table? The industry is changing so fast," she says. "I'm excited to see how it evolves."
---
Deborah Lynn Blumberg is a Houston-based freelance writer specializing in business, finance and health and wellness.