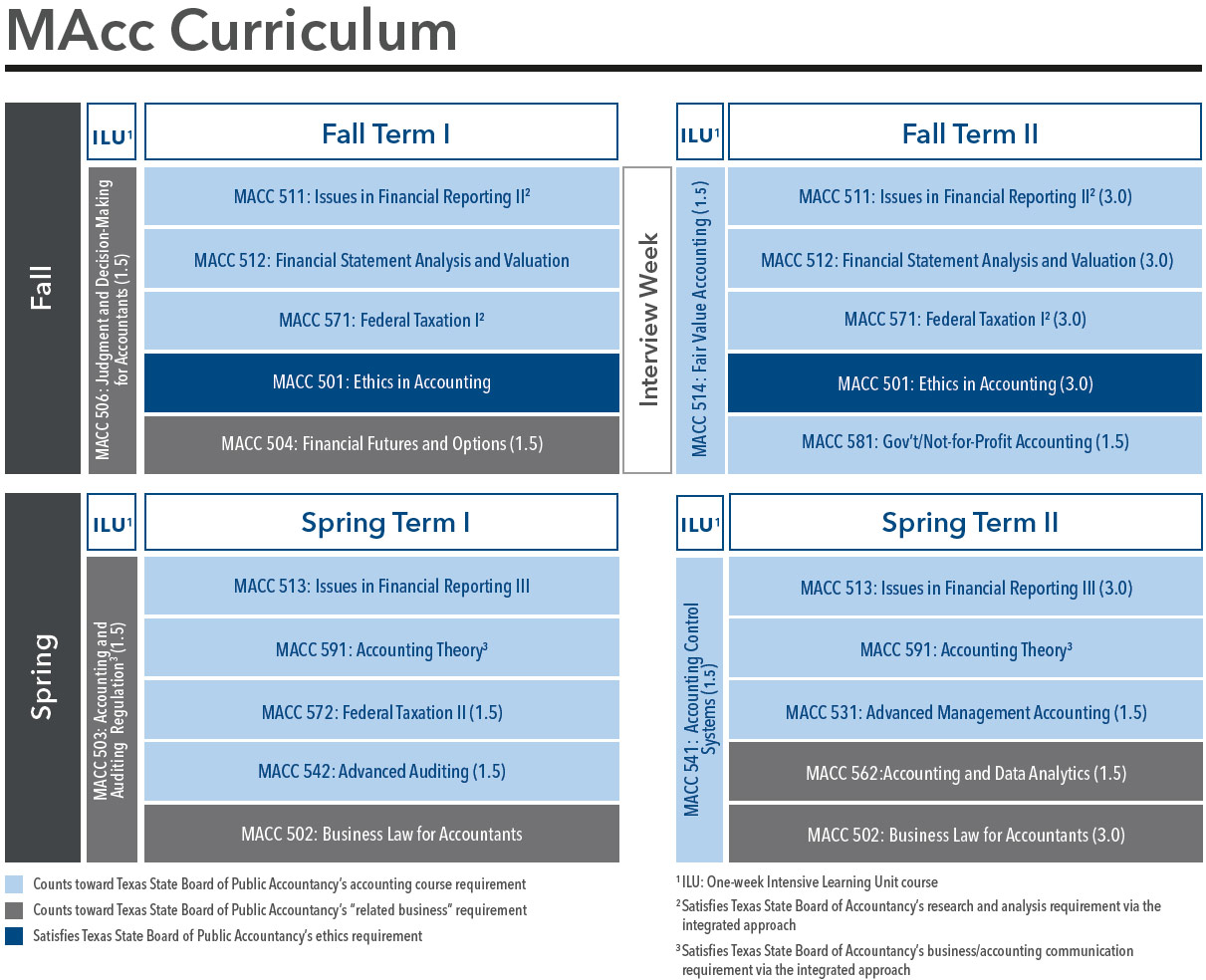 Our Rice MAcc curriculum provides both the technical knowledge needed to pass the CPA exam and an interdisciplinary understanding of how business and accounting interact.
The Rice MAcc is a 10-month, 36-credit hour program. The curriculum is lockstep and cohort-based, meaning you will take the same courses at the same time as your fellow MAcc students. Classes meet during the daytime in McNair Hall, Rice's business school building.
You will take courses in financial accounting, tax accounting, managerial accounting, governmental and not-for-profit accounting, and auditing. But you will also take courses in financial statement analysis, data analytics, business law, ethics, and financial futures and options.

As the schematic above shows, we have designed a unique course schedule to optimize your learning in an accelerated program. The Rice MAcc has three types of courses: semester long courses, half semester-long courses, and "Intensive Learning Unit" (ILU) courses. The four ILU courses last just one week but meet four hours a day, Monday through Friday, so that you can fully focus on one topic.
Rice MAcc students typically sit for the CPA exam during the summer after their graduation, and we are proud of our high CPA exam pass rates. Many students stay on campus as they prepare to sit for all four sections of the CPA exam during May through August.
To augment your graduate coursework, the Rice MAcc hosts wide-ranging speakers throughout the academic year. These leading accounting professionals will broaden your understanding of various facets of the public accounting profession, standard setting and regulation.