Ope Amosu '14 started his West African restaurant, ChopnBlok, from scratch. Now he's appearing on "Top Chef" with some of Houston's best-known culinary celebrities.
Growing up, Ope Amosu's elementary school classmates bought his famous "Ope Sauce," a mixture of ketchup, mayonnaise, mustard, salt and pepper. In high school, he sold chocolate chip cookies that he baked after football and basketball practice.
In college, his frat brothers dubbed him "Chef Homeboy" because of his consistency at the grill. But Amosu, who only dabbled in cooking, never thought he would become a professional chef.
"It wasn't like I grew up saying I stayed in the kitchen with my mother every day and cooked. I didn't. I enjoyed being a consumer of food. I enjoyed going to restaurants," says Amosu, 34. "My family always fellowshipped around food. Food was always a celebratory experience."
But over time, Amosu's passion for cooking began to blossom. And his time at Rice Business, where he earned his MBA in 2014, planted new entrepreneurial seeds.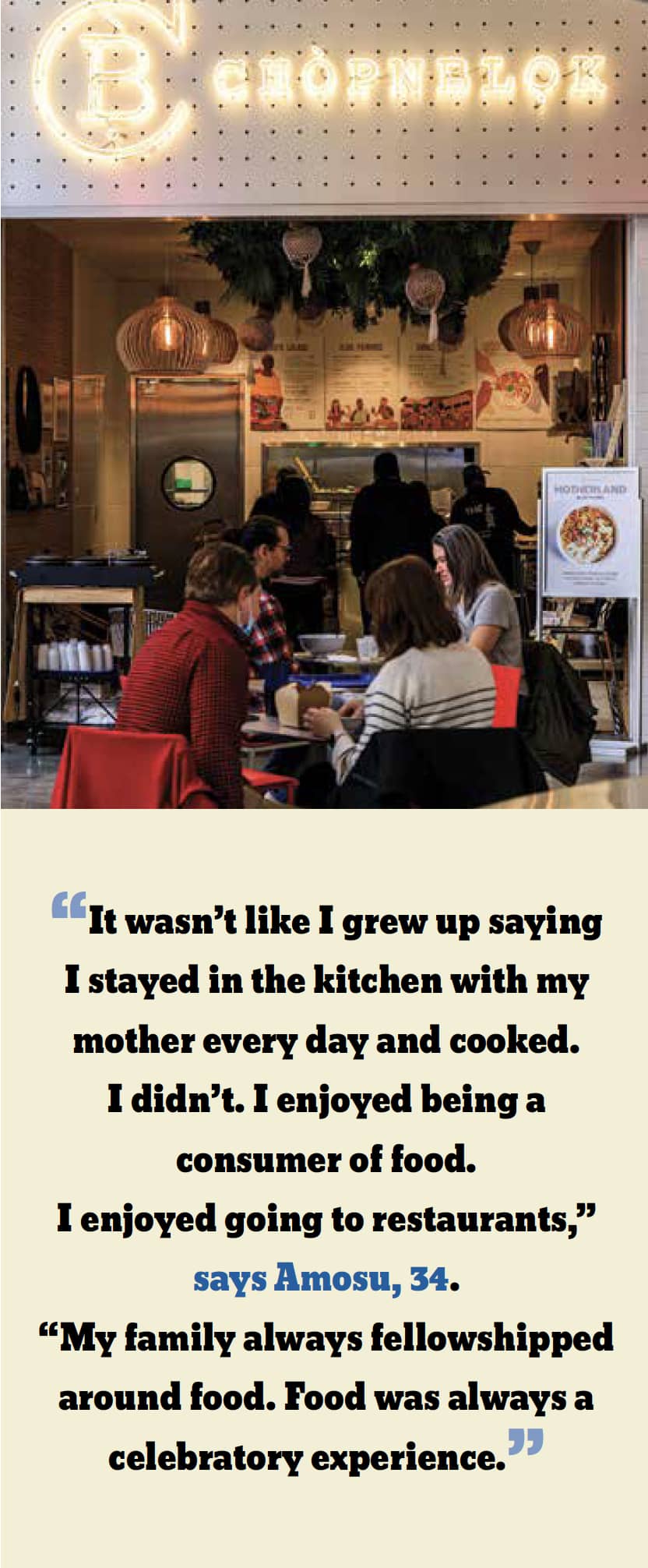 In November, Amosu opened ChopnBlok, a West African restaurant inside the new POST Houston building, which infuses the traditions of his Nigerian upbringing with other African cultures and cuisines. And when Bravo's "Top Chef" series filmed in Houston this season, featuring a selection of the city's most celebrated culinary stars, he shared the spotlight with local legends Hugo Ortega, Monica Pope, Chris Williams and Kiran Verma — the 'godmother of Indian fine dining,' and the mother of Puja Verma '12, the director of operations and strategy at Kiran's.
In a very short time, ChopnBlok's fast-casual spin on West African cuisine has bubbled to the top of Houston's rich, diverse culinary scene. "I want this to be a cultural crossroads, where we take West African culture and local communities and bring them together," says Amosu. "I want people that walk by to know that this is the place to get good food."
Ingredients
Amosu was born in London, but when he was 2, his parents sent him and his brother to Nigeria to live with their grandparents. Meanwhile, his parents traveled to the United States to determine where they wanted the family to settle down. They finally chose Houston, living in an apartment on the southwest side of the city, which Amosu describes as "Little Nigeria."
At home, Amosu was surrounded by Nigerian culture. Food also played a central role at his family's big celebrations. He even traveled back to Nigeria sometimes with his family. But during the day, he went to a private school where, in many of his classes, nobody else looked like him.
"The norms there were also different than the norms in my neighborhood. Reflecting on it, I think a lot of that is obviously what shaped me, but it's also kind of what made me be able to connect with so many different people, with so many different backgrounds, with so many different walks of life," says Amosu.
Amosu, who enjoyed playing sports as a child, ended up getting a football scholarship to Truman State University in Missouri. In college, he also joined a fraternity, where he taught himself how to grill. Some of the recipes he developed in college eventually made their way to the menu at ChopnBlok.
Being in rural Missouri also made him miss home more. After graduation, he moved back to Houston and got a job with the signage company Grimco. But he knew that he wanted to further his education and ultimately get an MBA. He set his sights on Rice Business.
Prep Work
Amosu's entrepreneurial spirit took shape during the MBA program, where entrepreneurship classes were the ones he enjoyed the most. In Al Danto's new enterprise course, Amosu recalls reading case studies about entrepreneurial journeys, which got his mind whirring. As part of the course, he also interviewed other entrepreneurs, including the Pappas family, who have opened more than 100 restaurants across the U.S. (Evy Pappas '09 and Eleni Pappas '19 are both Rice Business alums).
"The whole goal was to say: At the end of my life, what do I want to be known for?" says Amosu. "Then, from a professional standpoint, what types of things would I consider that can also help me achieve that level of fulfillment throughout my career?"
The dream of entrepreneurship stayed with Amosu as he transitioned into his first job after business school. He went to work for General Electric in Philadelphia, where he was responsible for projects all over the world, including the Middle East, Latin America and Southeast Asia. But he grew restless in his position and wanted more from his career. He also wanted to stay connected to his Nigerian heritage.
"As I'm living in these different parts of the world, I keep asking myself like, 'Man where can I get access to my culture?' Be it the food, be it the music," says Amosu.
Amosu moved to Dallas in 2016. One day in January 2017, he traveled to a work conference in Houston and became inspired after coming across an Italian street food kitchen, Piada. He envisioned creating a similar concept, but centered on West African food and drinks. With ideas brimming but no practical experience in fast-casual dining, Amosu decided to work at night as a prep cook at Chipotle to pick up some needed skills. 
Cooking With Gas
He and his wife moved back to Houston in December 2017, and he began learning how to make traditional West African dishes from home cooks, then modifying the traditional recipes in fresh and unique ways. He also began hosting small pop-up dinners in 2018, which soon ballooned to quarterly pop-up dining experiences that drew up to 150 people per night. Attendees would dine on dishes that can now be found at ChopnBlok, such as the Trad, a dish of smoky jollof jambalaya rice, grilled chicken, stewed sweet plantains and peanut-pepper spiced vegetables.
The pop-up dinners gained momentum until the COVID pandemic hit in 2020. Like many business owners, Amosu suddenly had to pivot. He began shipping to customers across the country and finding new ways to market his fare. For example, he partnered with "Insecure" actress and comedian Yvonne Orji to deliver ChopnBlok meals to her fans as a promotion for her HBO Comedy special "Momma, I Made It!" In the special, Orji reflects on being Nigerian-American and shares footage from a trip to Nigeria. Amosu also organized a "Bloktober" event in October 2020, offering ChopnBlok home delivery in Houston and beyond.
Eventually, Amosu got a dream opportunity to open a restaurant inside the high-profile POST Houston development, a mixed-use complex in what was once Houston's downtown post office, developed by Rice alum Frank Liu.
After a long journey that brought him from late nights at Chipotle to a series of pop-up dinners to an unexpected pandemic pivot, Amosu is finally seeing the fruits of his labor. Since ChopnBlok opened in November, it has been widely acclaimed by critics and Yelp reviewers alike. He hopes the restaurant's popularity will help make West African culture and food a part of society's daily routine and celebrated by all. Ultimately, he hopes to expand the restaurant to other locations across country and the world.
"I think this whole story, of how we slowly created our own niche and built a following, paid off," says Amosu. "At the end of the day, it's the people that came to our pop-ups, who are excited to see that someone who was going to do something is actually doing it and doing it in a way that they can be proud of."
ChopnBlok's most popular dish currently, The Motherland, takes West African staples like black-eyed peas, stewed plantains and suya-spiced vegetables, and merges them with East African coconut curry. Amosu says the dish tells a story of the whole African continent.
His advice for those just starting out on their own entrepreneurial journey is rooted in words from the late rapper Nipsey Hustle.

"One of the things he said on one of his songs is: The difference between him and the next person is he just didn't quit," says Amosu. "I've gone through every single emotion possible and I continue just to do it."