Sonnenberg Scholars Program
Friends of Alex Sonnenberg created the Sonnenberg Scholars Program at Rice Business to benefit a special operations veteran who espouses the principles Alex lived by. We rely on the generosity of donors like you to help realize this important mission.

Honoring a true hero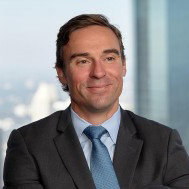 Alex Sonnenberg enlisted in the U.S. Navy right out of high school due to a sense of patriotism and duty. He completed the demanding Explosive Ordnance Disposal ("EOD") technician training program early in his Navy career and was eventually hand selected to join the Naval Special Warfare Development Group ("DEVGRU") as the top 1% of EOD technicians. Upon completing DEVGRU's arduous selection process, Alex joined a DEVGRU squadron where he completed numerous overseas combat deployments with his brothers in arms.
Following DEVGRU and while still in the Navy working within EOD, Alex graduated from UCSD before leaving the service with the rank of Senior Chief Petty Officer and attending Wharton business school. After getting his MBA degree, Alex worked for SCF Partners before becoming the CEO of an oilfield services company.
Throughout his time, both in the Navy and in Houston, Alex exemplified what it meant to live a full life, and he was a treasured friend to the many whose lives he touched.
Program objectives
Pay forward Alex's unwavering compassion for his military brothers and sisters, his authenticity, and his overall commitment to excellence.
Celebrate Alex's memory, his zeal for life and the indelible impact he had on those who knew him.
Honor the years of service Alex Sonnenberg dedicated to our country through his elite military career.
Create a community of talented young executives connected to Houston through high-touch recruitment efforts, mentoring and elite networking.
Recruit unconventional MBA candidates to Rice Business and Houston.
Sonnenberg Donors Club
Donors to the scholarship will gain access to the Sonnenberg Donors Club and receive a commemorative Sonnenberg Scholars coin and exclusive invitations to Sonnenberg events.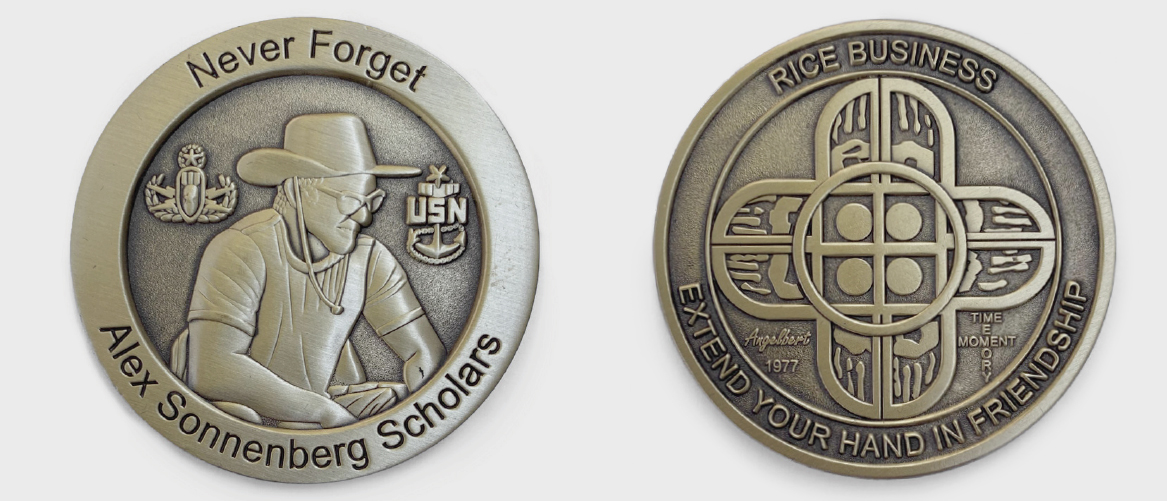 Upcoming Sonnenberg Donor Club Events
Sonnenberg Military Scholars Breakfast and Coin Ceremony
River Oaks Country Club
January 27, 2022 | 7:30 a.m.

Contact Alaina Schuhsler with Rice Business for information. 713-348-3710 (office), 713-542-6993 (cell), ads8@rice.edu
Donors
Thanks to those who have contributed so generously to the Sonnenberg scholarship. Donor listing as of December 2021:
Gold ($50,000-$100,000)
Anonymous, in memory of Kyle Milliken, KIA/Somalia 2017 American Hero
Mike Appling
Annabel and Phoebe Massey
David and Claire de Roode
Kelley and Donnie Young
Alex's SCF Partners family:
Maire and David Baldwin
Anthony DeLuca
The Virginia and L.E. Simmons Family Foundation
Andrew L. Waite
Theresa Eaton
David Patterson
Pete and Jane Stuart
Megan and Richard Gaut
Garrett Jackson
Silver ($10,000 - $25,000)
Mark Allen and Greg Allen
Sarah and Adam Brock
Andrea and JB Bryan
Katie and Will Derrick
Mr. and Mrs. Cornelius Dupre
Steve Gibson
Hobby Foundation
Shelli and Steve Lindley
Mark C. McKinley, Merrymac McKinley Foundation
Gregory Patrinely
Nina and Michael Patterson
Ted Patton, Hastings Equity Partners
Radoff Family Foundation
Angie and Mike Schmidt
Robin and John Wombwell
Bronze ($1,000 - $5,000)
Bruce Cameron
Bob Loeb
Rowen and Scott Massey
Director of Development, External Relations