On our tree-lined campus in the heart of Houston, you'll have access to restaurants, theaters, museums, professional sports, lush parks, the world's largest medical center and boundless innovation.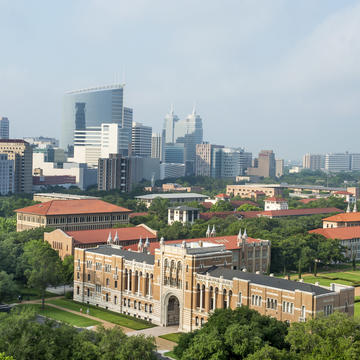 Centrally Located
Rice University is in the heart of Houston, between downtown, the museum district and the Texas Medical Center. Steps from Hermann Park, the Houston Zoo and Rice Village, you'll find yourself surrounded by art, culture and dining options. And you're a short METRORail ride away from NRG Stadium, home of the Houston Texans and world's largest rodeo.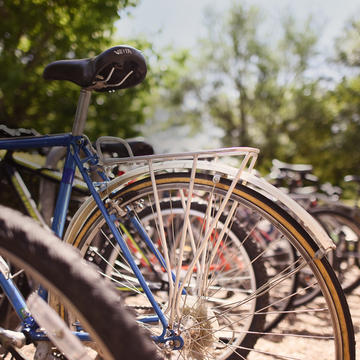 Bike Friendly
Bikers welcome. Get to class on time, ride to practice, visit the campus repair shop or rent a bike from multiple BCycle stations across campus.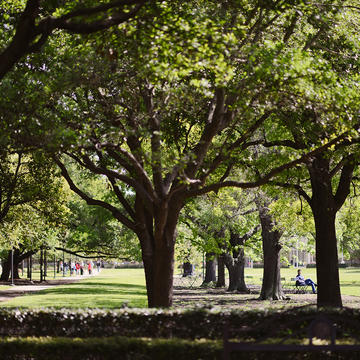 Tree-Lined Campus
Walk under the shade of some of the oldest live oaks in Houston. With more than 4,300 trees on campus, Rice University has been honored as a Tree Campus USA by the Arbor Day Foundation.
Interested in Rice Business?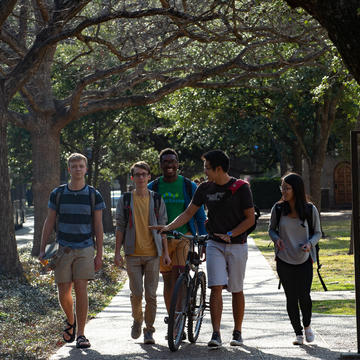 Community Focused
We're a small and selective business school with a unique learning culture. Because we're small, you'll be on a first-name basis with your classmates as well as your professors. And — bonus — you're all on the same campus in the same building.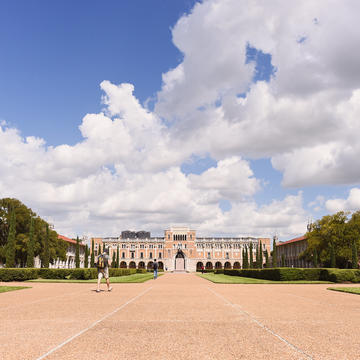 Established
Originally called the Rice Institute, the university opened its door on Sept. 23, 1912, with 77 students taught by a dozen faculty. Rice's first president, astronomer and mathematician Edgar Odell Lovett, called for the establishment of a university "of the highest grade," "an institution of liberal and technical learning" devoted "quite as much to investigation as to instruction." Named in his honor, Lovett Hall was the first building constructed on campus in 1912.
I love sitting outside Brochstein Pavilion at Rice on a beautiful sunny day when it's in the 70s. Just watching the bustle of activity on campus and being a part of the academic experience is energizing.

Christine Dobbyn

Executive MBA '20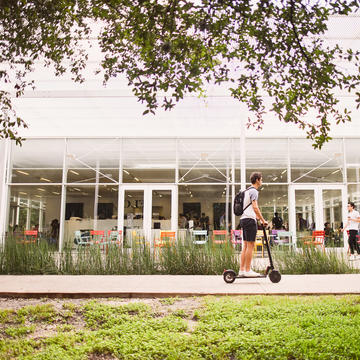 Refuel and Relax
Brochstein Pavilion was designed to bring the outdoors in so the entire community could enjoy the beauty of the campus no matter the weather. With indoor and outdoor seating, Brochstein brings faculty, staff, students and friendly neighbors to the center of campus for choice dining options, coffee and quality time.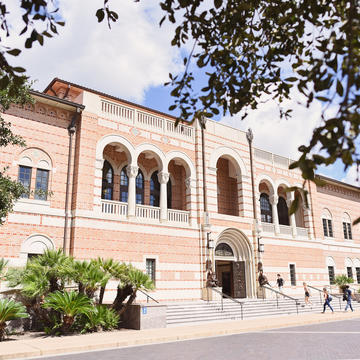 All In One Building
McNair Hall, home to Rice Business, has everything you need in one place. All your classes and professors are here, and you'll find places to relax after class as well, including Audrey's coffee shop and the patio where we host happy hour "Partios."