Both the RBPC and the Napier Rice Launch Challenge saw record numbers of participants in virtual formats this year.
One team aimed to prevent infections from medical implants. Another tackled the issue of affordable housing. In its second virtual year due to COVID-19, the Rice Business Plan Competition (RBPC) drew its highest number of participants ever: 54 startups from around the world.
Entrepreneurs vied for more than $1.6 million in prizes during the 21st year of the world's largest and richest student startup competition, hosted by the Rice Alliance for Technology and Entrepreneurship. The event has grown considerably since its first year, when nine teams competing for just $10,000 in prize money. To date, the RBPC has helped entrepreneurs raise $3.16 billion in funding. Of the more than 700 program alumni, 257 of their startups are still in business or have had a successful exit.
Prizes this year included a combined $75,000 in new funds pledged from the Urban Capital Network and the Business Angel Minority Association. During the four-day competition in April, entrepreneurs networked virtually with both investors and each other, and gained valuable insights and tools to help develop their startups.
"We wanted to mirror the in-person competition as much as possible, and we learned some good lessons from 2020. I was worried people would be 'Zoomed out,' but there was high engagement this year,"

says Catherine Santamaria, director of the RBPC. 
There were also a record number of applicants for this year's annual Napier Rice Launch Challenge, Rice's internal startup competition, hosted by the Liu Idea Lab for Innovation and Entrepreneurship (Lilie). The competition was virtual, too, and for the first time, it was split into student and alumni tracks.
"We separated it this year because there was so much interest," says Lilie entrepreneurship program specialist Paget Kern.
Virtual Networking
The Rice Business Plan Competition kicked off with the usual lively elevator pitch session, where entrepreneurs deliver a 60-second plug for their product or service.
Typically held in a packed auditorium at Rice Business, this year's session was presented via video. Entrepreneurs filmed themselves pitching and the organizers stitched the clips together into a video they webcast. Judges watched live, then rated the pitches. One benefit of going virtual was that more people were able to participate, including a larger, more diverse group of judges, Santamaria says.
Each team also participated in an initial sector-specific round where they gave a 10-minute pitch over Zoom, followed by a 10-minute Q&A. This year's RBPC included three new sectors: consumer products and services, hard tech, and digital enterprise.
Throughout the competition, organizers provided opportunities for networking. Using the Whova event management platform, participants linked up to socialize in groups and one on one. The startups also hosted virtual booths where judges, investors and other entrepreneurs could drop by anytime.
"We needed a space where we could have these kinds of random collisions," says Santamaria.
The two top-scoring teams in each sector progressed to the semi-finals. Ultimately, seven teams made it to the finals on the morning of April 9. The prize announcements were live-streamed to an audience of nearly 1,000 viewers.
The connections Thomas Healy made when he competed in the 2015 RBPC are still with him today, he says. Healy is the founder and CEO of Hyliion, which produces electrified powertrain systems for commercial vehicles, and which was the first company from the RBPC to go public. It's now trading on the New York Stock Exchange. "The Rice Business Plan Competition is an amazing place to lay a foundation for creating your startup," he said. He advises participants: "Stay in contact with everyone you meet, because they are the people that can help you with the journey that you're on."
A Startup That's All About Convenience
An Auburn University startup, SwiftSku, was the RBPC's grand prize winner this year. The brainchild of Auburn mechanical engineering students and childhood friends Mit Patel and Daniel Mazur, SwiftSku is a mobile application that lets convenience store owners remotely manage and monitor their businesses from their smartphones;
The duo impressed the judges with their story and their product. Patel's parents are immigrants from India who saved for years to buy their own convenience store. Patel and Mazur are committed to helping bridge the data gap between brands, retailers and consumers through a novel analytics platform. "We bring big data and analytics to convenience stores and power them to compete against the big box stores of the world," Mazur says.
Image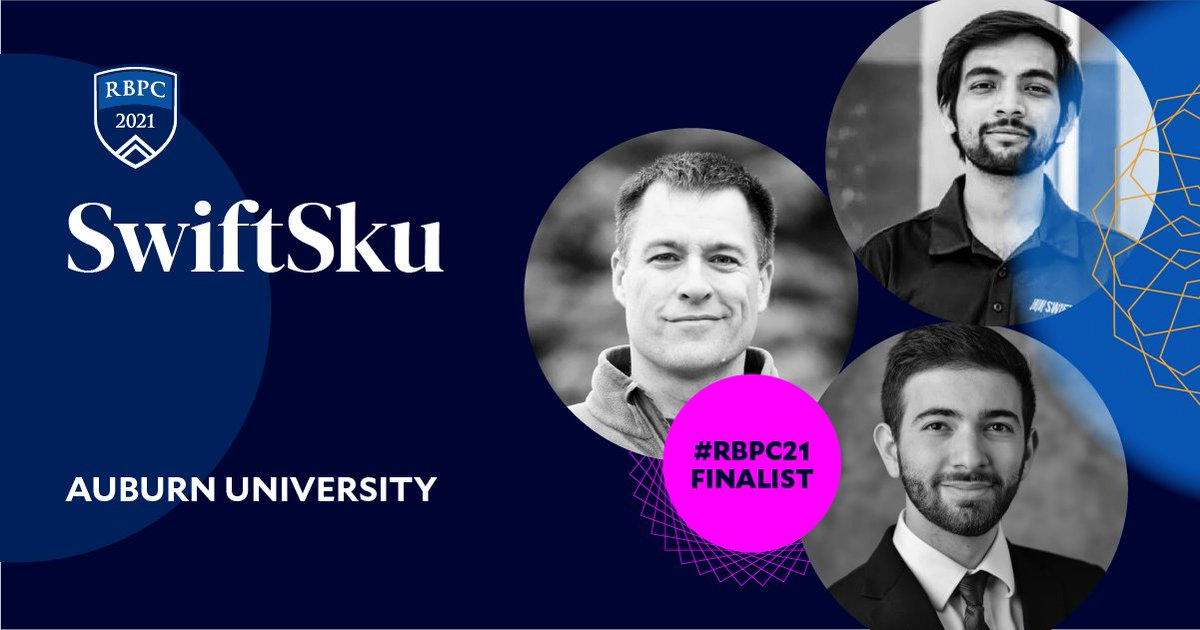 The U.S. is home to 153,000 convenience stores, with 96,000 independently owned. Of the independents, 93% are run by Indian immigrants, many of whom face a language barrier — including Patel's parents. He used to play the role of translator between his parents and their vendors. The SwiftSku app helps with that hurdle, connecting point-of-sale systems at convenience stores and providing customer support in Hindi, Gujarati and English.
SwiftSku won $432,667 in cash and other prizes, including the $350,000 GOOSE Capital Investment Grand Prize and the $50,000 Business Angel Minority Association Investment Prize. The grand prize also included the opportunity to ring the closing bell at the Nasdaq Stock Market in New York. RBPC prizes add to the $3.2 million Patel and Mazur recently raised as champions of the Auburn Tiger Cage Competition. With the money, they'll be able to hire additional engineering talent and grow their sales team, they say.
The startup's goal now is to expand their client list, from just over 200 convenience stores now to 5,000 by May 2022. "We're pushing it," Mazur says. "It's all about carrying the momentum we have and keeping that growth on track."
An MIT startup, AgZen, took second place with a total of $538,667 in individual prizes, including the $300,000 OWLs Investment Prize and the $100,000 Houston Angel Network Investment Prize. The startup has developed a field-tested and patented pest control spray that reduces pesticide usage by 50%.
Napier Rice Launch Challenge
The Napier Rice Launch Challenge held its student competition in April and its alumni competition in June.
A record number of current students applied this year: 85, nearly double last year's number. More than 400 people watched the April competition on Zoom. The first place winner, RUTD: Resources United Technology Driven, won $27,500 to put toward its app, which works to connect veterans with resources to reduce the risk of veteran suicide. A group called Green Room placed second, with tools to power the local live music industry. In third place was another musically focused team, called A440, which developed a content distribution platform for the classical music industry.
The June alumni competition attracted 48 applicants, four times as many as in 2020. First place winner Starling Medical won $20,000 to develop a safer, smarter alternative to traditional urinary catheters for people with neurogenic bladder dysfunctions. CaseCTRL took second for its intelligent surgical case management system, and Koda Health was third with a medical care planning platform.
Both the Napier Challenge and the RBPC are scheduled to be in person in 2022, and organizers are eager for participants to come together again for face-to-face networking. But they're also looking keeping some virtual elements to allow for greater participation from people around the world.
"Everyone is just very excited to be back in person," says Santamaria. "They miss their friends and colleagues and the excitement of an in-person event. But we've shown that we can adapt and pivot, and there are benefits and opportunities in having a hybrid event."
Deborah Lynn Blumberg is a Houston-based freelance writer specializing in health and wellness and business and finance.
You May Also Like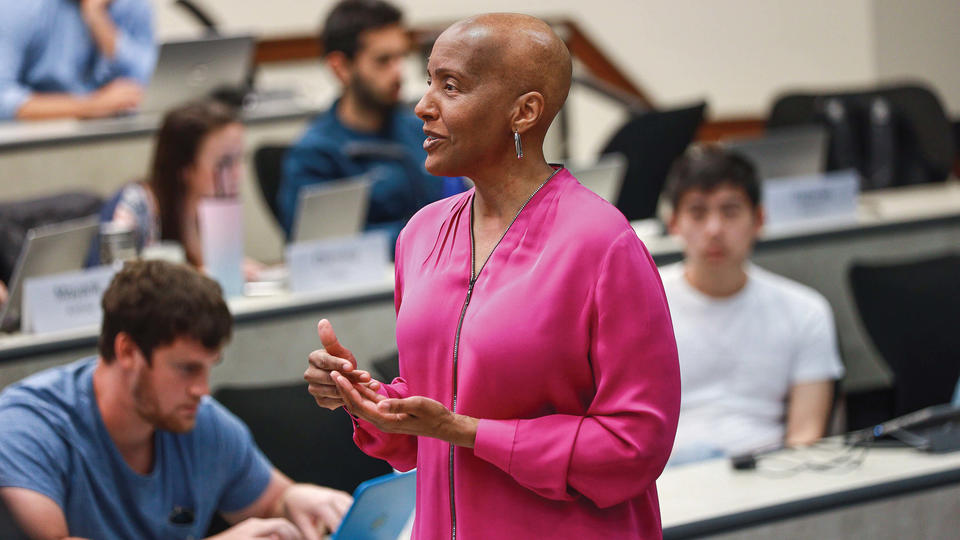 Feature
How Senior Associate Dean for Diversity, Equity and Inclusion Connie Porter is helping drive change at Rice Business.