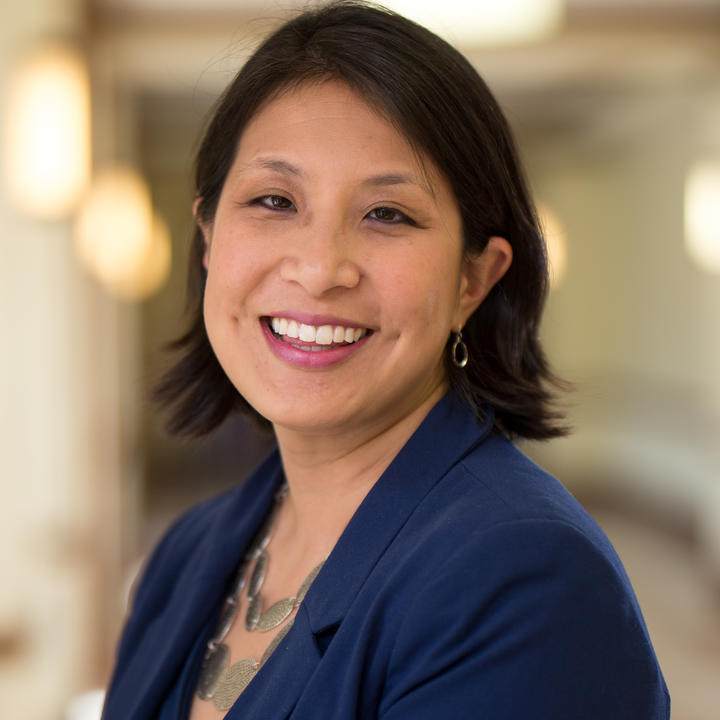 Describe Yourself in 15 Words or Less:
Empathetic, compassionate individual who strives to help others and who devotedly cares for her family
Hometown:
Houston, TX
Family Members:
My husband, Shayan Izaddoost, and 3 children: Ariana (13), Lela (11), and Kian (7).  My mom and dad, Suh-Chyn (Kim) and Walter Tung, and sister Jessica Tung.
Fun Fact About Yourself:  
I held and administered a rabies vaccine to an Ecuadorian pet monkey when I was 16.
Undergraduate School and Degree:
Austin College, BA in Biochemistry, 1998

Baylor College of Medicine, MD, 2003

University of Texas Health Science Center at Houston, School of Public Health, MPH, 2003
Where are you currently working?
I am an Associate Professor in Gynecologic Oncology at Baylor College of Medicine.
Extracurricular Activities, Community Work and Leadership Roles:
Associate Residency Program Director in Obstetrics and Gynecology at Baylor College of Medicine

Norton Rose Fulbright Faculty Excellence Award in Teaching and Evaluation

Faculty sponsor for the Woman to Woman Program at Baylor College of Medicine – a support program that pairs gyn cancer survivors with women who are newly diagnosed and undergoing treatment for gyn cancer

I also enjoy reading, skiing, travelling, and weekend family movie nights.
Which academic or extracurricular achievement are you most proud of during business school?
I am proud that I was able to train and run the Houston half-marathon during my first year of business school, and that I was able to balance my time to attend the performances and athletic events that my children participated in throughout the last two years while back in school.
What achievement are you most proud of in your professional career?
I am most proud of teaching my residents to perform some of their first surgeries and of knowing that the skills they learn will go on to help thousands of women.
Who was your favorite MBA professor?
Jing Zhou. She pushed us to question our assumptions and traditional thought process and encouraged us to think outside the box and look at our challenges from a different lens.
What was your favorite MBA course and what was the biggest insight you gained about business from it?  
Leading for Creativity and Innovation. As a physician, I conventionally use the left-side of my brain and never considered myself as a creative person. I learned that with the right tools I can learn to be creative and generate new ideas that I would never have considered. The first step is to make sure that I am asking the proper question and solving the right problem.
Why did you choose the executive MBA program at Rice Business?
Rice University has a close relationship and partnership with several institutions in the Texas Medical Center, including Baylor College of Medicine. The school is well-respected by senior leadership in all the hospital systems and has a strong reputation among my colleagues. The professors are experts in their field and are excited to share their knowledge and research with their students.  
What did you enjoy most about business school in general?
I really enjoyed getting to know my classmates and meeting people outside of medicine.
What is the biggest lesson you gained during your MBA and how did you apply it at work? 
The biggest lesson I learned was the importance of building diversity within a team and not just finding "the right fit." When we look for people who fit into a team, we end up looking for people are just like ourselves, and this limits the potential ideas and perspectives that the team can be considering. At work, I am trying to teach my colleagues that we should not be looking for residency candidates who fit into our program and encourage them to consider non-KSA attributes. By limiting our scope, we may miss the opportunity to train physicians who could innovate and change the lives of others in the future.
Give us a story during your time as an executive MBA on how you were able to juggle work, family and education?

 
Some days were long and hectic but necessary to make sure that I balanced work, school and family. I remember one busy class weekend in which I got to the hospital at 6 a.m. to round on my patients before my 8 a.m. class and then planned to attend class all day. However, during the morning, a patient called and required emergency surgery. I performed surgery during lunch and made it back for majority of the afternoon class session. As soon as class was done, I headed out to watch my daughter compete in an evening swim meet.
What advice would you give to a student looking to enter an executive MBA program?
My advice would be to remember that the most important parts of the executive MBA experience are not your grades but rather the opportunity to learn and practice new skills as well as networking and getting to know new colleagues.
What is the biggest myth about going back to school?
The biggest myth about going back to school is that it is difficult to acclimate back into a classroom setting and to learn something new. The professors were phenomenal and invigorated our thirst to continue the learning process. So many of my classmates and I have already planned to return after graduation to audit more classes.
What was your biggest regret in business school?
My biggest regret is not having enough time to take more electives that would challenge me to learn completely new subject matter. I also regret not having more time to attend networking and social events with my classmates.
Which MBA classmate do you most admire?
Some of the most amazing people are in my class. Some have lost jobs and entered new industries, and others have taken on the challenges of new executive positions — all while balancing schoolwork and family responsibilities. The one that I most admire is Rajesh Mehta for his gift to lead the class by example and for encouraging and helping others grow personally and professionally. I was fortunate to have Rajesh as a teammate. He always encouraged us to think broadly and was always willing to spend whatever time needed to explain concepts to make sure everyone understood and learned. He also executed his vision to create an investment group that brought our classmates together and helped fortify bonds that will last a lifetime.
I knew I wanted to go to business school when…
I realized that the successful practice of medicine required not only excellent bedside manner and medical knowledge but also a good foundation in understanding the economics and business of medicine.
What is your ultimate long-term professional goal?
I want to make a positive impact in healthcare by teaching other physicians and medical trainees more about the business aspect and quality improvement initiatives in medicine and help bridge the widening gap between physicians and administration.   
In one sentence, how would you like your peers to remember you?
I want my peers to remember me as a hard-working colleague who wanted to see everyone succeed and help them to achieve that success.
What are the top two items on your bucket list?
Run the Houston marathon and island-hopping in Greece