Accounting
A Conversation with Ben Lansford, Rice MAcc Program Director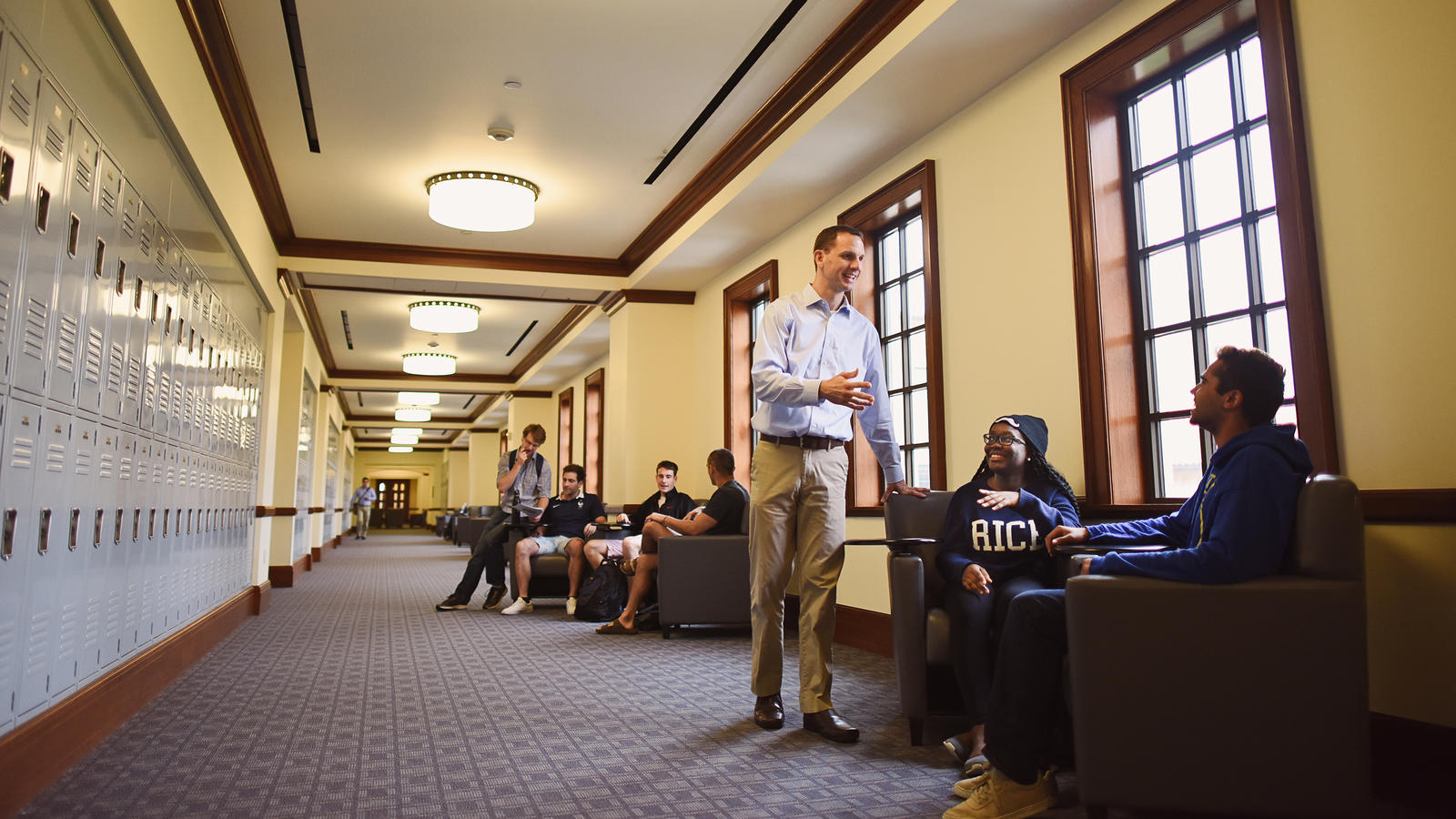 The Jones Graduate School of Business interviewed Ben Lansford, Professor in the Practice of Accounting and Director of Rice's Master of Accounting Program.
Jones School: Tell us a bit about your role here at Rice.
Prof. Lansford: Sure. I'm a faculty member in the accounting group. I teach courses to Rice MAcc, MBA and undergraduate students. I'm also the director of the Rice MAcc program. My MAcc director duties involve me working directly with prospective and current students in recruiting and admissions, job placement, and academic advising. I also get involved in MAcc alumni relations.
Jones School: What path led you to your current position?
Prof. Lansford: As often is the case, my career has taken some unexpected turns. My first faculty appointment was at Northwestern University, where I was an assistant professor. Then, in 2010, I left Northwestern to become the faculty director of Penn State University's new graduate accounting program. I hadn't planned to get into the administration of an academic program, but the regular interaction with students, employers, and alumni turned out to be something I enjoy. My faculty director role at Penn State, in turn, led me here to Rice in 2014, when the Jones School decided to re-launch Rice's Master Accounting program and was looking for a faculty director.
Jones School: What do you like the most about your role as the director of the Rice MAcc program?
Prof. Lansford: I really appreciate getting to know all the MAcc students individually. It's rewarding working with them and seeing how much they develop over the short 10 months that they are in the program, both in terms of their accounting knowledge and their readiness to enter into their accounting-based professional career.
Jones School: What do you think is the biggest benefit of being in the accounting profession?
Prof. Lansford: It's got to be the life-long variety job opportunities. All organizations – for-profit companies, not-for-profit organizations, governmental organizations – need accountants, and they always will. Straight out of your graduate accounting degree program, you'll have a variety of job opportunities. Most Rice MAcc graduates choose to start out in public accounting, but others go directly into consulting, banking, or corporate accounting jobs.
But, once you've worked in accounting for several years, your job opportunities expand even more. Unlike almost any other profession, the longer you've worked in accounting, the more versatile your skills are. That means you can use accounting as the foundation of a career that truly matches your personal interests and passion.
Jones School: What makes the Rice MAcc program unique?
Prof. Lansford: Well, two primary things: our class size and our students' undergraduate majors.
We intentionally designed our program to have a small class size. Our cohorts usually have between 25 and 40 students. And our MAcc curriculum is lockstep, meaning the Rice MAcc students take the same classes, at the same time, and with the same professors. We also integrate a good amount of group work into the courses. That structure leads to a comradery among the students. The faculty likewise get to know the students personally.
The second thing is the variety of undergraduate degrees that our MAcc students have. Some of our students every year had been business and economics majors. But we also always have many students who majored in other disciples, such as music performance, engineering, statistics, psychology, or Spanish. This variety of educational backgrounds makes for a more engaging classroom environment for everyone. Whatever you may have majored in as an undergraduate, you can pair that with an accounting graduate degree and excel professionally.
Both of those aspects are unique and not found in most other graduate accounting programs.
Jones School: As a final question, what advice would you give an applicant to the Rice MAcc?
Prof. Lansford: I'd say, be authentic in your application. In your application essay, we want to understand who you are, why you want to pursue a career in business, why accounting attracts you, and why Rice's MAcc program is a good fit for you. Highlight your unique attributes, experiences, and activities.
Interested in Rice Business?