News and Notes from Rice Business Alumni
Paula Wagner '20
Paula Wagner and her husband, CJ Wagner, welcomed their first child, baby Elizabeth "Elle" Rey Wagner on Oct. 25, 2020.
Image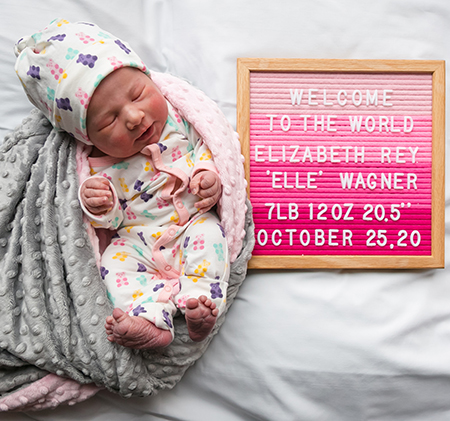 Sean McKenzie '19
Sean recently joined the M&A Strategy, Diligence and Value Creation practice at Deloitte Consulting. The group helps clients with portfolio strategy, finding pathways to growth and value creation through M&A and diligence.
Daniel Barvin '18
Daniel has joined Coya Therapeutics, a clinical stage cell therapy platform company developing first-in-class therapeutics for ALS and other neurodegenerative diseases, as a project manager. His role will be to assist in the commercialization of a novel therapy for ALS and other neurodegenerative diseases.
Tyler Watkins '18
Tyler is excited to announce the birth of his daughter, Rylan Ella. Rylan was born on Aug. 9, 2020, so she is already almost 7 months old and clearly the coolest kid in school.
Image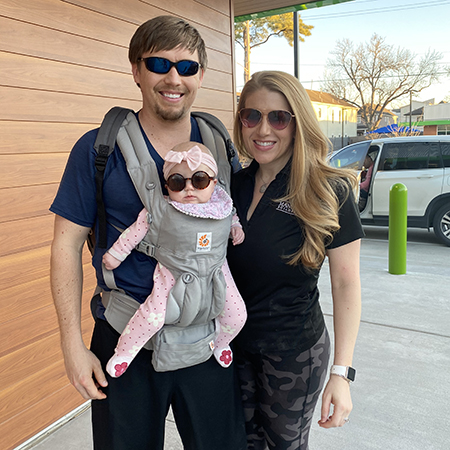 Meg Schneider '17
Meg has taken on a new role as a consultant at ZoomRx, a life sciences consultancy, in New York.
Samantha Lewis '17
Samantha is now a principal at Mercury Fund. She is proud of the work she has done in the last three years at Goose Capital. Innovation is the key to solving many of society's systemic issues, and she believes Mercury is a platform where she can make a significant impact as an investor. Samantha remains committed to helping serve underrepresented founders and is grateful to do that alongside her new colleagues at Mercury.
Emily Doyle '17
Emily joined Macquarie Commodities Trading at the end of 2019 as a vice president on the physical oil team after many wonderful years with Shell Trading. Emily still lives close to Rice with her husband Elliott (Rice MA '19), and two children, Elliott (3) and Isabelle (2).
Chelsea Greenwald '17
Chelsea moved to Boston in November to take a role as a senior manager with Amazon Robotics. She and Chad are expecting their first baby in April!
Charlie Groover '17
Charlie and his wife, Kathleen, started a new business in 2020 named Yard Vibes based out of Katy, TX. The business is focused on creating special moments for friends and loved ones during birthdays, graduations, retirements, engagements and other life events through staked yard messages. Business has picked up quickly and it's been really exciting and rewarding to make connections with people during their special moments and milestones. More info can be found at yardvibestx.com.
Image

Katherine (Butler) Mitchell '17
Katherine and Justin welcomed their son, James David de Cordova Mitchell, on April 3, 2020.
Image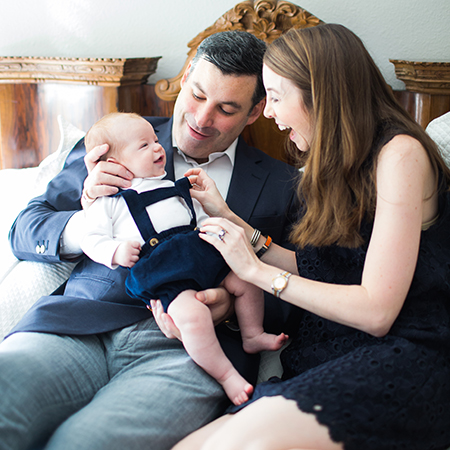 Nick Girardi '16
Nick accepted a new job as director of treasury and investor relations with WillScot Mobile Mini. Caroline, Jillian, Nick and the two dogs are moving to Phoenix.
Leila (Zomorrodian) Aloi '16
Leila and husband Gaspare '16 welcomed a baby boy, Remy Aloi, on Jan. 10, 2021.
Lindsay (Graves) Hernandez '16
Lindsay was promoted to senior marketing manager, leading both the Downstream Sustainability and Petrochemicals teams for Nalco Water, an Ecolab Company. She and Jose recently welcomed their second daughter, Gemma Quinn Hernandez.
Image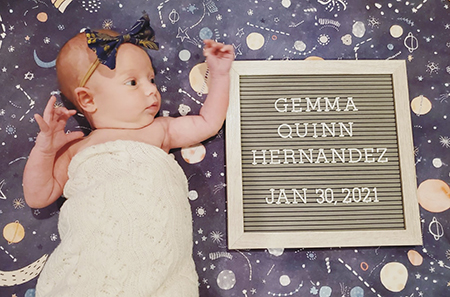 Rani Puranik '14
Co-owner and Global CFO of Houston-based Worldwide Oilfield Machine, Rani Puranik thrives at leading innovation, empowering others and inspiring collaboration. Rani and her father have led the privately held corporation to grow to more than $350 million in annual revenues. Rani's debut book, "Seven Letters to My Daughters," is slated to launch in 2021. This life lessons-focused memoir is from the perspective of a mother writing letters of encouragement and advice to her daughters. She realized that her life has been lived in seven-year phases, and she shares her experience as a woman and how womanhood has changed within each phase.
Atul Tripathi '13
Atul used his COVID quarantine time to write a book on operational excellence, titled "Managerial Perspective to Operational Excellence: Using Lean Ideas to Compete Against Low-Cost Countries." The book uses a case-based approach for lean implementation and presents a summary of lessons learned and insights on change management. A first-person story-based approach used in this book makes it an engaging read for operations leaders and middle management as well as postgraduate students. The book is available for pre-order on Amazon.
Lloyd Ackermann '13
Lloyd is now the chief strategy officer for a management consulting firm in California focused on leading business owners, entrepreneurs and executives through organizational transformation and reinvention to redefine their strategic goals and resolve their most difficult challenges at times of tremendous turmoil (e.g. COVID-19). He is moving to California with his wife, Delphine, and two children, Charlie (5 years old) and Leo (7 months old). Rice University and the Jones School have brought Lloyd to the best of his abilities professionally and he cannot thank enough the staff, professors and community for this amazing journey he is living today. Please feel free to reach out!
Image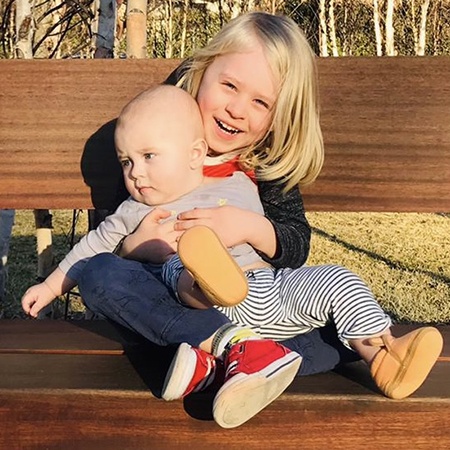 Britton Russell '13
Britton has been appointed CFO of Genapsys, Inc., a privately held genomics and Next Generation Sequencing company with headquarters in Redwood City, CA.
Fernando Magalhaes '12
After moving out of Texas right after graduation, Fernando just returned to Texas and is now living in the outskirts of Austin.
Priyanka Rao '12
Priyanka has accepted a role with Amazon as a senior program manager.
Alison Young '11
Alison recently became an executive director with JPMorgan Securities, a division of JPMorgan Wealth Management. In this role, in her continued wealth management career, she continues to advise high and ultra-high net worth clients and families on investment and wealth planning decisions.
Sharmin Ashtaputre '10
Sharmin has joined the Federal Reserve Bank of Dallas as an assistant vice president in the corporate planning department. In this role, she will identify strategic needs for the Dallas Fed and drive the development of department-level strategic plans and objectives. Sharmin comes to the bank with more than 10 years of experience in management consulting, primarily in the health care industry, with a focus on operations management, strategic planning, organizational change and project management.
Linhua Guan '10
On Jan. 30, 2021 Surge Energy signed a purchase and sale agreement to acquire leasehold interest and producing wells from Grenadier Energy Partners II LLC in Howard County, TX, for the aggregate purchase price of approximately $420 million. The transaction was expected to close in the first quarter of 2021. Linhua Guan is the CEO of Surge Energy America and the company was the only E&P company recognized for both the Best Places to Work and Middle Market 50 awards by Houston Business Journal in 2020.
Cameron (Dyer) London '08
On Nov. 17, 2020 Cameron welcomed a daughter, Sloane London, into the world. She couldn't be happier!
Image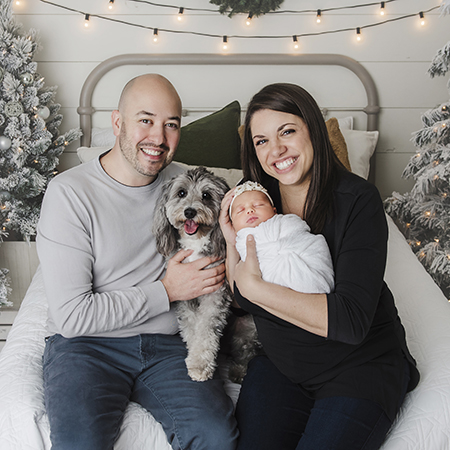 Luka Erceg '07
The Association of Insolvency and Restructuring Advisors recently certified Luka as a Certified Insolvency and Restructuring Advisor. Luka is the managing director of Erceg Partners in San Diego, a firm focused on turnarounds and restructurings of investment funds for investment managers, institutional investors and asset managers when faced with "zombie" fund issues.
Ross Pearo '00
Ross started a new role at Harvard University in the early days of the COVID-19 pandemic as executive director of strategic planning and marketing at the division of continuing education. As a member of the senior leadership team, he is responsible for overseeing strategy, marketing operations and professional development programs. He had previously been at Harvard Business School Online (formerly HBX) where he held a variety of roles in marketing, product management and business development.
Julian Bott '90
Julian Bott passed on Jan. 3, 2021 in Houston. He was born in Cambridge, England, studied at Millfield School in Somerset and Harvard College in Cambridge, Mass. Julian's career began in New York City with Banker's Trust. He relocated to Houston, where he enjoyed a successful career in commercial banking within the oil and gas industry. Julian balanced his full-time career while simultaneously obtaining an MBA at Rice. Julian served as a board member at EQM, as the EVP and CFO of Sandridge Energy, and as the EVP and CFO of Southwestern Energy, where he led the recent acquisition of Montage Resources and continued his role until the time of his passing. He is survived by his wife Cecile, his mother, Gillian, and two sons, Ian (Rice 2014) and James (Rice MBA 2019). To those who enjoyed his comradeship, he truly loved and admired you. He found joy in your success and he would encourage you to live on pursuing excellence. 
Image