Admissions
Thank You for Your Service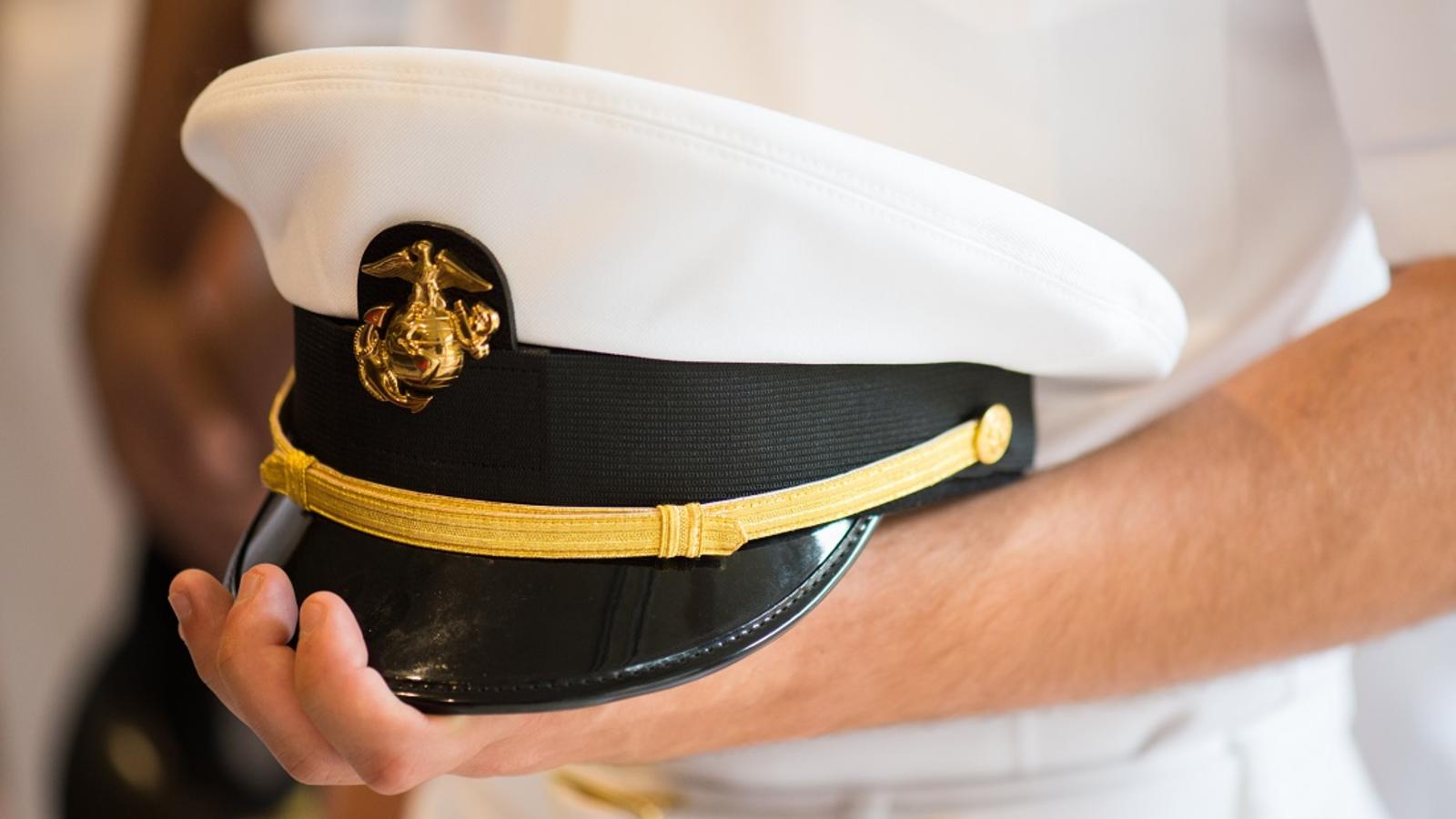 Few resume items command instant respect like the word "veteran." At Rice Business, this respect translates to a major investment in attracting military veterans as students. The most concrete evidence: our participation at the highest level possible in a provision of the Post-9/11 GI Bill called the Yellow Ribbon Program that can help veterans earn a Rice MBA at a very low cost. 
Unlike some schools, Rice Business doesn't limit the number of students who can use the program or the dollar amount it pays. Why this commitment? Rice Business values veterans both for their social contribution and because their skills predict success in business, Matt Wakeman, Director of Student Financial Services, told me.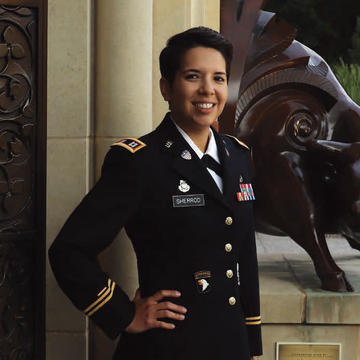 Casey Sherrod, Full-Time MBA '21, embodies these traits. "I decided to pursue my MBA because I want to bring the knowledge and skills I attain in business school to the fight as a strategic leader in the Army," she said. "My goal is to ultimately retire from the Army and return to Houston as a leader in the business community." 
After joining Army ROTC at the University of Houston, Sherrod deployed to Afghanistan as a platoon leader a year after graduating. Now a captain, she commands the largest Army recruiting company on the West Coast. But, she said, she always wanted to come back home to Houston, so she took advantage of the chance to study at Rice Business while still on active duty, with the Army covering her tuition.   
"The main thing I'd want to get across to veterans is just how good our benefits are," Wakeman said. GI Bill benefits at private schools are typically limited to an annual cap which seldom covers the full cost of graduate degrees, he explained, but in some cases, veterans who are eligible for the Yellow Ribbon Program at Rice Business are able to have tuition and fees covered entirely. A supplement to the GI Bill, the program helps veterans cover out-of-state private and graduate education expenses that may not otherwise be covered with their standard GI Bill benefits. Business schools such as Rice choose how much they wish to pay of the tuition that remains.
To reflect its high priority in attracting veterans, Rice Business has opted into the highest level possible of the program, paying 50 percent of a veteran's remaining balance. In turn, Veterans Affairs (VA) matches this commitment dollar for dollar. As a result, eligible veterans can have their entire Rice MBA tuition covered. 
A Range of Academic Options
We offer a range of other financial support options too. One is the Military Scholars Program, made possible by generous members of the community to honor and support U.S. military personnel. It offers scholarships for tuition, fees and living expenses for selected applicants. 
Our veteran students use this financial support to take advantage of an array of top-flight programs: Full-Time MBA, Professional MBA, Executive MBA programs and the Master of Accounting (MAcc). Our acclaimed online option, MBA@Rice, has skyrocketed in popularity among active military students, whose participation has more than doubled in the last two years.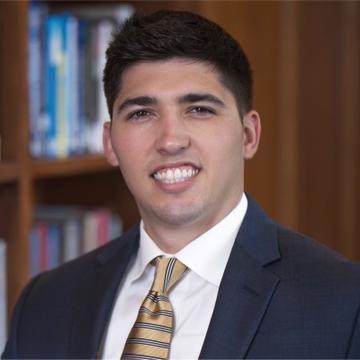 On campus, meanwhile, Rice Business offers its veteran scholars an environment full of specifically-tailored opportunities. "People at Rice legitimately care about each other, from the administration to the faculty and staff to the students and alumni," said Matthew Manriquez, Full-Time MBA '21. 
A former Combat Engineer Officer in the US Army, Manriquez is a shining example of the drive that veteran scholars typically bring to Rice Business. A fifth-generation Houstonian, Manriquez graduated from West Point and gained a global perspective by serving in Texas, South Korea, Kuwait, Iraq and Afghanistan. The first-generation college graduate in his family, he interned with Morgan Stanley, and now works in Morgan Stanley's Investment Banking Division. 
Knowlege, Experience, Energy
Reflecting on his education at Rice Business, Manriquez told Poets and Quants magazine, "There are so many incredible professors at Rice Business. One who stands out is Al Danto. Al teaches in our #1-ranked entrepreneurship department and I recently had the opportunity to take his enterprise acquisition class. I was impressed by his knowledge, experience and energy." 
Interested in Rice Business?
Other veterans who've earned Rice MBAs praised Danto's special commitment to his students with military roots. An entrepreneur and managing partner of Exit Advisors, a mergers and acquisitions consulting firm, Danto is also an active equity investor with Beachhead Investment, committed to focusing on veteran-owned businesses. At Rice Business, where is a professor, Danto co-founded the Veterans Business Battle, the country's largest veteran-focused business plan competition. 
The annual competition gives invited veterans an arena for pitching business ideas to investors and lenders. In the final phase, the competitors get the chance to attend workshops in startup development and other skills, and to network with potential funders. Launched in 2015, the competition has provided $3.4 million in investment offers. 
A Powerful Networking Resource
The Business Battle was founded as a partnership between the Entrepreneurs' Organization of Houston and the Rice Business Veterans Association, now one of our school's most powerful networking resources. Launched to support veterans' transition to graduate school life, the club also offers leadership guidance, resume help and networking opportunities to all veterans at Rice. It's a hub for the entire Rice veteran community, and, Wakeman said, a constant source of referrals for prospective Rice Business students. 
The club is just one where our veteran scholars are leaders. Matthew Wilson, Full-Time MBA 2021, was previously a Lieutenant in the U.S. Navy. At Rice Business, he not only was co-president of hte veterans' association, but he was also a member of the Energy Association, the Finance Association and Rice Business Gives Back, in which student leaders launch projects to help the Houston community. 
That high level of contribution is a key reason why we go to such lengths to welcome veterans, Wakeman told me. 
"Veterans come in with a unique experience level, often with a background in leadership of large groups of other military, and they transition to the business world with the skills they have received from their service," he said. "What I have seen with other military students is that they are immediately leaders in student clubs and organizations. A lot of them also come from backgrounds like West Point, which are equally or more selective than we are. So they tend to be self-selecting and well-positioned to transition into the business world." 

_________________________________________________________________________________
Interested in learning more about the MBA programs offered by Rice Business? Send us an email at ricemba@rice.edu.
You May Also Like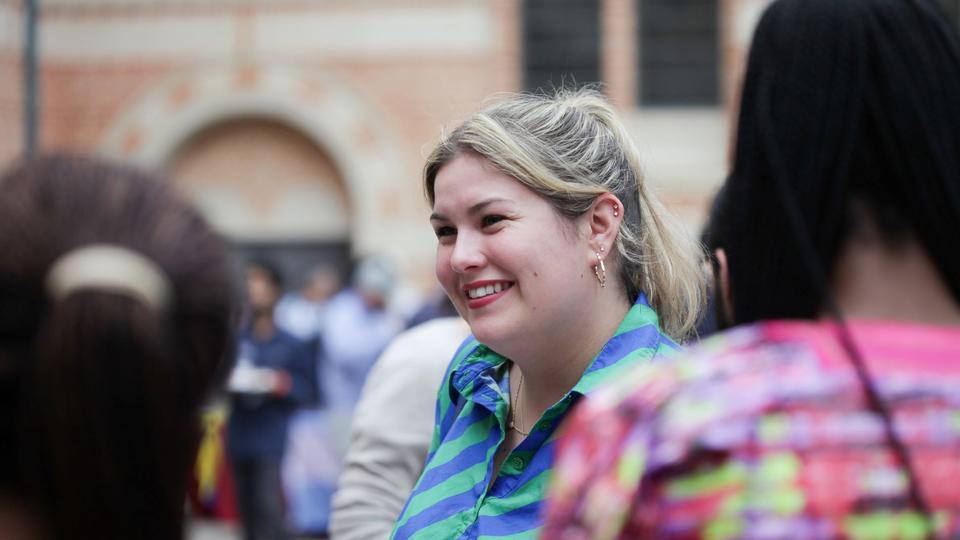 Admissions
You've made the decision to go to business school full time. Next, you work on essays, recommendations, test scores, transcripts and resume. Then what?Hit submit. Why now? Here are our top five reasons to apply early.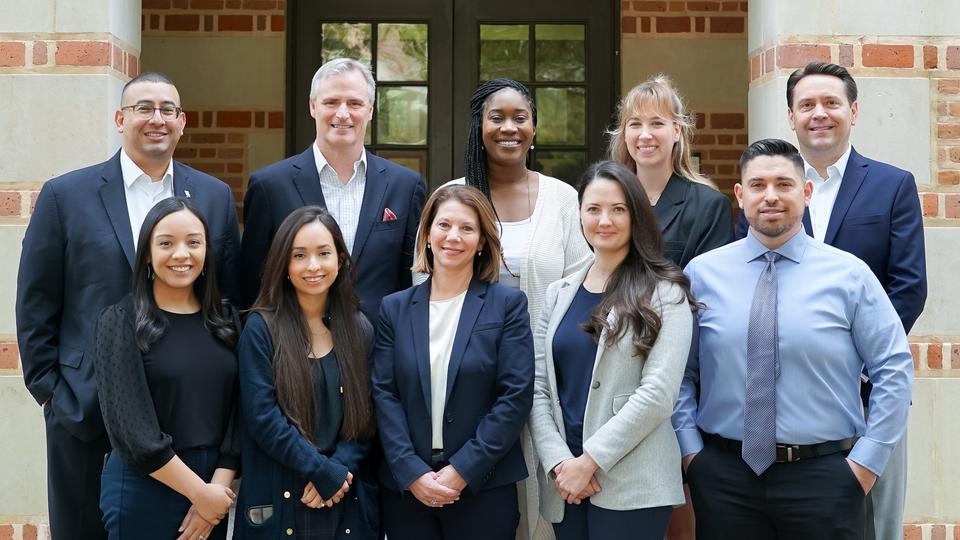 Admissions
Coni Zingarelli, the new executive director of recruiting and admissions at Rice Business, is passionate about helping students find the right graduate program to further their personal and professional aspirations. Read on for her insights into the MBA program's application process, essays and more.