Field trip to underwriter Bank of America Merrill Lynch
 
| | |
| --- | --- |
| Who   | 41 rising juniors and seniors from Houston high schools- Chavez, Chinquapin, Davis, Harmony Science, KIPP, Madison, Reagan, Sam Houston, Sharpstown, Wheatley, Yates, YES Prep |
| What   | First-hand exposure to the fundamentals of finance, energy, and the world of business |
| When   | June 12 – 26, 2015 (weekdays), 9am – 4pm | June 27, 2015 (Saturday), 11am – 2pm |
| Where   | Rice University's Jesse H. Jones Graduate School of Business - McNair Hall |
Primary Goals  
Interest a group of ambitious high-school students from low and moderate income communities to the world of business, broadening their expectations of career paths that are possible for them
Sow seeds for developing diverse business leaders for Houston's future.
Guest Speakers
Students have access to the expertise and insights of Rice University and Jones School faculty:
Professor Jefferson Duarte – The Financial Markets and the Free Market Model
Professor Jill Foote – Stock Analysis
Professor Morgan Grace – Giving Team Presentations
Professor Clark Haptonstall – Sports Management
Professor Kim Kehoe – Leadership
Jones School Senior Associate Dean Barbara Ostdiek
Professor Beth O'Sullivan – Professional Networking
Professor Amit Pazgal – Marketing
Professor Rick Schell – Introduction to Business
Professor Doug Schuler – Business Ethics Case Study
Field Trips
Students explore the business world first hand with trips to our underwriter and corporate sponsors:
Bank of America Merrill Lynch Commodities hosted by Dennis Albrecht and Molly Roberts
ConocoPhillips hosted by Barbara Rodgers and Fran Vallejo (Rice MBA '96)
The Houston Texans front office hosted by Charles Hampton (Rice '09)
Federal Reserve Bank of Dallas (at Houston) hosted by Susan Kizer
Corporate Sponsor
Students gain a further understanding of the business world through corporate sponsor presentations:
Salient Partners – James Sivco – Equity Analysis
Stuart PC – Larry Stuart
Field Trip Photos:

Field trip to underwriter Bank of America Merrill Lynch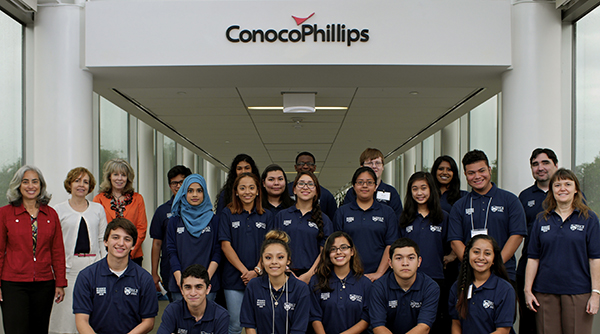 Field trip to sponsor ConocoPhillips


Field trip to sponsor Houston Texans
Hands-on Learning, College and Career Presentations
Students dive into learning with exercises on tools, business communications, and real world cases:
Team-building exercises including a fun competition to drop an egg from the second story of McNair Hall
Communications exercises – PowerPoint, making presentations, networking
Stock market simulation in the El Paso Corp. Finance Center – James Lenz (Rice MBA '07)
Building Your Social Network – Liana Lopez
Entrepreneurship and Venture Capital 'Pitch' Competition – Jeff Reichman – January Advisors
Students also receive nuts and bolts assistance on planning for college and careers
Jones School Director of Career Development Marie Bergeron – Resume Writing
Rice University Assistant Director of Admissions Brandon Mack – College Tips
Jones School Associate Director of Employee Relations Yolander Albert – Career Paths
Team Stock Analysis / End-of-Institute Awards Luncheon
During the final few days of the Institute, cross-school teams conduct an in-depth analysis of a retail stock. The Institute culminates with team presentations followed by an Awards Ceremony / Luncheon.
The 2015 Instruction Team
Students benefit from a program planned and executed by an experienced team of Jones School faculty:
Professors Jill Foote (Rice '87), Morgan Grace, Beth O'Sullivan, and Rick Schell (Rice '75, '76)
Rice Staff Members Sara Brooks and James Lenz (Rice MBA '07)
Teaching Assistants Leslie Hernandez (Reagan '15) and Dylan Smail (Harmony Science '15)