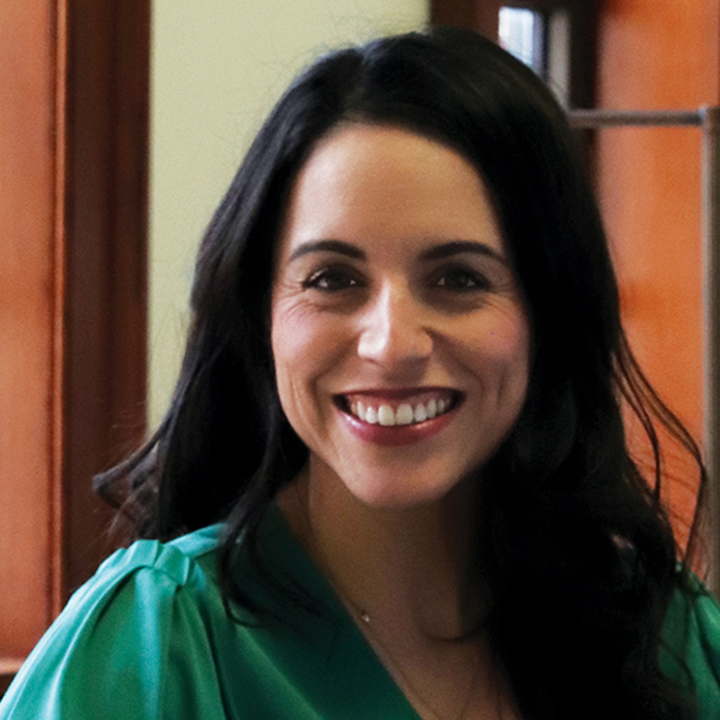 Describe Yourself in 15 Words or Less:
I'm equal parts energetic, resilient, happy and caring.  Also, I love margaritas and dancing.
Hometown:
Lufkin, Texas
Family Members:
Husband – Alvaro Mangual; Daughter – Liliana Mangual (6) ; Son – Isaac Mangual (2)
Fun Fact About Yourself:
I was a seed investor in Riazul Tequila about ten years ago, which was founded by a Rice Business graduate. I sold my shares in the company (at a good return) to fund my EMBA.  I suppose I made the decision to invest in myself.
Undergraduate School and Degree:
Texas A&M University, B.S. in Finance, 2002
Where are you currently working?
Prime Communications, Executive Director of Strategy and Planning
Extracurricular Activities, Community Work and Leadership Roles:
Board Member of LINK Houston, a non-profit organization advocating for a robust and equitable transportation network.
Which academic or extracurricular achievement are you most proud of during business school?
A small group of us started a Jones Student Association for Executives. The full-time and professional programs had their own associations, but the executives didn't. The JSAE has filled a need to improve the structure around student government, programming and being a liaison with administration and faculty.
What achievement are you most proud of in your professional career?
I am proud to be able to balance motherhood with a professional career. Being a mother is the most important role I'll ever have, and I am proud to do it while pursuing my professional goals. So, I am most proud of embarking on and successfully completing an Executive MBA full time while balancing the commitments of work and family.
Who was your favorite MBA professor?
Al Danto. I took both Entrepreneurship classes he teaches. Al inspires students to explore different paths to entrepreneurship. His approach in the classroom is very practical and applicable. He inspired me personally to really think about entrepreneurship as a path for my career.
What was

your favorite MBA course and what was the biggest insight you gained about business from it?
Power and Influence taught by Professor Jon Miles.  Professor Miles provided a forum for introspection about my career, the role power and influence, or lack thereof, had had in the way my career had progressed in the past.  I learned that power and influence is a skill that can be learned but it must be practiced.  Like a muscle, the more you use it, the stronger it gets.
Why did you choose the executive MBA program at Rice Business?
Rice's reputation in Texas is unmatched, especially in Houston.
What did you enjoy most about business school in general? 
Continually being in a state of learning, curiosity, and inquiry.  I had forgotten how much I enjoyed being this type of environment.     
What is the biggest lesson you gained during your MBA and how did you apply it at work?
I learned that perfection is the enemy of good. And that maintaining good team dynamics is more important than having the best deliverable. I tend to be more of a perfectionist, and I learned to relax a little bit because not everyone was going to approach assignments and projects the same way. This obviously also applies to the workplace, so I've been able to have an increased level of self-awareness around managing my expectations while maintaining relationships.
Give us a story during your time as an executive MBA on how you were able to juggle work, family and education?

 
Our program launched with a week-long immersive class. I remember my son was turning one at the end of the same week.  I remember leaving during lunch one of these days to buy stuff I needed for the birthday party I was hosting, while being on a work conference call. It was the definition of having too many balls in the air. I knew then that the 22 months that followed were going to be a challenge!
What advice would you give to a student looking to enter an executive MBA program?

 
If you're worried about timing, don't. It will never be the perfect time to do something like this. The right time to do it is when you're ready to commit to it. 
What is the biggest myth about going back to school? 
"I don't have time".  We all have the same amount of time. The difference is how you prioritize it and what you're sacrificing to prioritize what is important to you.  
What was your biggest regret in business school?

 
Not getting to know some of my classmates as well as others. Given the demands on everyone's time, it was difficult to connect with everyone in my class on a personal level.  
Which MBA classmate do you most admire? 
Marina George and Celestine Tung. I know that's two, but I admire them both for the same reasons. They are both medical doctors with demanding schedules. They are also mothers. I admire their ability to balance their demanding careers with school and families.  And to top it off, they are both beautiful, intelligent, and caring women. 
"I knew I wanted to go to business school when…

 
my career stalled out. I was at somewhat of a crossroads in my career and when I heard that Dean Rodriguez, who was one of my undergraduate college professors, was coming back to Texas to be the Dean of Rice Business, I reached out to him. He encouraged me to take the leap.   
What is your ultimate long-term professional goal? 
To work for myself and to be fulfilled doing it. 
In one sentence, how would you like your peers to remember you? 
As an energetic, intelligent and helpful classmate who (almost) always had a smile on her face. 
What are the top two items on your bucket list?
Completing an ironman and vacationing in Greece.