The Rice Business Leadership Society is the Jones School's leadership-level annual giving circle. Members of the society give $2,500-$50,000 or more to the school annually. This support is the foundation upon which Rice Business thrives.

Join the Leadership Society today by making a one-time gift or a five-year pledge at your preferred level. To make your gift, click the "give now" button above, or call the Office of External Relations at (713) 348-4262.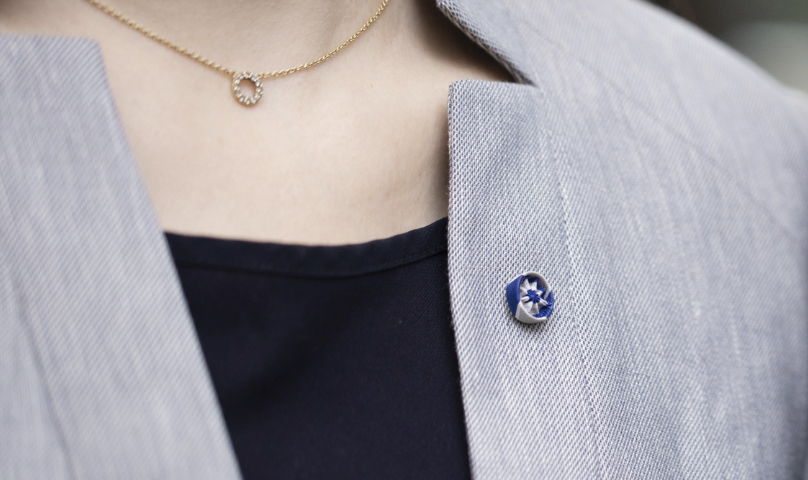 Rosette Pin
The rosette pin symbolizes your commitment to Rice Business as one of our leadership donors. The rosette features a ribbon in Rice University's colors of blue and gray. The pleats radiating from the center are reminiscent of the eyes of the Rice Owl.
 
Enjoy special invitations to:
Private dinners
Exclusive networking opportunities
Thought leadership lectures
Book launches
Sporting events
And more
"Leadership gifts to Rice Business are crucial to the school's ability to build on our strengths. Strengths like creating innovative programs, enhancing the student experience, increasing alumni engagement and facilitating inspiring interactions with the business community. Your participation has a significant impact on the school's ability to further its mission and implement its vision."
Chair's Circle
($50,000+)

An annual invitation to a private strategic conversation with the dean
Join other members of the Chair's Circle with a VIP invitation for two to a Houston community cultural or sporting event, with a pre- or post-dinner with the dean
All Visionary benefits

Visionary
($25,000 - $49,999)

VIP seating to Jones School speaker events and VIP invitation to pre- or post-dinner and/or cocktails
All Strategist benefits

Strategist
($10,000 - $24,999)

Invitation to a panel presentation or round table with Jones School leadership to discuss state of school and vision moving forward
All Advisor benefits

Advisor
($5,000 - $9,999)

Invitation to Jones School networking opportunities with alumni and friends
All Benefactor benefits

Benefactor
($2,500 - $4,999)

Invitation to one Rice sporting event with alumni, staff and friends of the Jones School
Inclusion in annual donor listing in Rice Business magazine

Ambassador
($1,000 - $2,499)

All benefits at the Benefactor level
For alumni five years out or less and class and corporate ambassadors
Benefits for all Alumni
Please know that all gifts to the Rice Business Fund are greatly appreciated and, collectively, make an enormous impact on the Jones School community. Robust participation in the Rice Business Fund is critical to how we are assessed as a school, both within our community and externally, and inspires others to participate. As a friend to the Jones School we offer the following engagement opportunities to all members of our community:
Lifelong engagement:
Alumni events both locally and regionally
Alumni events related to Reunion and Homecoming
Alumni lunches at select companies in Houston
Invitations to all-school events featuring top business thought leaders with networking receptions
Engagement with the Jones School community through numerous social media sites
Opportunities to speak in classrooms, mentor students, open access to career services through the Jones School job board, online libraries on careers and industries, and individual mentoring
Lifelong Learning:
Semi-annual Rice Business magazine
Rice Business Wisdom, our online ideas magazine, featuring peer-reviewed business research delivered into a brief, lively and easy-to-read format
Opportunity to audit any class at the Jones School at minimal cost
20 percent discount on Executive Education Open Enrollment Programs
Alumni discount at the Susanne M. Glasscock School of Continuing Studies