Week 1: February 17-21, 2020
Week 2: March 29-April 3, 2020
Overview: Delivered in two one-week sessions separated by an intersession, our Rice Advanced Management Program is an immersion program exclusively designed for high potential leaders to successfully move into general management or functional lead roles. Upgrade your capability and visibility by leveraging our world-class management faculty, research, case studies, assessments, esteemed executive coaches, and selectively admitted fellow participants that will add value to your development. Read more to learn about your professors and the topics covered in the two-week program.
 
Highlights:
Enhance self-awareness to improve leadership impact 
Learn to analyze context to identify behaviors associated with exceptional executive leadership
Enhance ability to lead and develop high performing teams and individuals
Understand organizational culture and key leadership challenges associated with leading through culture
Learn to conduct strategic analysis of industry and organization and identify opportunities for growth
Learn the language of corporate finance and financial accounting and improve financial decision making
Lead enterprise-level change and execute strategy
Improve strategic decision making by identifying cognitive, social, and emotional biases that affect judgment
Create personal development plans with support of an executive coach
Program Schedule: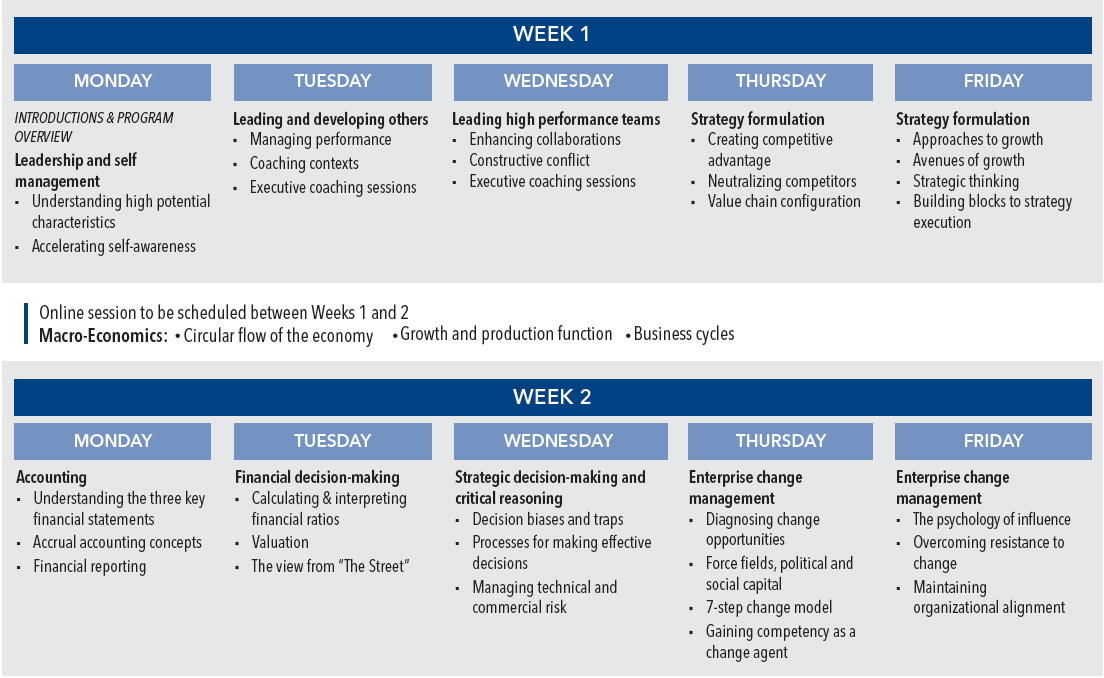 Tuition: $15,000/certificate
Your Professors:
D. Brent Smith, Ph.D. Senior Associate Dean of Executive Education
Vikas Mittal, Ph.D. J. Hughe Liedtke Professor of Marketing
Prashant Kale, Ph.D. Associate Professor of Strategic Management
Brian Rountree, Ph.D. Associate Professor of Accounting
Barbara Ostdiek, Ph.D. Senior Associate Dean of Degree Programs, Associate Professor of Finance and Statistics
James P. Weston, Ph.D. Harmon Whittington Professor of Finance
All Rice Advanced Management Program faculty are award winning professors who teach full time in the MBA and EMBA program at Rice Business and have extensive business or consulting experience. Read more about their research at Rice Business Wisdom, our online ideas magazine with clear, practical translations of faculty research that will change the way you think.
Cancellation Policy: Attendance at a Rice University Executive Education program requires significant advance preparation. Written notice of cancellation must be received more than 30 days prior to the program start date to be eligible for a full refund less a six percent administrative fee. At Rice University Executive Education's discretion, qualified substitutes for confirmed registrations may be accommodated prior to the program start date with written notice and will incur no fee for substitution. Notice given after 30 days prior to the program will not be eligible for a refund.